The number of attacks by plowing vehicles into innocent people at public gatherings, on streets, or outside train and bus stations has significantly dropped in 2019.
A new report, "Smashing into Crowds" from the Mineta Transportation Institute which analyzes vehicle ramming attacks suggests the attacks peaked in 2017 and 2018 – each of which saw more than 60 deaths. The first nine months of 2019 saw only 19.  
However, the authors, Brian Michael Jenkins and Bruce Butterworth, admit it is too early to understand whether or not this is because of counter-measures or because rammings are a fad whose wave has come and gone.
Despite continuing jihadist efforts to inspire sympathizers in America's and Europe's Muslim communities to carry out acts of violence, the response is meager. There have only been two such strikes in the USA and 11 in Europe.
"It may mean that the authorities are increasing their ability to intercept planned attacks. Even with all of the governments' efforts going on, if there was a rousing response to carrying out attacks, we would have had lots more. We don't have the resources to prevent them – so clearly, followers are not answering the call. However, we need more data to be sure.
"Given the ability of al Qaeda and especially ISIS to reach a large audience via the Internet and social media; the ease, especially in the United States, of acquiring a vehicle; and the minimal planning necessary to use it in an assault, the small number of Jihadist vehicle ramming attacks suggests that the Jihadist campaign has produced only meager results and thus far is anything but a public relations success."
The report also points out that two-thirds of the 27 vehicle ramming cases in the United States since
the campaign started have been carried out by mentally disturbed individuals who needed help and intervention and didn't get it in time.  They had no known connections with al Qaeda or ISIS. However, in the public's mind, they are blended with the Jihadist attacks and add to the general level of fear. This has enabled the Jihadists to benefit in terms of propaganda regardless of who was responsible.
Vehicle rammings aren't the most lethal tactic either, but for those who cannot get guns or bombs, vehicles are readily available, and targets are standing just around in areas that are often difficult to protect. The report points out that some urban planners are already pedestrianizing town centers and shopping districts for environmental and commercial reasons and identifies a number of initiatives that could prove to be counter measures to vehicular terrorism. 
The British response to the Irish Republican Army's bombing campaign was to create the so-called "Ring-of-Steel" around London's financial district to prevent large truck bombs from entering the area. Protective measures involved manned check-points where trucks were inspected before entry, restricted truck routes in and through the protected area, and the pedestrianization of a number of streets. In addition to the increased security, the reduction of vehicle traffic and enhanced environment for walking and sidewalk cafes were seen to improve the quality of life in the protected zone.
Many European cities have streets that are pedestrianized permanently or on certain days. These become promenades for shoppers and tourists. However, they can also become attractive targets for attackers if vehicles can easily gain access – as happened in the 2017 Las Ramblas attack in Barcelona. Therefore, says the report, crowd-protection measures and a growing range of temporary anti-vehicle barriers must be used to keep crowds safe.
The report has also identified that attackers who rent vehicles are deliberately planning a strike and very often choose larger vehicles which will be more lethal. While only six of the 18 Jihadist attacks since 2014 involved rental vehicles, they accounted for not only nearly 40% of total deaths but also a higher number of fatalities per attack even when the 2016 attack in Nice, France, which killed 86 people, is excluded.
Jenkins and Butterworth support the UK Department of Transport's guidance – along with those of other countries such the U.S. - that rental companies should thoroughly examine credentials, flag cash payments or insist on electronic payments and promptly report suspicious renters to prevent terrorists from getting access to larger vehicles.
"Obviously things can change – one attack could dramatically change the data, but we hope that we can end 2019 on a positive note," said Jenkins.
The full report can be read here: http://transweb.sjsu.edu/research/SP1119-Vehicle-Ramming-Update.
Illustrations: 
Vehicle Rammings Over Time: 1981 through September 2019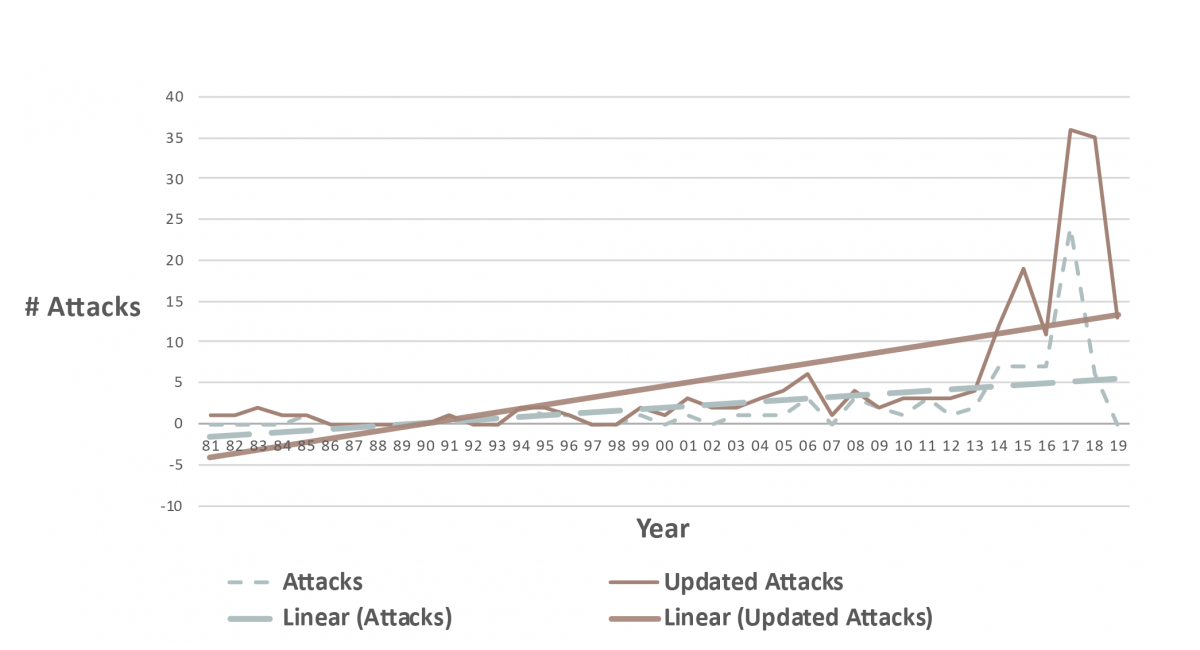 Vehicle Ramming Lethality Over Time: 1981 through September 2019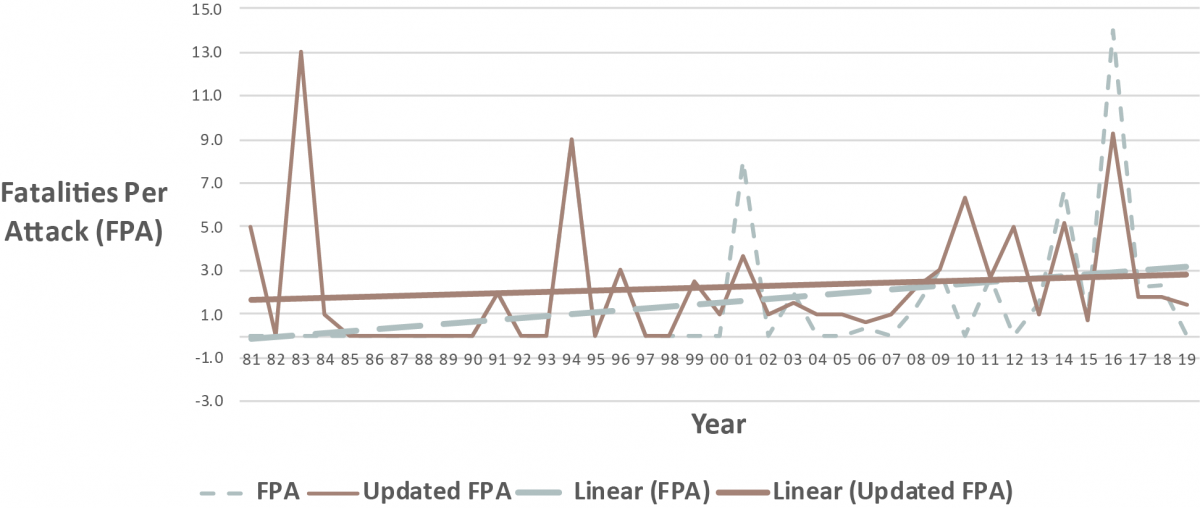 Vehicle Acquisition Method by Lethality

Attacks by Year: 2014 through September 2019

Attacks by General Attacker Category by Year: 2014 through September 2019

For Editors: Both authors are available for interviews – please contact Hilary Nixon, MTI Deputy Executive Director, hilary.nixon@sjsu.edu, +1 (408) 924-7564, Pacific Standard Time.
Background:
ABOUT THE AUTHORS
Brian Michael Jenkins is the Director of the Mineta Transportation Institute's Allied Telesis National Transportation Security Center and since 1997 has directed the Institute's continuing research on protecting surface transportation against terrorism and other serious forms of crime.
Bruce R. Butterworth is a Senior Transportation Security Researcher at MTI and former Director of Aviation Security Operations at the Federal Aviation Administration. Bruce has taken a leading role in creating MTI's unique database of attacks on public surface transportation.
ABOUT THE MINETA TRANSPORTATION INSTITUTE
At the Mineta Transportation Institute (MTI) at San Jose State University (SJSU) our mission is to increase mobility for all by improving the safety, efficiency, accessibility, and convenience of our nation's' transportation system. Through research, education, workforce development and technology transfer, we help create a connected world. MTI was founded in 1991 and is funded through the US Departments of Transportation and Homeland Security, the California Department of Transportation, and public and private grants. MTI is affiliated with SJSU's Lucas College and Graduate School of Business.