MTI research assesses mobility and equity for low-income seniors
Seniors are the fastest growing segment of the U.S. population, but our cities are not planned with them in mind. Mineta Transportation Institute (MTI) researchers, Drs. Anastasia Loukaitou-Sideris and Martin Wachs, explore the travel patterns, needs, and mobility challenges faced by diverse low-income, inner-city older adults in Los Angeles to identify solutions. With research in collaboration with the American Association of Retired Persons (AARP), the report "Transportation for an Aging Population: Assessing Mobility and Equity for Low-Income Seniors," draws on existing research, existing policies geared toward older adult mobility, and the findings from an empirical study of 81 seniors residing in and around Los Angeles' inner-city.
Los Angeles provides a unique topography, geography, and history that all contribute to the challenges of aging-in-place. Urban sprawl, in addition to its notorious traffic and hazardous sidewalks, create obstacles for the low-income, aging population to obtain the necessary services or facilities they require.
"By turning the knowledge of these findings into action cities can develop 'age-friendly' initiatives, and in turn support older adults in enjoying the highest quality of life," Dr. Martin Wachs.
As physical mobility declines with age, it is no wonder that high-quality transportation is one of eight essential elements of age-friendly cities, according to the World Health Organization. However, despite transportation systems having to comply with American with Disabilities Act (ADA) standards, they often only meet the bare minimum needs for older riders.
Furthermore, low-income individuals of all ages often face significant and unique mobility challenges stemming from their lack of economic resources. "These individuals typically experience lower levels of car ownership, increased reliance on public transit, and fewer housing options… low-income older adults are one of the most mobility limited groups in America," adds Dr. Anastasia Loukaitou-Sideris.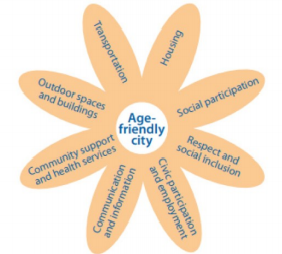 Some of the factors limiting older residents' use of public transit include:
Physical barriers;
Psychological barriers (fear of transit, fear of tripping or falling, fear of crime, etc.);
Barriers to information exchange including the use of technology.
With the Baby Boomer generation well into retirement, cities have demonstrated an emerging interest in developing age-friendly cities. As a critical component to the development of such cities, this report aims to provide direct feedback on transportation and mobility needs from older adults.
ABOUT THE MINETA TRANSPORTATION INSTITUTE
At the Mineta Transportation Institute (MTI) at San Jose State University (SJSU) our mission is to increase mobility for all by improving the safety, efficiency, accessibility, and convenience of our nation's' transportation system through research, education, workforce development and technology transfer. We help create a connected world. MTI was founded in 1991 and is funded through the US Departments of Transportation and Homeland Security, the California Department of Transportation, and public and private grants. MTI is affiliated with SJSU's Lucas College and Graduate School of Business.
ABOUT THE AUTHORS
Anastasia Loukaitou-Sideris is an MTI Research Associate, Associate Provost for Academic Planning at UCLA, Associate Dean of the UCLA Luskin School of Public Affairs, and Professor of Urban Planning. Her area of specialization is urban design, physical and land use planning. She has published more than 100 articles and chapters and has co-authored or co-edited five books.
Martin Wachs is an MTI Research Associate, Distinguished Professor Emeritus of Civil & Environmental Engineering and of City & Regional Planning at the University of California, Berkeley, where he directed the Institute of Transportation Studies. In 1979, Professor Wachs published the first comprehensive study of elderly suburbanization and their travel patterns and needs, entitled: Transportation for the Elderly: Changing Lifestyles, Changing Needs. Since then he has continued to conduct research and publish works on aging and travel.
###
Contact:
Irma Garcia, MTI Communications & Workforce Development Coordinator
408.924.7560