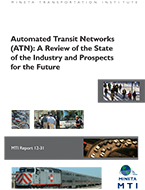 Abstract:
The concept of Automated Transit Networks (ATN) - in which fully automated vehicles on exclusive, grade-separated guideways provide on-demand, primarily non-stop, origin-to-destination service over an area network – has been around since the 1950s. However, only a few systems are in current operation around the world. ATN does not appear "on the radar" of urban planners, transit professionals, or policy makers when it comes to designing solutions for current transit problems in urban areas.
This study explains ATN technology, setting it in the larger context of Automated Guideway Transit (AGT); looks at the current status of ATN suppliers, the status of the ATN industry, and the prospects of a U.S.-based ATN industry; summarizes and organizes proceedings from the seven Podcar City conferences that have been held since 2006; documents the U.S./Sweden Memorandum of Understanding on Sustainable Transport; discusses how ATN could expand the coverage of existing transit systems; explains the opportunities and challenges in planning and funding ATN systems and approaches for procuring ATN systems; and concludes with a summary of the existing challenges and opportunities for ATN technology. The study is intended to be an informative tool for planners, urban designers, and those involved in public policy, especially for urban transit, to provide a reference for history and background on ATN, and to use for policy development and research.
Authors:
BURFORD FURMAN, PH.D.
Dr. Furman is a professor in the Mechanical and Aerospace Engineering Department at San José State University, where he has been affiliated since 1994. He is also a registered professional engineer in the state of California in mechanical engineering since 1984. Prior to arriving at SJSU, he worked at IBM in San José in the development of disk drive actuators and spindle motors. He has also been a consultant in the optomechanical and laboratory automation industries. His areas of teaching and research are focused primarily in Automated Transit Networks, mechatronics, precision machine design, and engineering measurements.
SAM ELLIS
Mr. Ellis is a project manager for the International Institute of Sustainable Transportation. He co-authored the Solar Skyways Challenge, which spurred ATN focused projects at Uppsala University and San José State University. Having never owned a car, he is a committed public transportation rider as well as researcher. He holds degrees in physics and mathematics and has educated youth for over ten years. Within ATN research, his efforts have been broad, with contributions to the development of many subsystems, from routing algorithms to urban planning and drivetrain mechanics.
LAWRENCE FABIAN
Mr. Fabian is a city and regional planner with extensive international and cross-cultural experience. Since the 1980s at Trans.21, he has monitored world developments in automated transit and publishes two newsletters on this topic. He has held pro bono publico positions on TRB, ASCE, and APA committees and contributes significantly to ATRA activities. In 2013, INIST invited him to manage and edit www.podcar.org. He graduated summa cum laude from Dartmouth and holds a master's degree from the University of Pennsylvania. His collaborations with Swedish ATN professionals date from the 1970s.
PETER MULLER
Mr. Muller is a registered professional engineer with degrees in civil and environmental engineering from the universities of Cape Town and Colorado. His experience includes metropolitan transportation studies; and planning and engineering of roads, freeways, railroads, tunnels, airports and automated transit networks. He is president of PRT Consulting, which specializes in providing professional planning and engineering services relevant to advanced transit networks. He is a member of the Advanced Transit Industry Group. Mr. Muller is a past chairman of the Airport Consultants Council, a member of TRB Committee AP040, Automated Transit Systems, and he serves on the Executive Committee of the Advanced Transit Association.
RON SWENSON
Mr. Swenson is co-founder and president of the International Institute of Sustainable Transportation (INIST) and CEO of Encitra™ (Energy, Cities, Transportation). INIST is a non-profit group of professionals driven by the goal of creating an environmentally sound economy based on rapid innovation and best practices for sustainable living. Encitra is a comprehensive urban planning and real estate development modeling service that creates 4D visualization environments, thus allowing stakeholders to experience, modify, respond to, and collaborate on proposed sustainable urban and real estate development solutions and understand their long-term consequences quickly, clearly, and cost effectively.
Since rebuilding an electric car in 1979, Mr. Swenson has focused on solar-powered transportation – developing prototypes, a solar race car team in Mexico, electric bikes, and a Utility Solar Vehicle. Since 2006, he has organized industry, government and academic groups in Silicon Valley, Sweden, and elsewhere to create Solar Skyways – 100% solar-powered Automated Transportation Networks – to establish mobility solutions for a world beyond oil.
Keywords:
Automated transit
ATN
PRT
Podcars
Urban transportation