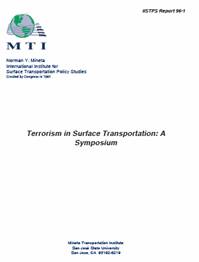 Abstract:
The second symposium presented by the Norman Y. Mineta International Institute for Surface Transportation Policy Studies (IISTPS) was held March 15, 1996, on the San José State University campus. This timely discussion was co-sponsored by the Research and Special Programs Administration (RSPA) of the United States Department of Transportation ( U.S. DOT) and the California Department of Transportation (Caltrans). The topic, Terrorism in Surface Transportation, was addressed by leading experts in several related fields. Chief Security Officer of the New York Transit Authority, Tom Savage, described lessons learned from recent terrorist attacks. Mr. Savage spoke not only of past occurrences, but also of the challenges presently facing most cities.
This document is a transcript of a symposium held on March 15, 1996 as part of the IISTPS charter of continuing education in the area of surface transportation policy. The topic for this symposium was selected to help meet the need for awareness of, and preparedness for, possible terrorist attacks on the surface transportation systems within the United States and the world. 
The expert panel consisted of the following individuals:
Tom Savage, Chief Security Officer NY Transit Authority.

Patrick Webb, Supervisory Special Agent, Counter-Terrorism Squad, FBI. 

Ernest R. Frazier, Chief of Police, Amtrak 

Denis Jackson , VP for Technical Operations, American Medical Response West, Inc. 
A question and answer period followed the formal presentations.
Publications: