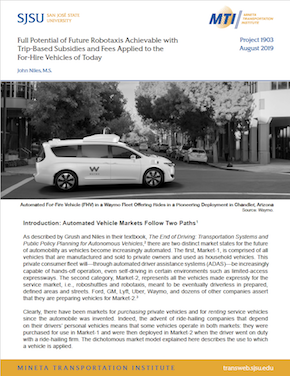 Abstract:
As described by Grush and Niles in their textbook, The End of Driving: Transportation Systems and Public Policy Planning for Autonomous Vehicles, there are two distinct market states for the future of automobility as vehicles become increasingly automated. The first, Market-1, is comprised of all vehicles that are manufactured and sold to private owners and used as household vehicles. This private consumer fleet will—through automated driver assistance systems (ADAS)—be increasingly capable of hands-off operation, even self-driving in certain environments such as limited-access expressways. The second category, Market-2, represents all the vehicles made expressly for the service market, i.e., roboshuttles and robotaxis, meant to be eventually driverless in prepared, defined areas and streets. Ford, GM, Lyft, Uber, Waymo, and dozens of other companies assert that they are preparing vehicles for Market-2.
The main thesis in this perspective is that a productive, efficient system of on-demand Market-2 mobility can evolve from incentive-based governance—here termed "harmonization management." This approach strikes a contrast with rigid regulation of a style seen with big city taxicabs and based on using constrained service classifications or per-vehicle medallion approaches. This essay recommends that transportation authorities set up systems of robust pricing signals—incentives and fees—delivered through a universal, mandatory system providing efficient, equitable distribution of these signals. 
Authors:
John Niles is Founder and President of Global Telematics, a policy research consultancy based in Seattle, focused on designing policies and actions for transportation improvement. As a Research Associate at Mineta Transportation Institute he has led team studies on transit oriented development, urban freight mobility planning, bus rapid transit, and park-and-ride productivity analysis.  He is co-author of the text book, The End of Driving: Transportation Systems and Public Policy Planning for Autonomous Vehicles (Elsevier, 2018), as well as many technical reports and articles. He earned his M.S. at Carnegie Mellon University, and his S.B. at Massachusetts Institute of Technology.
Keywords:
Autonomous vehicles
Fleet vehicles
Finance