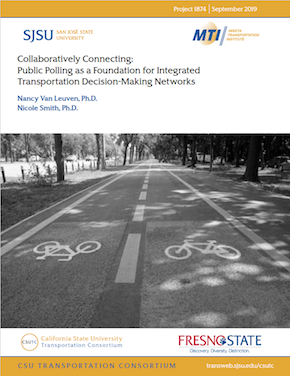 Abstract:
Over the past few years, there have been notable trends in the areas of tracking public opinion, especially in public issues such as transportation. Such powerful processes continue to be a critical (and often mandated) component of the democratic process as they help policy makers connect with affected constituencies. This study explores travel trends and transportation preferences of a sample of adults in the California Central Valley of Fresno, an increasingly congested region that is also heavily agricultural and regarded as an expected launching pad for California's first high-speed rail system. Relying on an e-survey modeled off a statewide polling project, this study used a modified electronic survey as a valuable predictor of public opinion. Findings include preferences skewing toward concern about local issues (road conditions, safety, accessible active transport) and a lack of knowledge about future mobility options (high-speed rail, driverless cars). Based on these results, Fresno should be viewed as a prime area for focused public information campaigns to foster behavior change and attitudes about potential transportation improvements.
Authors:
NANCY VAN LEUVEN, PH.D.
Nancy Van Leuven, Ph.D., Fresno State University — Dr. Van Leuven is interested in the best practices of strategic communication, including how public polling and information campaigns can accelerate citizen participation. She was a Faculty Fellow with the Fresno State Transportation Institute and has a long history in the public policy arena, having worked with the Southern California Association of Governments, Orange County Transit District, and other agencies in areas of public opinion and decision-making. Currently an Assistant Professor in the Media, Communications and Journalism Department at Fresno State University, she researches how strategies are used to change behaviors, values, and actions regarding international issues of sustainability, media, and indigenous sovereignty.
NICOLE SMITH, PH.D.
Nicole Smith, Ph.D., Fresno State University — Dr. Smith has specific expertise in the study of physical activity. She was a Faculty Fellow for the Fresno State Transportation Institute. She aims to reduce risk for obesity and chronic disease by engaging in teaching, research, and service focused on physical activity promotion, largely in school environments. She coordinated Discovering Obstacles to Physical Education: Do PE! funded by Active Living Research and the Robert Wood Johnson Foundation ($50K) and the Physical Education Academy of the Healthy Eaters, Lifelong Movers project funded by The Colorado Health Foundation ($3.1 million). She presents and publishes her work in peer-reviewed outlets on topics related to physical activity opportunity, physical activity measurement, and environmental and policy influences on quality physical education and physical activity.
Keywords:
Public opinion
Public Information Programs
Decision making
Surveys