Message from the Executive Director
Rod Diridon, Executive Director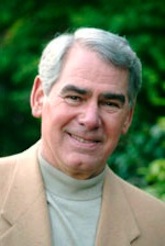 Welcome to our first newsletter for the Mineta National Transit Research Consortium (MNTRC). We are very proud to have been designated by the US Department of Transportation's (US DOT) Federal Transit Administration (FTA) and Research and Innovative Technology Administration (RITA) as one of the nation's two new transit research consortia.
Competition: The reviewers described our proposal as outstanding, and we know that each member of our new consortium took the competition very seriously. Our centers were carefully chosen to meet US DOT's identified needs by gathering compatible and not overlapping transit research skills provided by highly reputable universities. We also looked for wide geographic distribution. The nine member universities extend from the Northeast to the heartland and the West Coast.
We also sought a mix of highly reputable traditional research institutes and dynamic, emerging research centers. Minority-serving institutions are also very important. For example, Howard University traditionally serves African American students, while San Jose State is designated an Asian American, Native American, and Pacific Islander-serving university.
Not only did the proposal respond precisely to issues in the request for proposals (RFP), but it was also supported by a broad cross-section of the national transportation community leadership, many of whom serve on the MNTRC / Mineta Transportation Institute Board of Trustees. Those include Secretary of Transportation (ret.) Norman Mineta, former Deputy Secretary of Transportation Mortimer Downey, and many international and national surface transportation association leaders.
Research: All subcontracts between the lead institution and the consortium members have been processed and are in effect, thanks in great part to the remarkable efforts of MTI Deputy Director/Research Director Dr. Karen Philbrick. FTA and RITA have approved the first round of individual university research projects, and most of those are now under contract. That allows the consortium to compile a strong body of work, needed by our US and State DOT clients, prior to the expected 2013 re-competition.
Education: An MNTRC Shared Education Task Force is being assembled with representatives from each consortium member. Working with MTI Education Director Dr. Peter Haas, the Task Force will identify each member's unique transit education programs. The Task Force will then design technical and administrative procedures for sharing those special programs among the consortium members. The objective is to have those programs available for enrolment by the spring of 2013.
Outreach: Using the system maintained by MTI Communication Director Donna Maurillo, every research report will be broadly distributed using targeted electronic distribution lists as well as the MNTRC/MTI web sites. Last year the MTI web site garnered over three million individual uses and over 800,000 downloaded documents. In addition, national summits and regional forums will be sponsored in cooperation with the national associations to promote the use of MNTRC research. We are determined that a research project is not complete until the product is used.
Thank you: Credit for this remarkable success goes to each of the consortium university directors, including Dr. Leo Hanifin, University of Detroit Mercy; Dr. Donald Hayes, University of Nevada, Las Vegas; Dr. David Klinikowski, Penn State University; Dr. Ashok Kumar, University of Toledo; Dr. Hokey Min, Bowling Green State University; Dr. Errol Noel, Howard University; Dr. Robert Noland, Rutgers University; Dr. Karen Philbrick, San Jose State University, and Dr. Charles Standridge, Grand Valley State University. Selection as one of only two national transit consortia carries a special trust and major responsibility. To MNTRC falls the task of identifying the best practices to be implemented by our brightest young minds to guide our national transportation system to a more sustainable future. We dare not fail.
---
Board Profile: Julie Cunningham, CEO, Conference of Minority Transportation Officials
by Donna Maurillo, MNTRC Director of Communications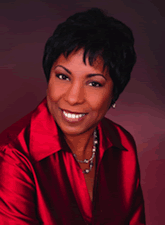 The tag line for the Conference of Minority Transportation Officials (COMTO) is "Building the people who build America." But Julie Cunningham, CEO, is often asked why it isn't "Building the people who move America."
 
She has a ready answer. "We are involved in much more than moving people. Our members are engaged in establishing legislation, setting policy, and building, maintaining and repairing our nation's infrastructure - all within the transportation industry. That's more than moving America, that's building America."
In 2001, she was appointed to lead COMTO, and since then this national trade association has enjoyed unprecedented growth – moving from a single focus on public transit to a multimodal focus. She continues to work with COMTO national leadership to develop and strengthen strategic partnerships with industry, private, and government stakeholders.
As a recent addition to the MNTRC/MTI Board of Trustees, Ms. Cunningham brings her leadership qualities honed from many years as a visionary and an advocate for a level playing field for everyone. Under her leadership, COMTO was awarded the 2005 Disadvantaged Business Advocate of the Year by the US Department of Transportation (DOT).
Ms. Cunningham was honored to serve on President-Elect Barack Obama's Transition Team at the US DOT, and she has provided expert testimony before the US Congress, including the House the Transportation & Infrastructure Committee, the Congressional Black Caucus, and the Senate Democratic Caucus.
Prior to joining COMTO, she held positions in construction and energy. She was previously employed as a senior consultant at a nuclear power plant and was responsible for developing critical strategic and communication plans, implementing grassroots programs, and facilitating work process improvements for nuclear power. She also is a US Army veteran.
Ms. Cunningham, a native of Cleveland OH, graduated from Hiram College with a Bachelor of Arts Degree in Business Management and has continued her education with ongoing professional workshops and seminars.
"The entire Board of Trustees is enthusiastic to have Julie as a member," said MNTRC Executive Director Rod Diridon. "She is intelligent, well-spoken, and a skillful leader who has many supporters in government and industry."
---
GVSU plans to reuse electric batteries
Charles Standridge, PhD, Assistant Dean, Padnos College of Engineering and Computing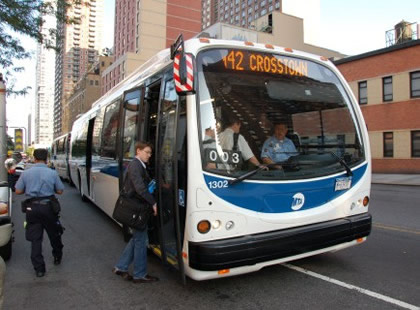 Thanks to GVSU's electric battery program, buses like these won't be polluting after the batteries have depleted.
GVSU NEWS – As a member of MNTRC, Grand Valley State University is researching ways to remanufacture, repurpose and recycle electric batteries from transit vehicles such as buses. Graduate students, faculty, and staff from Grand Valley State University's School of Engineering as well as theMichigan Alternative and Renewable Energy Center(MAREC) are participating. They will research ways to remanufacture batteries from buses, find alternative uses to extend battery life, examine technical constraints to battery recycling and identify ways to dispose of fully-used batteries, as well as evaluating the overall economic impact of those processes. They will be working in partnership withSybesma's Electronics , a third-generation family-owned business in Holland, Michigan to insure industrial applicability of this work.
One issue and challenge in public transit is using alternative fuels in buses – batteries in particular. These types of issues have never been addressed in a comprehensive and integrated way. West Michigan is a major battery production locale, and our public transportation is increasingly run on batteries. So GVSU decided it would be a great opportunity to perform applied research in this area.
The project's overarching goal is to provide better economic value to transit operators who use electric vehicles through battery remanufacturing, repurposing, recycling, and proper disposal. This will help increase the sustainability of public transit.
We will address those issues regarding lithium-ion batteries by working closely with our industrial partners to:
Develop energy-focused models that include economic considerations that support formulating criteria for choosing remanufacturing versus repurposing versus recycling versus disposing
Improve manufacturing processes for remanufacturing and repurposing
Demonstrate one new process for lithium-ion battery recycling process
Identify repurposing opportunities
Establish recycling partnerships with existing companies
Develop appropriate, supporting educational materials
For more information, contact me at (616) 331-6260 or standric@gvsu.edu.
---
Larson Institute plans its research for MNTRC 
Michael Casper, Pennsylvania Transportation Institute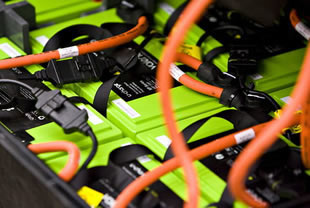 Penn State is investigating thermal management for lithium ion battery packs in several environments and conditions.
PENN STATE NEWS – The Larson Institute at Penn State is underway with planning for its research under the new Mineta National Transit Research Consortium. Work at the Larson Institute's Bus Research and Testing Center informs significant progress in policy, technology and environmental issues. Senior researcher Suresh Iyer and the Center's director, David Klinikowski, attended the May 2012 American Public Transportation Association's Bus & Paratransit Conference . He is pleased to have been named Vice Chair of Government Affairs and Regulation for the Clean Propulsion Committee. The following research summaries represent project ideas for which funding is currently being sought. 
Advanced Bus Specification Research 
Currently, the transit bus marketplace offers a large heavy-duty or a cutaway chassis-based bus in a variety of lengths and seating configurations. Larger transit agencies use the large buses for urban route transit and the cutaway buses for paratransit service. However, for smaller non-urban transit agencies, neither of these choices is optimal. 
At the same time, smaller agencies cannot afford two different dedicated fleets. Ideally their buses must provide transit service in peak hours and then paratransit service in off-peak hours – and do so reliably and safely. Many smaller agencies operate in rural areas where roads are challenging for most buses to traverse and perform reliably.  
These buses require significant maintenance, or they are replaced early. A new type of bus could satisfy the needs of smaller agencies. But lack of technical specifications precludes manufacturers from building this type of design. Some design experiments have been done, but performance characteristics have not been documented.
  
The research objective is to identify and quantify technical characteristics for a new transit bus that is accessible, versatile, reliable, durable, and efficient in all operating environments. This research could be leveraged to prepare a request for proposal (RFP) for the new type of bus. The payoff potential is great. Increased durability could significantly reduce life-cycle cost and reduce the number of different vehicles required for adequate service. 
Build Out of CNG Diesel Dual Fuel Application Matrix 
A previous project investigated the potential of a diesel and CNG dual-fuel system to reduce fuel costs for a late-model heavy truck. Emphasis was placed on substituting diesel with less costly natural gas. An aftermarket dual fuel kit was installed on a 2012 Mack Granite truck.  
In parallel, engine dynamometer testing was performed to determine sensitivity of fuel economy and emissions to various engine control parameters and mixture ratios. A comprehensive economic model predicted good return on investment at reasonable CNG substitution levels and modest fueling infrastructure investment. Findings from engine testing provided a baseline for an onboard electronic "patch box" to control the diesel CNG fuel ratio and mass while maintaining the stock engine power curve and emissions.  
The patch box read available engine data and altered the accelerator pedal signal received by the stock diesel engine. The box's effectiveness at improving fuel economy while maintaining emission levels was limited by its access to diesel engine data and control parameters and the achieved tuning level.   
This new project will build out the application matrix across a much wider range of heavy truck and transit bus model years, engine technologies, and available engine control signals. Economic analysis will help identify several truck and bus models with the greatest potential return on investment. The technology will be systematically applied to identify models across the fleet in phases consisting of survey, analysis, implementation, and validation. 
Thermal Management of Li-ion Battery Energy Storage Systems 
Large-format cylindrical and prismatic cell Li-ion battery packs are emerging in the automotive industry. Each cell structure poses unique thermal management challenges. In heavy vehicle and/or high power applications, thermal management is particularly significant regarding battery safety, performance, and life. 
The project will include a review of current designs and simulation, analysis, validation and optimization of potential thermal management designs for both large-format cylindrical and prismatic Li-ion cell packs under both normal driving and fast-charge conditions, and in various environments, including temperature and humidity. The research will examine representative power duty cycles of batteries for transit bus operation under selected climate conditions; evaluate different cooling methods such as liquid cooling versus forced A/C air cooling; and ultimately optimize the thermal management system. 
The research will also analyze differences between new batteries and batteries that have been used in normal operational conditions for up to three years, noting the differences in thermal management effectiveness, pack performance, and life.
---
Bloustein student wins APA Transportation Division Award for best paper
Robert B. Noland, PhD, Professor and Dir., Voorhees Transportation Center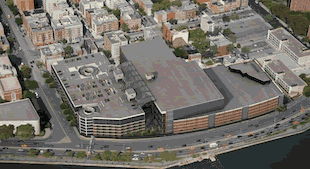 Kyle Gebhart's student paper about parking supply and mode use at Harlem's East River Plaza won first-place ranking.
RUTGERS NEWS – Kyle Gebhart, a MCRP student at the Edward J. Bloustein School of Planning and Public Policy at Rutgers University, has won first place in the student paper competition of the American Planning Association Transportation Planning Division (APATPD). His paper, Wasteful Parking Supply in East Harlem: An Analysis of Parking Occupancy and Mode Usage at East River Plaza in New York City, was chosen by the review committee for its clarity, strong research, and timeliness. I was pleased to serve as Kyle's advisor.
His research included gathering original data and examining the environmental impact statement that was used to justify constructing the parking garage at the shopping center in East Harlem.  His research found that there was an excess parking supply, primarily because the developers assumed that shoppers would access the site as if it were in a suburban location, rather than using the plentiful transit available in New York City. He also found that the development actually made walking to the site more difficult, despite the large numbers of pedestrians who access the site.
In addition, Rutgers University student Dorothy Le has been named a National Parks Scholar for 2012. This program is run by the Eno Center for Transportation in conjunction with the National Parks Service, and its goal is to provide expertise for addressing transportation challenges in America's national parks. Ms. Le will be involved with transportation planning for the National Parks of New York Harbor. One of her tasks will be to plan better bicycle access for the park.
Measuring Benefits of Transit-Oriented Development (TOD)
Researchers at the Alan M. Voorhees Transportation Center, Rutgers University, are examining the myriad benefits that can accrue from intensive development and redevelopment near transit facilities. This work is funded by the New Jersey Department of Transportation and with funding made available by the Mineta National Transit Research Consortium. 
This research takes a comprehensive approach, examining economic, environmental, and health benefits that may emerge from intensified land use near transit. The research team recently completed key informant interviews (with public officials; economic development, environmental, and health professionals; and land developers) and focus groups (with residents of communities that have built or anticipate building TOD).
A survey of households located near eight rail stations will commence this spring. Data derived from both the qualitative and quantitative analysis will be used to support an interactive website for communities embarking on TOD. We expect full results to be available in early 2013.
---
San Jose State University News
Research underway for 29 new transit-focused projects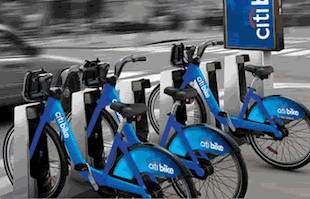 Bike sharing is one of 29 topics MNTRC researchers are investigating this year. 
BY KAREN PHILBRICK, PHD
DIRECTOR, RESEARCH
MNTRC has approved 29 new research projects for funding under its newly-won two-year contract. This is a tremendous amount of work that our researchers will produce to help address transit issues for Americans.
This list is a small sample of the topics that MNTRC will be researching. Please note that the full list and more detailed project descriptions are available at MNTRC Research in Progress and TRB Research in Progress. The lengthier descriptions include the project abstract, a description of tasks, technology transfer, and the project timeframe.
All nine partner universities in the Consortium will participate in the research, each one applying its particular expertise to a given project. We are very enthusiastic about this new collaboration, and we expect it will add significantly to our country's knowledge base.
MSTM student Sarah Swensson wins Eno Foundation fellowship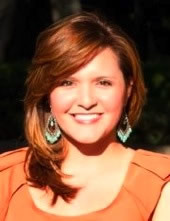 MTI graduate and Eno Foundation Transportation Fellowship winner
BY PETER HAAS, PHD 
DIRECTOR, MTI EDUCATION PROGRAMS
Master of Science in Transportation Management (MSTM) student Sarah Swensson, an employee at the Orange County Transportation Authority (OCTA), was recently awarded an Eno Foundation Transportation fellowship. These fellowships are highly competitive, so we are justifiably proud that this is the second time in three years that an MSTM student has been nominated. When she was a broadcast journalism student at Chapman University, Sarah was chosen as a news desk intern at the NBC London News Bureau. She was shocked by the London Tube bombings and equally impressed by the transit system's ability to bounce back.
But it wasn't until her internship in the media relations department at OCTA in 2006 that she found her passion for transportation. Since then, she has been promoted to senior community relations specialist. She said that, "Pursuing my graduate degree at the San Jose State University's Mineta Transportation Institute is equipping me with the necessary tools to further advance my career and expose me to the core of transportation planning, policy making, funding, management and implementation." While she values her classroom education, Sarah says that nothing compares with meeting transportation leaders in person and hearing their stories of the front lines.
MTI leads passenger rail security panel for annual TRB meeting 
BY DONNA MAURILLO, MSTM
DIRECTOR, COMMUNICATIONS & TECHNOLOGY TRANSFER
The Mineta Transportation Institute was pleased to be invited to organize an expert panel on passenger rail security for the Transportation Research Board 's annual meeting earlier this year. The half-day session, Rail Security: Critical Insights and Applications, covered a critical topic, given the revelations that Osama bin Laden and al Qaida may have been planning rail attacks in the United States. While these plans were not well developed, it did underscore that terrorists do plan to expand their attacks beyond Europe and Asia.
The keynote was given by Nuria Fernandez, COO of the New York Metropolitan Transportation Authority, who discussed the agency's requirement to safely transport 8 million people each day. Other leading transportation security experts offered their insights, including Brian Michael Jenkins, Director, MTI's National Transportation Security Center of Excellence; Robert Pryor, Director, Intermodal Division, Transportation Security Administration, US Department of Homeland Security; Tom Farmer, CEO, Association of American Railroads; and Christopher Budd, Consultant, National Infrastructure Security, United Kingdom.
The panelists noted that security procedures similar to those for air travel have not been applied to surface transportation primarily due to operational and economic differences, such as higher visibility in an open network. However, they are no less important. This has been made clear, they said, by recent terrorist attacks on surface transit systems around the world, such as in Madrid, London and Mumbai, and discovery of several terrorist plots in the US and elsewhere. Findings in Osama bin Laden's compound demonstrated that he had rudimentary plans to attack rail infrastructure.
National Transportation Workforce Summit broke new ground 
BY DONNA MAURILLO, MSTM
DIRECTOR, COMMUNICATIONS & TECHNOLOGY TRANSFER
Late in April, Consortium partners MTI and Penn State were among the sponsors for the first National Transportation Workforce Summit in Washington DC. Organized by members of the Council of University Transportation Centers (CUTC), the three-day summit's purpose was to engage a variety of perspectives in developing a policy framework for educating and training future transportation workers.
US Secretary of Transportation Ray LaHood delivered the keynote. In his remarks, he pointed out that the last generation gave us the interstate highway system. Yet we have nothing to give the next generation. "High-speed rail should be it," he said, noting that we must prepare for that with proper training and mentoring because the technologies are so new.
Three Assistant Secretaries also were featured, including Polly Trottenberg, Brenda Dann-Messier, and Jane Oates. And an expert panel of CEOs opened the discussions, including five MNTRC board representatives – Pamela Boswell of APTA (standing in for Michael Melaniphy), Julie Cunningham of the Conference of Minority Transportation Officials, Ed Hamberger of the Association of American Railroads, John Horsley of AASHTO, and Ed Wytkind of the AFL-CIO.
---
Transit camp is ready to go
Leo Hanifin, PhD, Dean, College of Engineering and Science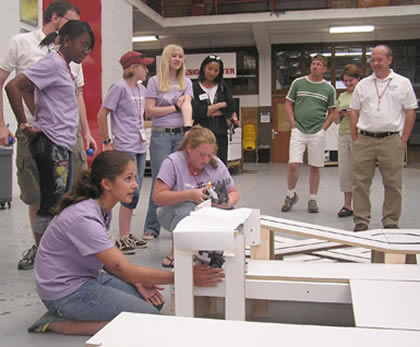 Summer camps at UDM are popular with high school students. 
UNIVERSITY OF DETROIT MERCY NEWS – Each year, UDM offersTRANSIT , a one-week summer commuter camp for nearly 75 high school students who want to learn about transit. We have completed plans for this year's camp, and we've identified the camp instructors, staff, and external presenters. One of five camps offered by UDM Engineering and Science, the program includes labs and discussions led by transportation experts from the public and private sectors. Students learn about the issues facing transportation engineers as they create safe, secure, and efficient transportation systems. Hands-on projects, guest speakers from industry, field trips, and input from university experts expose students to professions they may never have considered. The need for transportation professionals will become more critical as Baby Boomers begin to retire in the next several years. This summer camp helps us reach young people at the point when they may be making decisions for education and careers.
Regional transit study in the works
Although we are awaiting our matching contract from the Michigan Department of Transportation, we are already planning a regional transit study. A number of key planning activities have taken place while we await the completion of the contract.
The six co-investigators have had several pre-project planning meetings, so they will be ready to work immediately. We also have announced the graduate assistantship and reviewed the applicant qualifications.
A strong advisory group is necessary, and we have received commitments from an excellent group. Members include the highest-level illustrator of transit systems from Michigan Department of Transportation, Detroit Department of Transportation, Southeastern Michigan Council of Governments, M1 Rail, Suburban Mobility Authority for Regional Transportation (SMART), and Transportation Riders United.
This will be a valuable research project that we expect to help improve transit for many current and future riders.
---
UNLV Hosts Introduction to Practical Railway Engineering
Hualiang (Harry) Teng, PhD, Associate Professor, Civil and Environmental Engineering
Walking the tracks, seminar participants gained some new insights.
UNLV NEWS – This past March 21-23, UNLV hosted a three-day seminar – Introduction to Practical Railway Engineering (IPRE). This is one of the most important seminars offered by the American Railway Engineering and Maintenance-of-way Association (AREMA). More than 20 professionals from across the US attended the seminar. The seminar instructors were well-known professionals in railroad industries, including railroad transit. They were John G. Green from HALCROW – A CH2M Hill Company; Mark Engels from Escorrt, LLC; Michael McGinley from SCRRA; and B. Coy Horton from Union Pacific Railroad.
Key topics included train operations, railway equipment, tractive effort, train-track dynamics, railway track alignment design, track inspection and maintenance, civil and track construction, railway structures, environmental regulations and permitting, highway-railway grade crossings, and communications and signals. The seminar culminated with a field trip to a railroad road in Las Vegas.
One instructor said it was a fun and exceptional class – very mature, with many excellent questions. He said that everyone wanted to attend the field trip.