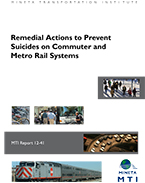 Abstract:
The present study reviewed current efforts of commuter railroads to reduce or prevent suicide on railways and discussed preventative activities affecting rail related suicides. Primary preventative methods have included erecting physical barriers, posting warning signs with telephone numbers for hotline crisis counseling, using video surveillance on platforms, and training key personnel to identify and intervene with at-risk individuals. However, little or no evidence has been reported to demonstrate the efficacy of these methods.
The present study also sought to provide information about community awareness and attitudes toward suicide on the railroads and survey data collected from 498 respondents demonstrate that community members feel a strong sense of responsibility for assisting those who are suicidal. However, survey data also revealed a lower sense of self-confidence in knowing what to do to be helpful.
Pre-post surveys of railroad personnel involved in workplace suicide prevention training programs examined the effects of an employee training program with a large commuter railroad designed to identify and prevent rail related suicide. Results demonstrated that people who completed training obtained higher levels of self-efficacy with respect to understanding, identifying, and assisting people who appeared to be at risk for suicide. Program participants also demonstrated knowledge of the signs and symptoms and risk factors for suicide.
Recommendations for prevention strategies include continued efforts to identify hotspots and to erect barriers to reduce access to the railroad right-of-way, and for installing signage with warnings and contact information for crisis services. The use of drones equipped with video monitoring systems working in tandem with trespasser intrusion alert technology could be one way of dealing with more remote locations. Training programs for railroad employees designed to increase their confidence and skill intervening with suicidal individuals is also needed. Additionally railroads should maximize their prevention efforts by partnering with other groups devoted to preventing suicide as well as with government agencies. Suicide is a community-wide concern, community residents feel some responsibility for prevention, and railroads should not be expected to be the sole source of preventive activities for intentional fatalities by rail. 
Authors:
PATRICK SHERRY, PH.D.
Professor Patrick Sherry, Ph.D., A.B.P.P., was director of counseling services at the State University of New York at Buffalo from 1980 to 1985. In 1985, he joined the University of Denver Counseling Psychology Program as an assistant professor of Counseling Psychology. Soon after, he was appointed director of training for the Doctoral Program in Counseling Psychology, which was approved and accredited by the American Psychological Association in 1987. He was responsible for training doctoral-level psychologists for over 25 years. For the past several years, he has been engaged primarily in consultation, research, and writing in the US and Asia.
Since joining the University of Denver, he has supervised and trained over 500 masters-level counselors and over 200 doctoral-level psychologists in psychotherapy and psychological testing. In addition, he has delivered over 180 scientific presentations and papers at various academic conferences and meetings, and published in more than forty academic publications  and peer-reviewed journals.
Dr. Sherry specializes in workplace violence and PTSD for employees involved in critical incidents at work. He has studied the effects of critical incidents on substance abuse, sleep, and fatigue and job performance. In addition, he works with business and industry developing effective interventions and responses to the aftereffects of such events in the workplace. Since 2002, he has been director of the National Center for Intermodal Transportation and a member of the board of directors of the Intermodal Transportation Institute at the University of Denver. In addition to scientific research, he has consulted extensively with Fortune 500 transportation companies throughout the US and Canada in the areas of safety, safety culture assessment, intermodal workforce development in transportation, and leadership training. He also supervises research in intermodal container tracking and security, identifying appropriate work schedules that limit or reduce fatigue and increase performance, identifying workers with high-risk safety profiles, and training and developing executives in intermodal and logistics transportation. Formerly, Dr. Sherry led several pioneering efforts with US railroads to implement behaviorally based safety and peer feedback programs that resulted in significant reductions in reported injuries.
Dr. Sherry is licensed as a psychologist in New York and Colorado. He is listed in the US National Register of Health Service Providers. He was appointed as a Fellow of the Academy of Counseling Psychology and holds diplomate status with the Academy.
Keywords:
Critical incidents
Epidemiology
Railroad safety
Suicide prevention
Trespassers