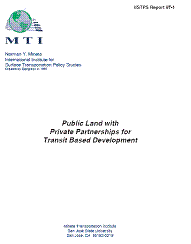 Abstract:
The Norman Y. Mineta International Institute for Surface Transportation Policy Studies (IISTPS) at San José State University (SJSU) conducted this project to examine opportunities for transit based developments based on public land and private partnerships. The ten case studies include a variety of financing and ownership arrangements, with the buildings constructed for residential, commercial and office uses.
The report examines the differences in expectations and objectives between public and private entities and suggests strategies for more realistic relationships. It includes detailed "Decision Check Lists" for both private developers and public agencies to consider before embarking upon a transit based development project.
The report reviews different purposes and intended uses for transit oriented development, as well as the importance of appropriate location, design and market timing. It included a discussion of financing mechanisms, including traditionally private-based, as well as various methods of public funding and subsidies. Relevant federal and California legislation is summarized. The document includes a Glossary and an extensive bibliography.
Authors:
SCOTT LEFAVER, AICP
Dr. Lefaver is a former faculty member for the Department of Urban and Regional Planning at San José State University, where he taught land use and environmental planning. He earned his Master of Urban Planning from San José State University, a Master of Public Administration and Doctor of Public Administration from the University of Southern California. He is currently the principal and owner of SLSM, LLC, which buys, rehabilitates, and owns low-income tax credit housing throughout the United States.
Dr. Lefaver's research interests include land use, transit-oriented development and low-income tax credit housing. He holds professional membership in the American Planning Association, the American Institute of Certified Planners, and is a General Contractor in the State of California.
CHARLES RIVASPLATA, PH.D.
Charles Rivasplata is a lecturer in the Urban and Regional Planning Department at San José State University, where he has taught local and regional transport planning classes since 2007. He is a senior transport planner at the San Francisco Municipal Transportation Agency (SFMTA), where he conducts policy work. He earned master's degrees in Civil Engineering and City Planning from the University of California (UC) at Berkeley (1991), and a Ph.D. in Transportation Policy from UC Davis (2006). His doctoral dissertation focused on the impacts of Labour Party reforms on transit integration in the U.K. His research has centered on a number of topics, including transit privatization and deregulation, minibus competition (in South Africa), regional governance, and travel demand management (TDM). In addition, Dr. Rivasplata has offered courses at UC Berkeley and the Central University of Venezuela, as well as seminars at Cambridge University, UC Davis, the University of Cape Town, and the Polytechnic University of Catalunya.
Keywords:
Transit based development
Public/Private partnerships
Financing
Redevelopment
Zoning
Transit Oriented development
Density
Market analysis
Real property