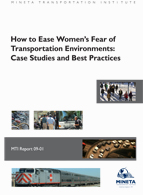 Abstract:
The relationship between women´s fear and the built environment has been the subject of research with clear findings that women feel unsafe in many public spaces. These often include transportation environments. Desolate bus stops and train cars, dimly lit park-and-ride lots and parking structures, but also overcrowded transit vehicles represent stressful settings for many women, who often feel compelled to change their transportation modes and travel patterns in order to avoid them. Past research has shown that transit passengers´ fears and concerns about safety influence their travel decisions. But while the relationship between women´s fear of crime and public space has been the focus of considerable research, transit environments have received less attention. This study seeks to address this gap by, 1) identifying the perspectives and needs of women regarding safety from crime in transit environments through a comprehensive literature review and in depth interviews with representatives of 16 national women´s interest groups; 2) assessing if these needs are met by transit agencies, through a survey of 131 U.S transit operators; and 3) discussing model programs and best practices from the U.S. and overseas that address women´s concerns about safe travel. We found that women transit passengers have some distinct travel needs, but these needs are not well addressed in the U.S., where only a handful of transit operators have specific programs in place targeting the safety needs of women riders. In contrast, some other countries have adopted specific measures and policies in response to women´s transit safety needs. We also found a mismatch between the expressed needs of women passengers and the types and locations of common safety/security strategies adopted by transit agencies. Based on feedback from our interviews and case studies we offer a series of policy recommendations.
Authors:
ANASTASIA LOUKAITOU-SIDERIS
Anastasia Loukaitou-Sideris is professor and former chair of the Department of Urban Planning at UCLA. She holds a doctorate in urban planning and master´s degrees in architecture and urban planning from the University of Southern California. Her areas of specialization are urban design, and physical and land use planning. She has published extensively on issues of downtown development, inner-city revitalization, cultural uses of parks and open spaces, transit-oriented design and transit safety. Her projects have been funded by the National Endowment for the Arts, Federal Transit Administration, California Department of Transportation, Poverty and Race Research Action Council, California Policy Research Center, the John Randolph and Dora Haynes Foundation, and the Mineta Transportation Institute.
Dr. Loukaitou-Sideris has served as a consultant to the Transportation Research Board, Federal Highway Administration, Southern California Association of Governments, Los Angeles Metro, South Bay Cities Council of Governments, Los Angeles Neighborhood Initiative, Robert Wood Johnson Foundation, the Transportation and Education Ministries of Greece, and many municipal governments on issues of urban design, land use and transportation, and higher education. She is the coauthor of Sidewalks: Conflict and Negotiation over Public Space (MIT Press: 2009) and Urban Design Downtown: Poetics and Politics of Form (University of California Press: 1998), and the coeditor of Jobs and Economic Development in Minority Communities (Temple University Press: 2006).
AMANDA BORNSTEIN
Amanda Bornstein holds a Master´s degree from the Department of Urban Planning at UCLA. She has a B.A. in American Studies from Tufts University and a B.F.A. in Visual Art from the School of the Museum of Fine Art in Boston. Her research interests include how urban design can be used as a tool to improve safety and quality of life in neighborhoods.
CAMILLE FINK, M.A.
Camille N.Y. Fink is a Ph.D. student in the UCLA Department of Urban Planning. Her interests include transportation safety and security; transportation equity; race, gender, and the built environment; and ethnographic research methods. She has a B.A. in sociology from the University of California, Davis, and an M.A. in urban planning from UCLA.
SHAHIN GERAMI, PH.D.
Shahin Gerami is Associate Professor in the Department of Social Sciences and Coordinator of the Program of Women´s Studies at San Jose State University. She holds a law degree from the University of Tehran, and a Ph.D. in Sociology from the University of Oklahoma.
LINDA SAMUELS
Linda Samuels is a Ph.D. student at the Department of Urban Planning at UCLA. She holds a Master of Architecture degree from Princeton University and a Bachelor of Design from the University of Florida. Before coming to UCLA, she taught in the College of Architecture at the University of North Carolina at Charlotte. Her current research considers the role of the road as a political space in the American built environment.