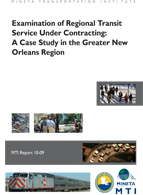 Abstract:
Many local governments and transit agencies in the United States face financial difficulties in providing adequate public transit service in individual systems, and in providing sufficient regional coordination to accommodate transit trips involving at least one transfer between systems. These difficulties can be attributed to the recent economic downturn, continuing withdrawal of the state and federal funds that help support local transit service, a decline in local funding for transit service in inner cities due to ongoing suburbanization, and a distribution of resources that responds to geographic equity without addressing service needs.
This study examines two main research questions: (1) the effect of a "delegated management" contract on efficiency and effectiveness within a single transit system, and (2) the effects of a single private firm—contracted separately by more than one agency in the same region—on regional coordination, exploring the case in Greater New Orleans. The current situation in New Orleans exhibits two unique transit service conditions. First, New Orleans Regional Transit Authority (RTA) executed a "delegated management" contract with a multinational private firm, outsourcing more functions (e.g., management, planning, funding) to the contractor than has been typical in the U.S. Second, as the same contractor has also been contracted by another transit agency in an adjacent jurisdiction—Jefferson Transit (JeT), this firm may potentially have economic incentives to improve regional coordination, in order to increase the productivity and effectiveness of its own transit service provision.
Although the limited amount of available operation and financial data has prevented us from drawing more definitive conclusions, the findings of this multifaceted study should provide valuable information on a transit service contracting approach new to the U.S.: delegated management. This study also identified a coherent set of indices with which to evaluate the regional coordination of transit service, the present status of coordination among U.S. transit agencies, and barriers that need to be resolved for regional transit coordination to be successful.
Authors:
HIROYUKI ISEKI, PH.D.
Hiroyuki Iseki is an assistant professor of the School of Architecture, Planning, and Preservation, and is also appointed as a research faculty with the National Center for Smart Growth at the University of Maryland, College Park. He holds a Masters of Engineering from the University of Tokyo, Japan, and M.A. and Ph.D. in Urban Planning from UCLA. Iseki's research focuses on balancing efficiency, effectiveness, and equity in public policy and planning with a special attention to transportation, environment, and land use. His research interest includes transportation economics and finance, public transit planning and management, travel behavior analysis and modeling, regional transportation planning, and applications of GISs to research and practice in public policy and planning. Iseki's work has been published in a range of transportation and planning journals including Transportation Research A: Policy and Practice, Transport Reviews, Journal of the Transportation Research Board, Journal of Public Transportation and Journal of Planning Education and Research.
CHARLES R. RIVASPLATA, PH.D.
Charles Rivasplata is a lecturer in the Urban and Regional Planning Department at San José State University, where he has taught local and regional transport planning classes since 2007. For 20 years he has worked in planning and is presently a senior transport planner at the San Francisco Municipal Transportation Agency (SFMTA). Dr. Rivasplata completed master's degrees in Civil Engineering and City Planning at the University of California, Berkeley (1991), and a Ph.D. at the University of California, Davis (2006). His dissertation focused on the impacts of Labour Party reforms on transit integration in Britain. Dr. Rivasplata has written on a number of topics, including transit privatization/deregulation in the U.K. and Chile, minibus competition in South Africa, regional governance, travel demand management (TDM) and transit facility coordination. In addition, he has taught courses on international transport planning at UC-Berkeley; transport technology/ policy (in South Africa) at Cambridge University; and TDM at the Central University of Venezuela.
REBECCA HOUTMAN, M.A.
Rebecca Houtman obtained her masters degree in Urban Studies from the University of New Orleans in 2010. Her professional interests include community and economic development, and public-private partnerships in transportation and other public services.
ADAM L. SMITH
Adam is a graduate student in the Urban and Regional Planning Department at San José State University. His professional interests include transportation and land use planning, parking policy, transportation finance, GIS applications for urban and regional planning, and urban design.
CARL SEIFERT
Carl is a master's student in the Urban and Regional Planning program at the University of New Orleans. His professional interests include commercial revitalization using Business Improvement Districts, regional planning, and transit oriented economic development.
TIFFANY SUDAR
Tiffany is a graduate student of Urban and Regional Planning at The University of New Orleans. She is currently working on her thesis investigating the change in migration patterns in and out of New Orleans pre- and post-Hurricane Katrina. Her professional interests include transportation, land use and economic development.
Keywords:
Contracting
Coordination
Regional planning
Service quality
Urban transit