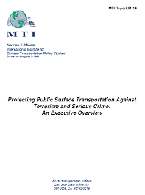 Abstract:
Recent global events make it clear that the threat of terrorism is one to be taken seriously. For those who are attempting to kill in quantity and kill indiscriminately, surface transportation offers the ideal target. Because of the public nature of mass transit, there is often little security with no checkpoints as is the case with airports. The practice of terrorism has moved in varying directions in recent years, depending upon different forms of transportation systems and venues of operation. On the positive side, terrorist attacks on commercial aviation have declined significantly after reaching a high point in the 1970s, bringing some relief to travelers, airlines and governments. No doubt, much of the change has been facilitated by the increased vigilance in airports and related facilities. No such relief has occurred for those who use surface transportation, however. In fact, assaults on public surface transportation systems have continued to take place worldwide without any indications of abatement. Why have there been such different behaviors and outcomes with these two methods of transportation? This study addresses these fundamental and increasingly important questions. This executive summary is a preview of the soon-to-be published Protecting Public Surface Transportation Against Terrorism and Serious Crime, the third in an ongoing study by MTI on terrorism in surface transportation, by Brian M. Jenkins and Larry N. Gerston.
Authors:
BRIAN MICHAEL JENKINS
Brian Michael Jenkins is one of the world's foremost authorities on terrorism and sophisticated crime. He works with government agencies, international organizations and multinational corporations as an analyst, investigator, and crisis management consultant. From 1989 to 1998, Mr. Jenkins was the Deputy Chairman of Kroll Associates, an international investigative and consulting firm. Before that, he was chairman of RAND's political science department, where from 1972 to 1989, he also directed RAND's research on political violence. He is currently a senior advisor to the president of RAND.
Jenkins has BA in Fine Arts and a Master's degree in History, both from UCLA. He studied at the University of Guanajuato in Mexico and in the Department of Humanities at the University of San Carlos in Guatemala, where he was a Fulbright Fellow and recipient of a second fellowship from the Organization of American States.
Commissioned in the infantry at the age of 19, Mr. Jenkins became a paratrooper and ultimately, a Captain in the Green Berets. He is a decorated combat veteran, having served in the Seventh Special Forces Group in the Dominican Republic during the American intervention and later as a member of the Fifth Special Forces Group in Vietnam (1966-1967). He returned to Vietnam on a special assignment in 1968 to serve as a civilian member of the Long Range Planning Task Group; he remained with the group until the end of 1969, receiving the Department of the Army's highest award for his service. Mr. Jenkins returned to Vietnam in 1971 on a special assignment. Mr. Jenkins is the author of International Terrorism: A New Mode of Conflict, the editor and coauthor of Terrorism and Personal Protection, co-editor and co-author of Aviation Terrorism and Security, and co-author of The Fall of South Vietnam. He is also the author of numerous articles, book chapters, and published research reports on conflict and crime.
In 1996, President Clinton appointed Mr. Jenkins to be a member of the White House Commission on Aviation Safety and Security. From 1999 to 2000, he served as an advisor to the National Commission on Terrorism and in 2000 was appointed to be a member of the U.S. Comptroller General's International Chamber of Commerce (ICC) and a member of the board of directors of the ICC's Commercial Crime Services. Mr. Jenkins was also a member of the Transportation Research Board/National Research Council Panel on Transportation: Science and Technology for Countering Terrorism, 2002.
Mr. Jenkins has led the Mineta Transportation Institute's counter-terrorism research team since 1997, producing three volumes of case studies of major terrorist attacks on surface transportation and participating in symposia to disseminate best practices distilled from lessons learned in the attacks.
Keywords:
Buses
Public transportation
Safety
Terrorism
Violence