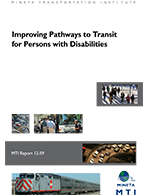 Abstract:
Persons with disabilities can achieve a greater degree of freedom when they have full access to a variety of transit modes, but this can only be achieved when the pathways to transit – the infrastructure and conditions in the built environment – allow full access to transit stops, stations, and vehicles. Since passage of the Americans with Disabilities Act (ADA) in 1990, many transit agencies and governmental jurisdictions have made significant progress in this area. Policy initiatives, incremental enhancements, modifications, and other measures undertaken by transit agencies and their partners have significantly improved access to transit for persons with disabilities, others who rely on public transportation, and individuals who chose to utilize these services.
This research study explores, through case study work, efforts that have been effective in improving pathways to transit. Interviews and site visits were conducted with five transit agencies, along with their partners, that are actively engaged in improving pathways to connect transit consumers – particularly people with disabilities – with transit stations and stops. These agencies are: Broward County Transit (Broward County, FL), Memphis Area Transit Authority (Memphis, TN), NJ TRANSIT (Newark and New Brunswick, NJ), Tri-County Metropolitan Transportation District of Oregon (Portland, OR), and Link Transit (Wenatchee, WA). Promising practices and/or lessons were identified through the case study analysis; these should be considered by any transit agency seeking to create improved access to its services for persons with disabilities.
Authors:
STEPHANIE DIPETRILLO, M.ARCH, MCRP
Stephanie DiPetrillo is a Senior Research Specialist at the Alan M. Voorhees Transportation Center, Rutgers University. Her research interests include the connections between transportation and land use and ways to promote the use of public and community transportation through improvements in the built environment and through transit-oriented development. Increasingly her work has examined the ways to improve access to transit by all users, including people with disabilities. Past works include: MNTRC-supported publications Exploring Transportation, Employment, Housing, and Location Issues for New Jersey Veterans with Disability (12-28) and Measuring Benefits of Transit Oriented Development (12-18); A Strategy for Getting People with Disabilities to Work: Supporting NJ County Transportation and Connecting to Jobs by Connecting to Transit, funded by the NJ Department of Human Services; and Reducing Costs of Purchased Transportation for State Agencies, funded by the NJ Department of Transportation Research Bureau. She is the editor of the online publication, NJTOD.org, home to the Transit-Friendly Development Newsletter, sponsored by NJ TRANSIT, and is an advisor to The TOD Line, an online newsletter of TOD in New York and Connecticut. She has taught at Rutgers University, Hofstra University, and the New Jersey Institute of Technology.
ANDREA LUBIN, MS
Andrea Lubin is a Senior Research Specialist at the Alan M. Voorhees Transportation Center, Rutgers University, with more than ten years of experience in transportation policy research, analysis, and outreach. Most of her work focuses on investigating the transportation needs and experiences of persons considered transportation disadvantaged including persons with a diverse array of disabilities. Examples of her transportation-equity focused projects include a Mineta National Transit Research Consortium initiative entitled Exploring Transportation, Employment, Housing, and Location Issues for New Jersey Veterans with Disability. She also recently completed a study with colleagues entitled Detour to the Right Place: A Study with Recommendations for Addressing the Transportation Needs and Barriers of Adults on the Autism Spectrum in New Jersey. Currently, Ms. Lubin is facilitating public outreach to develop the North Jersey Transportation Planning Authority Coordinated Human Services Transportation Plan. She received her undergraduate degree from Tufts University and a Master of Science in public policy from the Eagleton Institute/Bloustein School of Planning and Public Policy at Rutgers University.
ANASTASIA LOUKAITOU-SIDERIS, PH.D.
Anastasia Loukaitou-Sideris is a Professor of Urban Planning and Associate Dean of the UCLA Luskin School of Public Affairs. She holds degrees in architecture and urban planning. Recent projects, funded by the U.S. and California Departments of Transportation, California Air Resources Board, Mellon Foundation, Haynes Foundation, Gilbert Foundation, Archstone Foundation, and the Mineta Transportation Institute, include: high speed rail development, examination of the impacts of new rail transit lines on communities, transit and pedestrian safety, transportation needs of women, environmental determinants of crime, cultural uses of neighborhood parks among different ethnic groups, children, and senior citizens. She has served as a consultant to the Transportation Research Board, Federal Transit Administration, Southern California Association of Governments, South Bay Cities Council of Government, Roger Wood Johnson Foundation, Los Angeles Neighborhood Initiative, Project for Public Spaces, Greek Ministry of Education, Portuguese Foundation for Science and Technology, and many municipal governments on issues of urban design, land use and transportation. Her books include: Urban Design Downtown: Poetics and Politics of Form (1998); Jobs and Economic Development in Minority Communities (2006); Sidewalks: Conflict and Negotiation over Public Space (2009), Companion to Urban Design (2011), and The Informal American City: Beyond Taco Trucks and Day Labor (2014).
CARLA SALEHIAN, MA
Born and raised in San Diego, CA, Carla Salehian has a passion for creating beautiful and livable spaces that promote inclusivity, sustainability, and create community vitality. She currently works as project and research manager at UCLA's cityLAB, where she has spent the past several years researching innovative policy and design solutions to contemporary urban issues ranging from affordable housing to accessible transportation. Her professional interests include universal design, community engagement strategies, and the revitalization of public spaces and streets.
STEPHEN C. GIBSON, MURP
Stephen C. Gibson is currently Assistant Professor of Landscape Architecture in the Architecture, Landscape, and Visual Arts Department at the University of Western Australia. As a certified landscape architect and urban planner, Stephen has engaged critical design issues in both Australia and the United States, focusing primarily on community development and the cultural aspects of public space use. Stephen's previous work has suggested a need for a deeper understanding of the way in which social groups use space; we must first comprehended this use prior to appropriately and successfully planning and designing public space. To this end, Stephen is conducting extensive field research on the subject and hopes to unlock the keys to successful public space provision and design that is inclusive and accessible to all. Stephen's current research is investigating older adultuse of open space in Perth, Australia, as an entrée to developing policies of equitable access and inclusion in planning and design processes. Future research will investigate accessibility to public space for other social and cultural groups to forge a more complete understanding of public space use, planning, design, and management.
KRISTINE M. WILLIAMS, MUP, AICP
Kristine Williams is Program Director, Planning and Corridor Management Research at the Center for Urban Transportation Research, University of South Florida where she specializes in access management, land use and transportation policy, equity and multimodal planning. Her research includes methods for integrating equity into the regional transportation planning process, multimodal transportation planning best practices for local government comprehensive planning, and access management policies, regulations and guidelines. Kristine is primary author of the TRB Access Management Manual (2003, 2014), a 2008 Fulbright Senior Specialist in access management, and former Chair of the TRB Access Management Committee (AHB70). She received the 2008 ITE Transportation Planning Council Best Project Award for "Transportation Concurrency: Best Practices Guide" and the 2004 FAPA Award of Excellence for "Model Regulations and Plan Amendments for Multimodal Transportation Districts." Kristine has a Master of Urban Planning Degree from Michigan State University and is Adjunct Instructor at USF where she has taught graduate level courses in Access Management and Multimodal Transportation Planning.
THEODORE TRENT GREEN, M.ARCH.U.D.
Theodore Trent Green is an Associate Professor of Architecture and Urban Design at the School of Architecture and Community Design – University of South Florida. He is the Director of the Master of Urban and Community Design Program and is a Senior Faculty Researcher (applied projects) in the Florida Center for Community Design + Research. Professor Green is a registered architect and an urban/community designer with over twenty-five years of professional experience in the private, public and institutional sectors. He specializes in the areas of urban design, community design and development, housing, development regulations and sustainable urbanism. He has completed a number of urban and community design projects that have been adopted throughout the Tampa Bay and West Coast of Florida. He serves as a Planning Commissioner on the Hillsborough City-County Planning Commission and is a Board member of the Hillsborough Metropolitan Planning Commission.
Keywords:
Pathways
Public transportation
Disability
Infrastructure improvements
Mobility managements