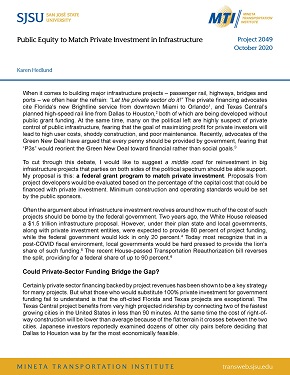 Abstract:
When it comes to building major infrastructure projects – passenger rail, highways, bridges and ports – we often hear the refrain: "Let the private sector do it!" The private financing advocates cite Florida's new Brightline service from downtown Miami to Orlando, and Texas Central's planned high-speed rail line from Dallas to Houston, both of which are being developed without public grant funding. At the same time, many on the political left are highly suspect of private control of public infrastructure, fearing that the goal of maximizing profit for private investors will lead to high user costs, shoddy construction, and poor maintenance. Recently, advocates of the Green New Deal have argued that every penny should be provided by the government, fearing that "P3s" would reorient the Green New Deal toward financial rather than social goals. In this MTI perspective, the author suggests a middle road for reinvestment in big infrastructure projects that parties on both sides of the political spectrum should be able support.
Authors:
Karen Hedlund
Karen Hedlund is a nationally-recognized advisor for high-speed, intercity and commuter rail projects. She recently led the WSP consultant team that produced a Business Case Analysis for a proposed high-speed rail corridor linking Vancouver, Seattle and Portland. Karen has also provided strategic and financing advice on the Gateway Program – the multi-billion-dollar project to replace the 100-year old rail tunnel and bridge connecting New Jersey and New York. For the City of Chicago, she helped evaluate a proposal by Elon Musk's Boring Company for an express connection from the Loop to O'Hare. 
From 2010 to 2014, Ms. Hedlund served as the Federal Railroad Administration's (FRA) chief counsel and deputy administrator, providing leadership for the Obama administration's $12 billion high-speed rail grant program. At FRA, Ms. Hedlund also oversaw the FRA's (RRIF) loan program and represented FRA on the boards of the Union Station Redevelopment Corporation in Washington, DC and Moynihan Station Development Corporation in New York City, helping them in their station redevelopment plans.
Prior to her joining the Obama Administration, Karen had a long career as an attorney practicing in the field of infrastructure finance and P3s, as a partner of  MayerBrown, Skadden and the Nossaman law firm. She is a graduate of Harvard University (BA) and Georgetown University Law Center (JD).