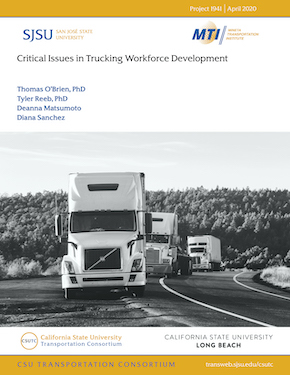 Abstract:
This white paper identifies research opportunities focused on workforce development for the trucking industry, particularly regarding truck drivers and the truck driver shortage. Interviews were conducted with key national and state trucking industry leaders. In addition, the authors gathered information from relevant sessions at the Transportation Research Board (TRB) Annual Meeting in January of 2020. The researchers also synthesized recent literature related to the trucking industry and workforce development. Key findings indicate that 1) the shortage may be a byproduct of "churn," where truck drivers are leaving not the industry, but their respective companies for other companies, which creates a capacity issue rather than a shortage of drivers; 2) Those entering the truck driving profession tend to be in their 30s with previous work experience not in the industry; 3) Trucking automation and platooning are far in the horizon and will not affect the demand for truck drivers; and 4) With new technology required for transparency, speed, accuracy, and collaboration in transportation and logistics, new workforce training opportunities are needed for trucking establishments. Implications for policy and practice include developing marketing, training, and retention strategies specific to this entering demographic of truck drivers and creating more accurate messaging to the public about the future of trucking industry jobs.
(Note, this research was conducted before the COVID-19 shelter-in-place policies were mandated.)
Authors:
THOMAS O'BRIEN, PHD
Dr. Thomas O'Brien is the Executive Director of the Center for International Trade and Transportation (CITT) at California State University, Long Beach (CSULB) and the Deputy Director of Long Beach Programs for the METRANS Transportation Center, a partnership of CSULB and the University of Southern California. He also serves as the Director of the FHWA Southwest Transportation Workforce Center (SWTWC). He previously served as CITT's Director of Research. Dr. O'Brien is an instructor in CSULB's Master of Science in Supply Chain Management (MSSCM). Dr. O'Brien is a member of the Executive Committee of the Council of University Transportation Centers (CUTC) where he serves as President and is a member of the CUTC Workforce Development Taskforce and Chair of the oversight committee of the National Science Foundation's National Center for Supply Chain Technology Education. He is a member of the Transportation Research Board's Intermodal Freight Transport Committee and Urban Freight and Operations Committee. He also serves on the Boards of the Southern California Roundtable of the Council of Supply Chain Management Professionals, Los Angeles Transportation Club, Foreign Trade Association and National Transit Institute. Dr. O'Brien has a Master's degree in Urban Planning and Development and a Ph.D. in Policy, Planning, and Development from the University of Southern California. He is both an Eno and Eisenhower Transportation Fellow.
TYLER REEB, PHD
Dr. Tyler Reeb is the Director of Research and Workforce Development for CITT, and the Associate Director of the Federal Highway Administration's Southwest Transportation Workforce Center housed at CITT. He also serves as the Editor of METRANS NEWS, a tri-quarterly publication that summarizes METRANS research, education, and outreach efforts.
Dr. Reeb leads research teams who address challenges and opportunities related to the new mobility workforce, transformational technology, institutional change, organizational management, and transportation systems management operations (TSM&O). He draws from industry benchmarking, labor market analysis, future scenario planning, systems thinking, enterprise resource planning, and GIS tools to produce research-driven reports, articles/white papers, books, and multimedia products that promote innovation and civic partnerships between leaders in business, government, and education. 
Dr. Reeb was the lead author for a successful $1.5 million FHWA grant application to fund deployment of the National Transportation Career Pathway Initiative. He is a member of two National Academies of Sciences, Engineering, and Medicine standing committees focused on Transportation Education & Training and Native American Transportation Issues.
Dr. Reeb has a Bachelor's in English Literature and Mass Media and a Ph.D. in English with emphasis in Transdisciplinary Research Methods.
DEANNA MATSUMOTO
Deanna Matsumoto is the Education and Workforce Development Analyst for CITT.  She supports the Center's programmatic efforts in workforce development, policy analysis, inclusive programming, project management, curricular and instructional development, and white paper development. Ms. Matsumoto is currently Project Manager of the Southern California Regional Workforce Development Needs Assessment for the Transportation and Supply Chain Industry Sectors, funded by the California State University Transportation Consortium (CSUTC), which is led by the Mineta Transportation Institute and the California Sustainable Freight Action Plan Workforce Development Project funded by the California Energy Commission and the Governor's Office of Business and Economic Development.
Ms. Matsumoto has a Master of Arts degree in Architecture and Urban Planning from the University of California, Los Angeles with a concentration in the Built Environment, and a Bachelor of Arts degree from Yale University. She is a state recipient of the California Council of  Adult Education Excellence in Teaching award and national recipient of the Edward McClure Award from the Association of Collegiate Schools of Planning and the History Research Prize from the Society for American City and Regional Planning. Ms. Matsumoto has served on the leadership teams of two K12 Western Association of Schools and Colleges (WASC) accreditation committees.
DIANA SANCHEZ
Diana Sanchez is a Research Associate at the Center for International Trade and Transportation (CITT). She graduated from California State University of Long Beach with a Bachelor of Arts in Economics.  She has contributed toward several projects including the California Sustainable Freight Action Plan: Workforce Development for California Energy Commission; she studied the skills gap among transportation incumbents and helped craft the Sustainable Freight Foundations Certificate Pilot Project to eliminate the gap. In recognition of this work, she received the Intermodal Association of North America scholarship to study chassis management. She is the lead publishing author for the article "Where do Females Rise to Leadership Positions? A Cross-Sector Analysis," published through Applied Economics Letters, which supports the existence of a glass cliff. Apart from conducting research at CITT, Diana enjoys analyzing data and has observed: 1) successful nonprofit campaign characteristics by utilizing data from twitter and 2) patent trends in relation to migration frequency.
Keywords:
Government regulation
Truck drivers
Trucking transportation
Education and training
E-commerce