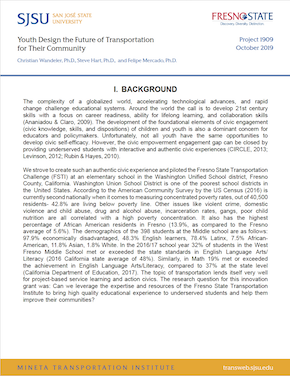 Abstract:
The complexity of a globalized world, accelerating technological advances, and rapid change challenge educational systems. Around the world the call is to develop 21st century skills with a focus on career readiness, ability for lifelong learning, and collaboration skills. The development of the foundational elements of civic engagement (civic knowledge, skills, and dispositions) of children and youth is also a dominant concern for educators and policymakers. Unfortunately, not all youth have the same opportunities to develop civic self-efficacy. However, the civic empowerment engagement gap can be closed by providing underserved students with interactive and authentic civic experiences.
We strove to create such an authentic civic experience and piloted the Fresno State Transportation Challenge (FSTI) at an elementary school in the Washington Unified School district, Fresno County, California. The research question for this innovation grant was: Can we leverage the expertise and resources of the Fresno State Transportation Institute to bring high quality educational experience to underserved students and help them improve their communities?
Authors:
CHRISTIAN WANDELER, PH.D.
Dr. Christian Wandeler is an associate professor in research methods and statistics at California State University Fresno. He researches the development of hope and self-determination. He is a certified trainer of teachers in the eduScrum pedagogy method.
STEVEN HART, PH.D.
Dr. Steven Hart is a full professor at California State University Fresno and an expert in service learning and the service learning fellow at Fresno State.
FELIPE MERCADO, PH.D.
Dr. Felipe Mercado is a principal at Fresno West elementary and an expert in social-emotional learning, trauma informed practices and serving underserved communities.