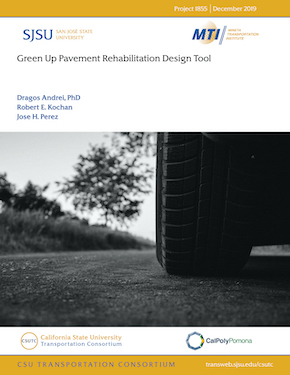 Abstract:
While designers produce pavement rehabilitation recommendations every day, for projects of all sizes, most designers have little information on the environmental impact of their recommendations. This research developed a new decision tool, called the "Green Up Pavement Rehabilitation Design Tool," to allow the comparison of different rehabilitation solutions in terms of greenhouse gas emissions and to encourage sustainable practices such as materials recycling and the use of permeable, cool, and quiet pavement surfaces. The project aligns with the major goal of California Senate Bill 1, which is "to address deferred maintenance on the state highway system and the local street and road system," by providing a rehabilitation strategy selection tool as well as an educational tool to promote sustainable pavement practices. The Green Up graphic and the overall methodology were finalized in consultation with representatives of the portland cement concrete and asphalt industries in California. For designers interested in learning more, the tool includes fact sheets about sustainable pavement rehabilitation strategies and links to additional online resources.
Authors:
DRAGOS ANDREI, PH.D., P.E.
Dr. Andrei is a professor of civil engineering at California State Polytechnic University, Pomona, and a registered civil engineer in California. Before joining Cal Poly Pomona in 2008, Dr. Andrei held positions with Fugro Consultants in Austin, Texas, and MACTEC Engineering and Consultants (now Wood PLC), in Los Angeles, California. Dr. Andrei received his Ph.D. from Arizona State University and a M.S. degree from the University of Maryland.
ROBERT KOCHAN, ENV. SP.
Robert Kochan is an aspiring civil engineer, educator, and philosopher. Robert teaches for both work and pleasure. He's a humanitarian at heart and loves spending time with his friends and family. He finds great joy in meeting people from all walks of life and learning from them, entertaining ideas, and petting his cats. Kochan received his M.S. from California State Polytechnic University, Pomona and a B.Sc. degree from San Diego State University.
JOSE H. PEREZ
Jose H. Perez is a staff engineer with Byer Geotechnical Inc. in Glendale, California. He has been active as a consultant since 2014 and he received both his B.S. and M.S. degrees from California State Polytechnic University, Pomona.
Keywords:
Sustainability
Pavements
Rehabilitation
Decision support systems
Recycling