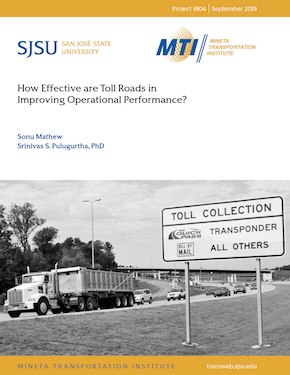 Abstract:
The main focus of this research is to develop a systematic analytical framework and evaluate the effect of a toll road on region's traffic using travel time and travel time reliability measures. The travel time data for the Triangle Expressway in Raleigh, North Carolina, United States was employed for the assessment process. The spatial and temporal variations in the travel time distributions on the toll road, parallel alternate route, and near-vicinity cross-streets were analyzed using various travel time reliability measures. The results indicate that the Triangle Expressway showed a positive trend in reliability over the years of its operation. The parallel route reliability decreased significantly during the analysis period, whereas the travel time reliability of cross-streets showed a consistent trend. The stabilization of travel time distributions and the reliability measures over different years of toll road operation are good indicators, suggesting that further reduction in performance measures may not be seen on the near vicinity corridors. The findings from link-level and corridor-level analysis may help with transportation system management, assessing the influence of travel demand patterns, and evaluating the effect of planned implementation of similar projects.
Additional Resources:
Authors:
SONU MATHEW
Mr. Sonu Mathew is pursuing his Ph.D. in Infrastructure and Environmental Systems at the University of North Carolina at Charlotte. He earned his master's degree from Sardar Vallabhbhai National Institute of Technology, Surat, India. His areas of interest are transportation planning, traffic flow modeling and simulation, and traffic safety.
SRINIVAS S. PULUGURTHA
Dr. Srinivas S. Pulugurtha, P.E., F.ASCE is currently working as Professor & Research Director of the Department of Civil & Environmental Engineering at The University of North Carolina at Charlotte (UNC Charlotte). He is also currently directing the Infrastructure, Design, Environment, and Sustainability (IDEAS) Center on UNC Charlotte campus.
Keywords:
Toll roads
Travel time
Travel demand management
Transportation system management