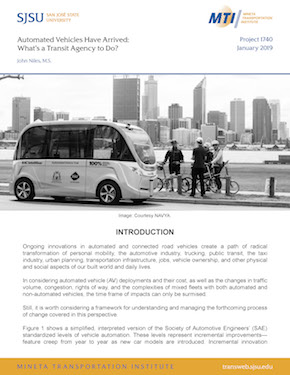 Abstract:
Ongoing innovations in automated and connected road vehicles create a path of radical transformation of personal mobility, the automotive industry, trucking, public transit, the taxi industry, urban planning, transportation infrastructure, jobs, vehicle ownership, and other physical and social aspects of our built world and daily lives.
In considering automated vehicle (AV) deployments and their cost, as well as the changes in traffic volume, congestion, rights of way, and the complexities of mixed fleets with both automated and non-automated vehicles, the time frame of impacts can only be surmised.
Still, it is worth considering a framework for understanding and managing the forthcoming process of change covered in this perspective.
Authors:
John Niles researches, designs, plans, and evaluates transportation improvement policies and actions as an independent consultant. He is a Research Associate with the Mineta Transportation Institute at San Jose State University, leading teams that prepared reports on new planning processes for transit-oriented development, bus rapid transit incrementalism, and park-and-ride advantages for transit ridership. Lately he has been focused on priorities for automated vehicle deployment and new incentives for higher vehicle occupancy in peak periods to reduce congestion.
Keywords:
Public transit
Autonomous vehicles