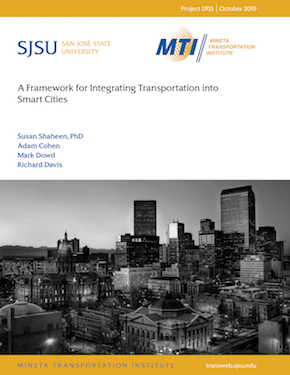 Abstract:
In recent years, economic, environmental, and political forces have quickly given rise to "Smart Cities" -- an array of strategies that can transform transportation in cities. Using a multi-method approach to research and develop a framework for smart cities, this study provides a framework that can be employed to:
Understand what a smart city is and how to replicate smart city successes; 
The role of pilot projects, metrics, and evaluations to test, implement, and replicate strategies; and
Understand the role of shared micromobility, big data, and other key issues impacting communities.
This research provides recommendations for policy and professional practice as it relates to integrating transportation into smart cities.
Authors:
SUSAN SHAHEEN, PH.D.
Susan Shaheen is a pioneer and thought leader in future mobility strategies. She was among the first to observe, research, and write about changing dynamics in shared mobility and the likely scenarios through which automated vehicles will gain prominence. She is an internationally recognized expert in mobility and the sharing economy and co-directs the Transportation Sustainability Research Center (TSRC) of the Institute of Transportation Studies at the University of California (UC), Berkeley. She is also a professor in Civil and Environmental Engineering at UC Berkeley. She was the first Honda Distinguished Scholar in Transportation at the Institute of Transportation Studies at UC Davis from 2000 to 2012. She served as the Policy and Behavioral Research Program Leader at California Partners for Advanced Transit and Highways from 2003 to 2007, and as a special assistant to the Director's Office of the California Department of Transportation from 2001 to 2004.
ADAM COHEN, MCRP
Adam Cohen is a researcher at the Transportation Sustainability Research Center at the University of California, Berkeley. Since joining the group in 2004, his research has focused on innovative urban mobility solutions, including shared mobility, smart cities technologies, smartphone apps, automated and connected vehicles, urban air mobility, and other innovative and emerging transportation technologies. He has also co-authored numerous articles and reports on shared mobility in peer-reviewed journals and conference proceedings. Previously, Cohen worked for the Information Technology and Telecommunications Laboratory (ITTL) at the Georgia Tech Research Institute (GTRI). His academic background is in city and regional planning and international affairs.
MARK K. DOWD, JD
Mark K. Dowd is the founder and Executive Director of Smart Cities Lab, a city-facing nonprofit forging new solutions to their stubborn challenges. He is also a Visiting Scholar at UC Berkeley where he is working with cities to find innovative ways to accelerate the adoption of new mobility technologies. He served as a Senior Advisor in the White House Office of Management and Budget until January 20th, 2017. Prior to joining the White House, Mark was a Senior Advisor to Secretary Foxx and a Deputy Assistant Secretary for Research and Technology where he worked on issues related to technology and innovation. Mark is the architect of the Smart City Challenge that fundamentally changed the way American cities approach mobility. Mark also was a member of President Obama's Hurricane Sandy Task Force and served for three years as a senior member of the President's Auto Task Force, where he worked on the historic restructuring of General Motors and Chrysler.  Mark practiced law for thirteen years in New York City at the law firm of Schulte Roth & Zabel. Mark attended Rutgers College and Seton Hall University School of Law.
RICHARD DAVIS
Richard Davis is a researcher at the Transportation Sustainability Research Center at the University of California, Berkeley. Richard completed his BA in Screenwriting with a minor in Computer Science at Loyola Marymount University in Los Angeles. Richard is currently completing his Master's in Urban Planning at San Jose State University. Richard believes in a future where cities are profoundly oriented towards human connection and built according to biophilic design principles.
Keywords:
Smart cities
Shared mobility
Mobility on demand
Mobility as a service
Micromobility
Big data
Smart City Challenge