MTI hosts Secretary of Transportation summit
Karen E. Philbrick, PhD, Executive Director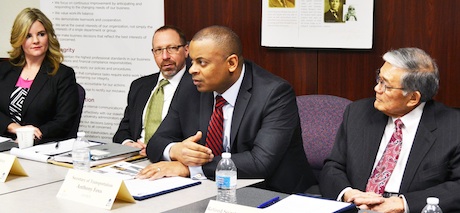 Transportation Secretary Anthony Foxx at a roundtable hosted by MTI. From left: MTI Executive Director Dr. Karen Philbrick, US Under Secretary for Policy Peter Rogoff, Secretary Foxx, and retired Transportation Secretary Norman Mineta.
On February 2, US Transportation Secretary Anthony Foxx presided over a roundtable policy discussion at MTI and introduced Beyond Traffic: Trends and Choices, the US Department of Transportation's newly released 30-year framework for the future.
He was joined by retired Secretary Norman Mineta, Under Secretary for Policy Peter Rogoff, Congresswoman Zoe Lofgren, State Senate Transportation Committee Chair Jim Beall, San Jose Mayor Sam Liccardo, San Jose State University President Mo Qayoumi, and state and local highway and transit planners and operators.
"This is not an action plan," said Secretary Foxx. "It is a catalyst for public conversation about mobility issues and how we can best solve them."
At the Secretary's invitation, attendees offered their insights about current and future transportation issues and how to solve them. He challenged the group to become agents for change, but in an innovative way, noting that the US has typically led other nations with creative solutions. And yet this nation seems to be falling behind with increasing gridlock on its roadways.
The attendees offered several insights about social justice issues, transportation funding, the need for high-speed rail, how traffic congestion affects housing and jobs, how to leverage Silicon Valley technology to benefit transportation, ways to increase multi-modal options, how climate change is affecting transportation infrastructure, and more.
In addition to those named above, the group included California Secretary of Transportation Brian Kelly, Caltrans Director Malcolm Doughtery, MTC Executive Director Steve Heminger, VTA CEO Nuria Fernandez, BART General Manager Grace Crunican, Board of Supervisor President Dave Cortese, VTA Chair Perry Woodward, CHSRA Board Vice Chair Jim Hartnett, VTA Vice Chair Supervisor Cindy Chavez, San Jose Silicon Valley Chamber of Commerce President Sean Cottle, MTI Emeritus Executive Director Rod Diridon, South Bay Labor Council AFL-CIO Executive Officer Ben Field, Silicon Valley Leadership Group CEO Carl Guardino, WMH Management Team President William Hadaya, Empire Broadcasting Corporation President and CEO Robert Kieve, California FHWA Administrator Vince Mammano, and MTI Executive Director Karen Philbrick..
Before the MTI meeting, the Secretary visited Autodesk. After the meeting, he paid a visit to Google, where he and Executive Chairman Eric Schmidt discussed mobility challenges and opportunities in a Virtual Fireside Chat that was conducted before a live audience and streamed live to the Web.
A few days later, the Secretary wrote in the US DOT blog, Fast Lane that Autodesk and MTI are "the kind of innovators we will need to engage with if we're going to face the challenges we expect in the next three decades." He continued, "The Mineta Center has done a lot of work in the challenges facing our transportation workforce, and yesterday the Center offered to focus on those topics as part of the public feedback we're soliciting for 'Beyond Traffic.'"
---
Rutgers University News
Rail bridge research wins AASHTO award
Robert Noland, PhD, Director, Voorhees Transportation Center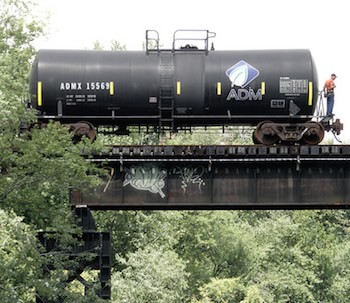 Dr. Nassif's award-winning report studied the impact of heavier trains on rail bridges.
Congratulations to Dr. Hani Nassif, whose research report, Elimination of Weight Restriction on Amtrak, NJ Transit, and Conrail Line, was chosen to receive AASHTO's prestigious "Sweet Sixteen" award for research of particularly high value. The report evaluates the impact of recently increased weight limits for freight railcars on selected New Jersey rail bridges. 
Increased weights required testing
The research team, including co-principal investigators Kaan Ozbay, PhD, and Harry Capers, Jr., PE, conducted additional field tests and detailed finite element analysis for more accurate condition evaluation of the bridges. To operate the bridges safely and cost-effectively for their remaining lives, the team made recommendations for appropriate maintenance. Based on the study of the selected railway bridges, they also provided general guidelines for bridge inspection and maintenance.
"We conducted a benefits analysis for raising the weight restriction on the New Jersey Transit HX Drawbridge to 286,000 pounds using available data," said Dr. Nassif. "Currently, the bridge supports only weights of 263,000 pounds per rail car, and raising this restriction is expected to allow increased weight transported by freight rail cars using this line. The economic results show a potential benefit of up to $7.49 million over 25 years."
Selection included a bridge variety
Based on field inspections, a number of critical bridges on New Jersey's rail lines were selected and load-rated based on current American Railway Engineering and Maintenance-of-Way Association (AREMA) specifications as well as the analytical studies. Sufficient sample bridges were selected so they could represent bridges with various structural systems and material types. 
The research team adopted finite element modeling for more accurate bridge assessment and to develop a methodology for evaluating and load-rating railroad bridges. Based on the field inspection results, the team selected critical bridges, which were instrumented and tested under live loads. 
Research applies to other states' bridges
Finally, they made recommendations for bridge load rating, maintenance, repair, and rehabilitation for safe operation on various New Jersey lines. The recommendations are applicable for other railroad bridges that support railcars with the increased standard weight.
Besides Dr. Nassif, the project team included, and student researchers Peng Lou, Dan Su, Shri Iyer, Megan Valeo, and Etkin Kara.
---
Dr. Nassif organizes mini-symposium on bridges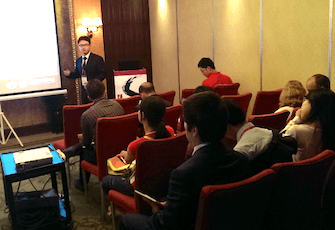 Peng Lou presents paper on behalf of Dr. Hani Nassif at mini-symposium.
Hani Nassif, PhD, organized a Mini-Symposium 10 (MS-10) with three South Korean colleagues, Soobong Shin, PhD, from Inha University, Ho-Kyung Kim, PhD, from Seoul National University, and Nam-Sik Kim, PhD, from Pusan National University. The symposium was held during the 7th International Conference on Bridge Maintenance, Safety and Management (IABMAS 2014) in Shanghai, China on July 7-11, 2014.   
IABMAS has developed into a significant association that covers all aspects related to bridge maintenance, safety, and management worldwide. The conference focused on those topics while promoting international cooperation. The objective of MS-10 was to present a lifetime perspective for design and maintenance of short, medium, and long-span bridges. Two sessions, 16 papers, and 12 participants were prepared and presented.
On behalf of Dr. Nassif, Peng Lou, a PhD candidate in RIME Group, presented two transit-related papers entitled "Evaluation of Existing Railway Bridges Using Structural Health Monitoring and Finite Element Modeling," and "Modeling of Train-Bridge Dynamic Interaction System for Bridges with Stepped-Beam Cross-Sections."
---
Two studies provide insight into paratransit use
Deva Deka, PhD, Assistant Director for Research, Voorhees Transportation Center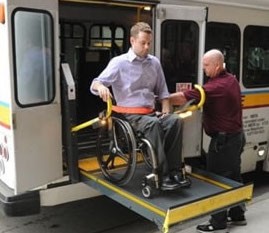 Studies analyzed paratransit use to predict future needs.
Two recently published articles on ADA paratransit offer insight into paratransit users and the factors that cause trip delays. The authors say that accuracy in predicting future demand depends on understanding paratransit trip generators and current demand patterns. Both studies analyzed data from roughly two million trips made over a 24-month period by clients of the New Jersey's no-cost ADA paratransit service, Access Link. 
Pickup and drop-off locations share similarities
The Generators of Paratransit Trips by Persons with Disabilities, by Deva Deka, PhD, and E.J. Gonzales, PhD, was part of a larger effort to forecast future paratransit trip demand in different parts of New Jersey. Since no data was available on the purpose of each trip, the research team analyzed data on pickups and drop-offs, cross-referencing it with census block group data on population and employment. By identifying the characteristics of the block groups where the paratransit clients lived and those of the block groups they visited, they were able to identify trip generators at a zonal level. 
Statistical models revealed that the population size, proportion of elderly people, proportion of African Americans, and proportion of dwellings with a very large number of units per block group all positively associate with the number of clients and at-home pickups. 
Health care, services, attract paratransit riders
The models for non-home drop-offs indicated that health care and social assistance jobs, retail jobs, administrative and support jobs, and accommodation and food services jobs are more likely to attract paratransit trips than other characteristics of those block groups. Population characteristics of block groups had very little effect for non-home drop-offs. 
By cross-referencing the precise drop-off locations with geocoded business locations from Dun and Bradstreet, the study confirmed that the establishments located within 75 feet of the non-home drop-offs were more likely to be health care establishments, social service establishments, business service establishments, membership organizations (primarily religious establishments), and educational establishments than other types of establishments.
Several factors contribute to trip delays
The second article, An Exploration of the Environmental and Rider Characteristics Associated with Disability Paratransit Trip Delay by Dr. Deka, explored the characteristics of places, trips, and trip makers (passengers) associated with paratransit trip delay. The study first estimated trip delay by subtracting the time trips should have taken in free-flow conditions from the actual time taken. Statistical models revealed that the density of population, jobs, and intersections at the pickup and drop-off locations are positively correlated. Household income of the locations, however, is negatively associated with trip delay. 
Other factors typically associated with vehicle traffic delay, such as time of day and day of the week, were also found to be associated with paratransit trip delay. The analysis showed that vehicle type (van/bus versus sedan), the use of wheelchairs, the presence of personal care attendants, and characteristics such as the age and disability type of the trip makers significantly impact trip delay.
The study offers suggestions to minimize paratransit trip delay.
---
San Jose State University News
Research
Transit and urban policy research acclaimed
Karen E. Philbrick, PhD, Executive Director
Matt Holian, PhD, is already making a name for himself at San Jose State University. He was selected for the University's "Early Career Investigator" award for the quality of his research. In particular, he has excelled with two reports he completed as a Research Associate for MTI.
Vibrancy affects land and transportation use
In The Impact of Center City Economic and Cultural Vibrancy on Greenhouse Gas Emissions from Transportation notes that, while urban planners and scholars have given much attention to understanding the relationship between the built environment and transportation behavior, other aspects of the urban environment have received little attention. These include the vibrancy and quality of life in urban areas. Dr. Holian's report helps to close this gap by analyzing the effects of land use and urban vibrancy on transportation patterns. 
The data analysis suggests that urban environment vibrancy does affect transportation behavior as well as land-use patterns. By integrating objective measures of center-city quality of life into transportation choice models, Dr. Holian's new statistical results inform public policy. The report also discusses specific public policy options for reducing greenhouse gas emissions and increasing public transit use.
Will suburban dwellers support transit?
In California Voting and Suburbanization Patterns: Implications for Transit Policy, Dr. Holian notes that population and employment have been moving to the suburbs over the last 60 years and asks: As the median voter lives further from the city center and thus enjoys fewer benefits from public transit, does this reduce a suburban voter's propensity to support public investment in public transit improvements? 
Dr. Holian and his team analyzed voting patterns on 20 transit-related ballot propositions from statewide elections in California between 1990 and 2010. Controlling for demographic, socioeconomic and political ideological factors, they focused on whether suburbanization could be a causal factor in determining public support for public transit investment. 
The research has provides a rich picture of the attitudes towards transportation policy among California voters to help policy makers better understand citizen preferences and predict how future trends may shift support toward or against transit. The report concludes with suggestions for using urban land markets to increase support for transit.
---
Education
Transportation students predict five future trends 
Alex Kenefick, MSTM Student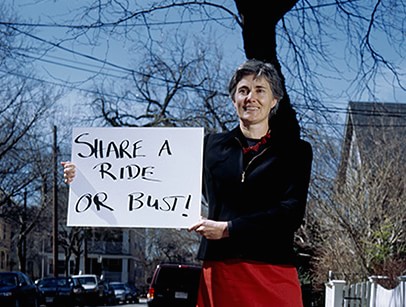 Students predicted the "sharing economy" would lead to more ridesharing and vehicle sharing.
Professor Peter Haas asked MTI MSTM students to post five predictions for the transportation topics they would be pondering in the next ten years. 
Challenges ahead for transit agencies
More than 25% of the class mentioned succession and knowledge retention planning for transit agencies, which will face large employee turnovers in the years to come. Transit agencies will continue to be tested by scarce funds and must uncover new funding sources and develop new efficiencies.
These might be created by contracting for new services, forming public/private partnerships, and even merging agencies. New transit vehicle technology will be employed, and electronic payment systems will grow and become more integrated. Continued information technology developments will give managers better control of agency resources. We will need it because we will be improving the "last mile" of transit service, providing services for an aging population and supporting more suburb-to-suburb trips.  As public transit agencies adopt social media for communications, they will deliver more transparency. 
Urban development and transportation
The class expects an increase in transit-oriented development (TOD) and a continued expansion in urban living for retiring baby boomers and millennials. Redeveloped downtowns will host diverse transportation options, including bike, pedestrian, transit, and auto access, but will they contain affordable housing, or will the people who could most benefit from TOD be pushed to the metro area fringes? 
The urban population will double over the next 50 years, so we will decide whether to densify urban and suburban zones or sprawl even farther. Choosing sprawl will further complicate the affordability of providing transit services in the suburbs, but even if our cities don't sprawl, transportation challenges will take the form of more trips, trips for non-commute purposes, and increased trips between emerging population centers. Our highway department will transition from expanding capacity to operating and managing our already aging infrastructure. Will it be prepared for the boom to come? Transit will be incorporated much earlier into the development process, as the Europeans do.
Environmental protection
As California grows, we must continue developing cities that can help people be healthy while keeping the environment healthy, too. We will continue to develop sustainable energy resources while correctly pricing the consumption of fossil fuels. Fuel costs will increase, and fuel efficiency will improve. Marketing will be stepped up to move electric vehicle adoption inland from coastal communities.  
Mobile Web technology and the informal/sharing economy
Car sharing, bike sharing, ride sharing, and new private sector ventures will continue to provide appealing alternatives to public transit for those who can afford them. Public transit agencies may at first view these technologies as competition until they realize that they can capture these riders for the trips for which public transit is best suited. 
Public-private partnerships will bloom between transit agencies considering demand response systems and web/tech firms such as Uber and Google. People will profit from working with these types of applications to provide services for others and will push more people into the informal economy, permanently changing our commute patterns and neighborhood choices. 
There will be less rush-hour and more around-the-clock demand for transportation services. Autonomous vehicles will surmount the first of many hurdles to implementation, but the public will begin using vehicles with semi-autonomous features, such as lane centering and collision avoidance systems. Crowd-sourced data accuracy will improve while also improving all types of transportation operations.
Funding issues
User fees for roads and parking will increase to support the cost of transportation improvements and infrastructure repair. The deeply entrenched gas tax may not be fully replaced by a vehicle mileage tax, but first steps will be taken to make such a tax politically palatable. Transit agency coordination will finally happen because seamless transportation services from the customer's perspective will be mandated in the next omnibus transportation act.  
Anything overlooked?
High-speed rail was mentioned by one student—a person who works for the High Speed Rail Authority. This student predicted that a major task for transportation managers in the next decade will be implementing high-speed rail and developing connecting transit services to expand its reach.
---
Information and Technology Transfer
Media campaigns help drive research usage
Donna Maurillo, MSTM, Director of Technology Transfer
A large part of our mission is to ensure that the excellent research conducted by the MNTRC is read by those who can put the data use for the public good. That's why we conduct media campaigns for every research report we release and every event we sponsor or co-sponsor. 
This past year, we set a new record, with 35 news releases and more than 20 conferences or similar events. We tracked nearly 125 original print and online news stories, not including numerous reprints in syndicated publications. And our campaigns got results: visitors downloaded more than 1.2 million research reports and other documents from our website. 
News releases included stories about the Detroit Regional Transit Study; Perceptions of Bicycle-Friendly Policy Impacts on Accessibility to Transit Services; Modeling Taxi Demand with GPS Data; Lithium-Ion Battery Remanufacturing, Repurposing, and Recycling; a report by MTI transportation security expert Brian Michael Jenkins about the Abuja bus attack; and many other reports. News releases were also issued for the Women in Transportation Conference at the University of Denver; and many other newsworthy stories. 
Media campaigns were conducted for conferences and other gatherings sponsored by MNTRC and MTI, includingTransit Research Board's Finance Conference in Irvine CA; the Logistics for Entrepreneurs Forum in Bowling Green OH; the US High-Speed Rail Conferences in San Francisco and in Los Angeles; the AREMA Forum in Las Vegas; the Green Industry Hall of Fame Conference in San Jose CA; the annual Garrett Morgan Sustainable Transportation Competition, broadcast nationwide; 21st Century Challenge in Philadelphia; Transit Smart Moves in Detroit; and many others.
---
UNLV News
Las Vegas streetcar system designed by students gets media attention
Hualiang "Harry" Teng, PhD, Assistant Professor, Civil and Environmental Engineering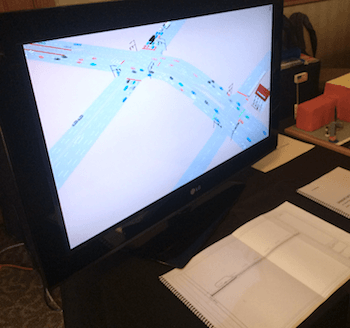 Proposed streetcar system.
A senior design team that includes several undergraduate engineering students from UNLV is on the way to help plan and design an electric streetcar system along Maryland Parkway connecting downtown Las Vegas to the city's airport. The students designed this project in response to a need identified by the State of Nevada. The project was presented at a competition that drew 30 teams from the UNLV Department of Engineering. It attracted the attention of judges and local news media because it offered a practical way to transform the transportation system in Las Vegas, making it a global city. The students estimate that the 14-mile streetcar system could carry upwards of 10,000 people per day, helping to reduce congestion along Maryland Parkway. 
Theory and practice converge 
Not only is UNLV advocating local economic and transportation development, it is integrating its education into this process. The undergraduate students in this team took the railroad course, "Introduction to Railroad Transportation." For their final project, they became interested in creating the streetcar system for Las Vegas.  
Not only did they produce a signed document using civil engineering design tools, but they also developed a traffic simulation model using the VISSIM software. Furthermore, these students wish to continue working on this project for their Masters' degrees. This is an exciting case in which UNLV's railroad program moves from classroom theory to practical application. 
Rail class spawns another project
In addition, another senior design team created container housing for emergency response. The students in that team also took the railroad class and sought advice on railroad-related issues in their design.
The undergraduate students working on the streetcar project are Jeffrey Brown, Jessica Menchaca, and Aurelia Grimaldi. 
---
Dr. Harry Teng presents two papers at AREMA
In September, Hualiang "Harry" Teng, PhD, presented two papers at the American Railway Engineering and Maintenance-of-Way Association (AREMA) annual conference in Chicago, one of which was funded by MNTRC: Developing Seamless Connections in the Urban Transit Network: A Look Toward High-Speed Rail Interconnectivity. His research team included Bingyi Hu, PhD, Tarik Toughrai, Tingting Yu, and Russell Ozawa.
Dr. Teng noted his practical experience on this trip. "Instead of taking a taxi going back to the Chicago airport," he said, "I took the subway that connects downtown Chicago and O'Hare. It is cheap and convenient, and it's been there many years. I know that it also took many years to connect BART to the San Francisco airport. For a long time in Las Vegas, it has been considered sensible to connect the airport to the Strip. However, it still has a long way to go."