Message from the Executive Director
Rod Diridon, Executive Director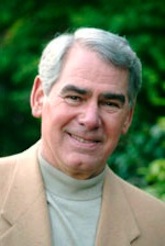 Welcome to MNTRC's current edition of World in Motion, with updates on our latest research and activities.
Join us at APTA Rail in June
MTI/MNTRC will produce the first day workshop at the APTA's annual Rail Conference in Philadelphia. Please attend on Saturday afternoon, June 1, at the Philadelphia Marriott for the Norman Y. Mineta National Transportation Policy Summit on Transit Finance. With nearly all of the other industrialized nations spending more per capita on transportation infrastructure, with the American Society of Civil Engineers giving the current US infrastructure a D+ grade, and US urban transportation demand already vastly outstripping capacity nearing gridlock, how can the US transportation system's former world-leadership be reestablished? 
Federal Transit Administrator Peter Rogoff has been invited to keynote. MTI National Transportation Finance Center Director Dr. Asha Agrawal, will present the results and trends from MTI's fourth annual national survey on the acceptability of various transportation revenue options. The invited panel of national experts includes COMTO President Julie Cunningham, former Deputy Secretary of Transportation Mort Downey, APTA President Michael Melaniphy, and AASHTO Executive Director Bud Wright. Administrator Rogof, and the panel will discuss finance measure successes, public-private partnerships, transportation equity, and pending legislative strategies. Time will be protected for audience participation. The program will mirror the hugely popular TRB/MNTRC High Speed Rail Workshop keynoted by Secretary LaHood and FRA Administrator Szabo the first day of this year's TRB conference. That event, detailed in the MTI Communications report in this newsletter, attracted an excellent audience of mobility leaders.
Other news in this edition:
AASHTO Executive Director Bud Wright profiled: Newest MTI/MNTRC Trustee Bud Wright is profiled in this issue. He comes to the board with impressive credentials, sitting in the AASHTO Executive Director's chair previously occupied by the now-retired John Horsley, who is a past chair of the MTI Board of Trustees.
Grand Valley University lithium ion battery study: Among the nine MNTRC university partners, Grand Valley updates the Li-Ion battery research in process, which will support bus sustainability, a critical goal for clean transit. 
Penn State University battery thermal management study: Penn State is testing batteries for electrical and thermal management so electric vehicle fleets will be more universally accepted. The research team is also developing a prototype long-life, nimble bus that could last up to 350,000 miles.
University of Toledo Biodiesel Study: At the University of Toledo, researchers are testing whether biodiesel is cleaner than conventional diesel. The study could have major implications for reducing particulates. So far, biodiesel shows promising results. 
Rutgers University Immigrant Transit Use and Bike-sharing Studies: Rutgers hired Fulbright Scholar Dr. Michael Smart to lead two research projects related to the way immigrants use transit, and the effects of bike-sharing on mode choice in Los Angeles.
University of Nevada, Las Vegas, Hosts AREMA: The University of Nevada, Las Vegas hosted the second AREMA seminar on practical railway engineering. I was pleased to present a keynote on high-speed rail connectivity. With UNLV's leadership, Las Vegas is undertaking a "Global City" campaign to align the city's infrastructure with the international standard.
MTI at San Jose State University Sponsors 18 Studies and an MSTM: MTI at San Jose State University is sponsoring 18 studies currently, many of which were directly requested by US DOT. Two recently published reports cover security strategy for high-speed rail and inventory the status and expansion plans for California's water transit services. Graduates of MTI's Master of Science in Transportation Management now lead transportation programs throughout the US.   
All of this activity demonstrates how public funds are being put to work to improve America's transportation systems.
---
Board Profile: Bud Wright CEO, AASHTO
Donna Maurillo, MNTRC Director of Communications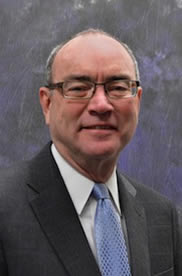 Bud Wright, the newest addition to the MTI/MNTRC Board of Trustees, is executive director of the American Association of State Highway and Transportation Officials (AASHTO). He will contribute his knowledge from many years managing transportation issues and projects.
As a transportation consultant based in Alexandria VA, Mr. Wright worked on a major project examining approaches to performance-based management of the federal-aid highway program. He also has played a significant role in research on administrative and institutional issues associated with mileage-based user fees.
Directed FHWA and 2,000+ workforce
He also was executive director of the Federal Highway Administration from 2001-2008, assisting the Administrator in establishing policies, programs, and priorities for the $40 billion annual federal-aid highway program. As FHWA's chief operating officer, Mr. Wright managed a workforce of more than 2,000 transportation professionals and an annual operating budget of $400 million.
He also served as the FHWA program manager for safety, and he directed the Office of Budget and Finance, where he worked extensively on the Transportation Equity Act for the 21st Century (TEA-21).
Mr. Wright began his career in 1975 as an economist in the FHWA Office of Planning. In 1986, he was selected for a congressional fellowship, serving with the Senate Appropriations Committee staff. Then in 1989-1990, he was a member of the National Transportation Policy Team, which developed former Transportation Secretary Samuel Skinner's National Transportation Policy.
From 1990-1992, Mr. Wright served as a special assistant to FHWA's executive director, helping to develop legislative provisions and negotiations with Congress that led to the landmark Intermodal Surface Transportation Efficiency Act of 1991. In 1992, he was appointed division administrator in Nevada, the agency's first non-engineer to hold such a position.
Won federal service awards
For the past four years, he has been a consultant to Lindsay Transportation Solutions/Barrier Systems, Inc., a leading manufacturer of products used in highway lane management and highway safety. He is currently a member of the American Road & Transportation Builders Association Board of Directors, and he is a co-chair of ARTBA's MAP-21 Policy Promotion, Implementation & Funding Enhancement Task Force.
Mr. Wright has received the Presidential Rank Award for federal government executives, the Secretary of Transportation's Special Achievement Award, the Federal Highway Administrator's Superior Achievement Award, and the Secretary of Transportation's Team Award (for development of TEA-21).
He holds a BA in economics from Virginia Polytechnic Institute and State University in Blacksburg VA.
---
Bus sustainability is the goal of Li-Ion battery research
Charles Standridge, PhD, Assistant Dean, Padnos College of Engineering and Computing
GVSU NEWS – Faculty, graduate students, and staff from Grand Valley State University (GVSU) in the School of Engineering and the Michigan Alternative and Renewable Energy Center (MAREC) are continuing their research on remanufacturing, repurposing, and recycling lithium-ion batteries from transit vehicles such as buses. Sybesma's Electronics is a private industry partner. This third-generation family-owned business in Holland MI will ensure that the work has practical industrial applications. 
The overarching goal of the project is to provide better economic value to transit operators who use electric vehicles and thus increase the sustainability of public transit.
Five components make up the project
The five major components of the project include:
A dynamic simulation model of the supply, demand, and economics of lithium-ion battery remanufacturing, repurposing and recycling 
Remanufacturing process development with emphasis on safe handling of batteries 
Recycling process development with emphasis on recovery of valuable battery components 
Repurposing demonstration project development 
Post-secondary level educational materials development 
The first version of the dynamic simulation model has been completed, and a journal article is under development. The model incorporates a range of demand projections extracted from the published literature as well as the battery life in transit applications ranging uniformly from two to ten years.  It also considers the apparent shift in demand in the lithium-ion battery market toward stationary storage applications.  In addition, the model takes into account the costs and benefits associated with recycling, remanufacturing, and repurposing. 
Safety factors are key
Safety is the single most significant issue in lithium-ion battery remanufacturing. Battery packs must be taken apart, reassembled, and tested, which involves repeatedly charging and discharging the batteries. Working closely with Sybesma's Electronics, the research team has designed and built a work bench to meet safety requirements. The bench completely encloses the battery pack while allowing connections to the test equipment. When a hazardous incident occurs, an operator can flip a switch to drop the pack into a sealed container instantly. A patent is being pursued.
Laboratory work to support the recycling process development is beginning.  The team has acquired a glove box for handling individual battery disassembly.  Initial experiments have shown that copper and aluminum components can be successfully extracted. This work will help determine the economic value of lithium-ion batteries at the end of their useful application life. Identifying the potential for the reuse of battery components improves sustainability of lithium-ion battery applications.
Young students to learn about battery reuse
A repurposing demonstration project is nearing completion.  Two prismatic (rectangular) lithium-ion battery packs are transformed from use in a vehicle to a storage system that provides the energy for a lighting display. The primary technical challenge was to develop an electronic control system for this particular battery application. The project will help the K-12 outreach staff of the Seymour and Esther Padnos College of Engineering and Computing demonstrate advanced storage technology, along with sustainability concepts, to middle and high school students. They will learn about reusing instead of discarding batteries that are no longer suitable for vehicle applications, and about storing energy from renewable sources.
Knowledge from the four project components, along with the other energy related efforts at GVSU, is the foundation for a proposed junior and senior level general education course, Renewable Energy Systems: Structure, Policy and Analysis.  Advanced energy storage systems will be introduced. The course also provides a survey of the technological as well as economic, societal, and public policy issues associated with renewable energy systems such as solar, wind, hydropower, and biomass. Energy research and analysis techniques also will be introduced. The course is in final approval, with the first offering planned for the winter 2014 semester.
---
Battery study will help electric vehicle fleet acceptance
David Klinikowski Director, Center for Bus Research and Testing
PENN STATE NEWS – Greater efficiencies and wider adoption of an electric vehicle fleet are the goal for a study about battery packs. Researchers hope to develop models that will improve the ability to predict state of health (SOH) and state of charge (SOC), along with improved thermal flow management, in the energy storage systems (ESS) of electric buses and other heavy vehicles. This project will be based on a battery pack consisting of cells that employ lithium titanate chemistry and prismatic shape and that are contained in a fully electric, class 8 passenger bus.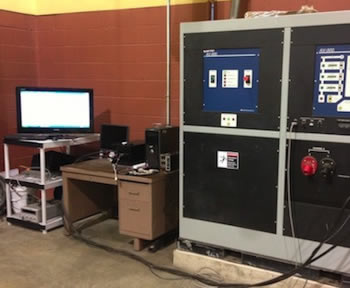 Researchers hope to create models for electrical and thermal management.
A battery pack from a bus manufactured by Proterra, Inc., will be studied using the Larson Institute's environmental chamber and Aerovironment AV900 power processing equipment. The pack will be electrically operated through a simulated drive cycle, and extensive testing will occur in various simulated environments.
Researchers expect an improved model
It will be evaluated for baseline data up to the manufacturer's limits to characterize its electrical and thermal performance. Then the present battery management system (BMS) algorithms for SOC and SOH will be evaluated for accuracy, and improvements will be designed and validated. In addition, using the baseline data, a lumped node Simulink model of the battery pack's thermal performance will be developed, assuming liquid cooling. An optimal thermal management system design will be proposed and then validated using computer aided design (CAD) and computational fluid dynamics (CFD) software.
Results will likely be used by heavy vehicle manufacturers as well as battery management system manufacturers as they develop their control systems.
Results will have wide application
The three models produced by the research will have immediate application at the Larson Institute's Federal Transit Administration sponsored Bus Research and Testing Center in support of the testing and development of battery-powered buses. Through entities conducting energy storage research at Penn State, including the Battery and Energy Storage Technology (BEST) Center and the Graduate Automotive Technology Education (GATE) Center of Excellence: In-Vehicle, High-Power Energy Storage Technology, the proposed work will be applicable to graduate student education in vehicle systems integration and battery management and models.
In addition to distributing the final report through the Mineta National Transit Research Consortium website and the US DOT University Transportation Centers database, the project's principal investigator, Timothy Cleary, will seek to disseminate the results of this work via publication in journals such as the International Journal of Powertrains and the SAE International Journal of Alternative Powertrains, and presentations at related conferences.
---
Research to develop prototype bus specs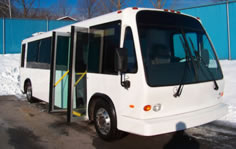 Advanced low-floor bus designed for long life.
A new research project at Penn State will test nimble, long-life buses that are expected to be in service for up to ten years and 350,000 miles. Investigators plan to identify and quantify the technical characteristics of a new breed of transit bus that is accessible, versatile, reliable, durable, and efficient in all operating environments. It is expected that such a vehicle will help US manufacturers expand their product lines and move into international markets, which in turn will enhance competitiveness and provide opportunities for workforce development and training.
Project partners include Penn State's Larson Institute; the Florida Department of Transportation; the Federal Transit Administration; and Ride Solutions, Inc., a Florida-based startup company. One goal is to measure the performance and reliability characteristics of the prototype bus in a standard testing environment. The prototype test vehicle, provided by Ride Solutions Inc., is currently undergoing the standard Federal Transit Administration (FTA) Altoona Bus Testing Program evaluation for the 10-year bus, 350,000-mile service life category at the Larson Institute.
Broad-based testing may open new markets
Additional research tests by Larson Institute personnel will further investigate the design's operational cost efficiencies that affect life-cycle costing. Other goals are to provide opportunities to improve the knowledge base and skills of the bus manufacturing and servicing workforce regarding these buses, and to provide a market analysis for the prototype design that will characterize and document the transit service and operating environment requirements of transit agencies in need of a small, long-life bus.
"This project furthers US Department of Transportation and FTA strategic goals in several areas," said Dr. Suresh Iyer, the project's principal investigator at the Larson Institute. "The project will address the state of good repair issues associated with operating cutaway chassis buses on rough roadways. Safety and livability will be advanced through the provision of greater bus accessibility and superior ride quality characteristics."
---
Dr. Smart to join Bloustein faculty
Robert B. Noland, PhD, Director, Voorhees Transportation Center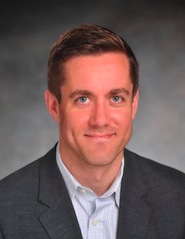 RUTGERS NEWS – Michael Smart, PhD, will be joining the faculty at the Bloustein School of Planning and Public Policy at Rutgers University in September 2013. His current research explores the ways in which social networks embedded in particular affinity neighborhoods (e.g., immigrant neighborhoods, gay and lesbian neighborhoods, etc.) influence the activity patterns of those who live in those neighborhoods. His work has examined the extent to which immigrant neighborhoods across the country function as "cities-within-cities," and he has developed novel techniques for describing the inward- or outward-focus of neighborhoods. 
Transportation research underway
In addition, Dr. Smart is currently heading a multi-year research project funded by the Federal Transit Administration on public participation processes related to transportation projects in immigrant neighborhoods. He is also leading another project examining the effect of a new bicycle-sharing system on mode choice in downtown Los Angeles.
Fulbright scholar comes from UCLA
Dr. Smart received his PhD from the Department of Urban Planning at UCLA's Luskin School of Public Affairs in 2011. He earned his Master's degree in city and regional planning from the University of Pennsylvania in 2006 and a Bachelor's degree in German from Yale University in 2000. He was the recipient of a Fulbright scholarship in 2002, when he conducted research on notions of immigration and citizenship in Germany. 
Before joining the faculty at Rutgers, his most recent position was as post-doctoral researcher and lecturer at UCLA, where he also served as the Research Lead for the Complete Streets Initiative at the Luskin School. He teaches transportation courses in departments of planning and geography, as well as a seminar in travel demand modeling. He has also taught courses on geographic information sciences and planning theory.
---
San Jose State University News
MTI Researchers Publish Two New Reports
Karen Philbrick, PhD, Director of Research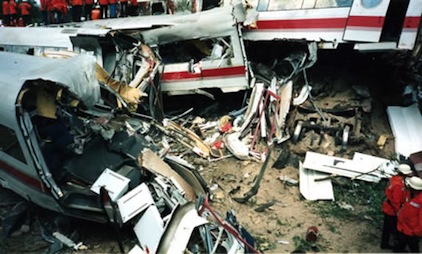 Rear passenger cars in the 1998 Eschede, Germany high-speed rail crash, caused by a fatigue crack in a wheel.
As part of the Mineta Transportation Institute's (MTI) continuing research on high-speed rail (HSR) security and safety, the Institute has just published Formulating a Strategy for Security High-Speed Rail in the United States, which can be downloaded at no cost. The report analyzes information relating to attacks, attempted attacks, and plots against HSR systems. 
While terrorist attacks aimed at trains and buses have increased over the past several decades, very few attacks have targeted HSR. To gain possible insights into the consequences of successful terrorist attacks against this mode, the inquiry includes accidents and other HSR incidents that have resulted in injuries, fatalities, or extensive asset damage. 
The authors also reviewed security at selected HSR systems in Europe and Japan to identify measures that could be applied to HSR systems currently under development in the United States. These three lines of inquiry are used in this report to develop an overall strategy for HSR security. 
Census is taken of California water transit services
California DOT (Caltrans) requested that MTI study the availability of water transit services in the state. The research team compiled a spreadsheet and accompanying maps that include ferry boats, routes, and operators. The report also includes a number of related characteristics, including ownership (public or private), daily trip counts, regulation of fares, terminal locations (street address and coordinates), boarding statistics, and route segment lengths. 
The spreadsheet contains fields that will allow it to be linked in a Geographic Information System to Caltrans Earth software for further analysis. This database was created during completion of the research project, 2012 Census of California Water Transit Services, which can be downloaded at no cost. 
---
Strong presence at academic conferences
The MNTRC travel grant program enables many researchers to present work at professional conferences. Although most of the currently funded research is still in progress, many project teams have preliminary results that have reached larger audiences. For example, in the past six months, 25 conferences have featured MNTRC research, including the American Society for Public Administration; the 92nd Annual Meeting of the Transportation Research Board; the Annual Meeting of the Association of Collegiate Schools of Planning; and the Association of Pedestrian and Bicycle Professionals.
---
MSTM alumni, faculty see career success
Peter Haas, PhD, Director, MTI Education Programs
Alva Carrasco (MSTM '08) has been promoted to Vice President of Transportation at VIA Metropolitan Transit in San Antonio TX. MSTM student Martin Barna accepted the position of Transit Service Development Specialist for the Valley Transportation Authority's (VTA) Service and Operations Planning Department. In January, he was named MTI's CUTC/US DOT Student of the Year in Washington DC.  Robin O'Hara (MSTM '12) was promoted to Director of Transit Access Pass (TAP) Technologies in the TAP Operations division at LA Metro.
O'Hara expressed her appreciation for the MSTM program, stating, "The Mineta Master's program in transportation management has really paid off! Just five months after graduating, I was just promoted to Director of TAP Technologies in the TAP Operations division at (LA) Metro. The MS degree was more than worth the cost of tuition and has prepared me well for my new role."
MSTM faculty members Frances Edwards, PhD, and Dan Goodrich published a textbook on transportation security.  Introduction to Transportation Security (CRC Press) is a groundbreaking compendium and analysis of multimodal surface transportation security threats and strategies. MTI founder and namesake Norm Mineta provides a compelling preface to the volume.
---
Information & Technology Transfer
LaHood featured at high-speed rail workshop 
Donna Maurillo, MSTM, Director, Communications & Technology Transfer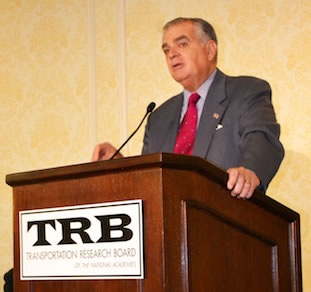 Transportation Secretary Ray LaHood addresses the high-speed rail workshop.
US Secretary of Transportation Ray LaHood delivered the keynote address at a day-long high-speed rail (HSR) workshop in Washington DC in January. The Transportation Research Board invited MNTRC and MTI to present "Economic and Social Impacts of High-Speed Rail Systems" at its annual meeting, which attracts thousands of attendees. Other speakers included FRA Administrator Joseph Szabo, Deputy FRA Administrator Karen Hedlund, former Deputy Secretary of Transportation Mort Downey, and many other national and international transportation leaders, who participated in six expert panels. 
Workshop videos viewable online
Discussion topics included several facets of high-speed rail, including the current status, financing options, unique front-end challenges, design and operational integration, the benefits, and the status of international high-speed rail. Seven videos, including the keynote and all six panels, can be viewed on the MTI and MNTRC Web sites.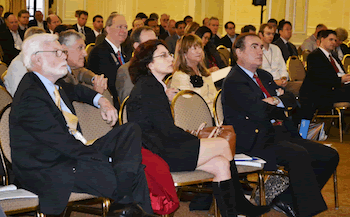 Attendees included (front row, L-R) Former Dep. Secretary of Transportation Mort Downey, Under Secretary of Transportation Polly Trottenberg, and Intl. Union of Railways Director General Jean-Pierre Loubinoux.
LaHood, Szabo praise progress
Before he introduced Secretary LaHood at the opening session, Administrator Szabo said, "The need to continue investing [in HSR] is clear. By 2050, America's transportation network will need to move more than 100 million additional people and more than 4 billion additional tons of freight." He also noted that congestion has risen by 500 percent in 30 years, now costing our economy nearly $130 billion annually.
Secretary LaHood praised the forward-thinking California Governor Jerry Brown for his dedication to HSR in his state. He also noted the progress in New York, Connecticut, the Northeast Corridor, and in the Midwest. "In only four years, $12 billion have been invested in 152 places in the United States," he said.
The Secretary said that he has encouraged foreign investment in HSR for America. The only stipulation, he said, was they had to hire American workers and build the equipment here – because the program isn't just about mobility; it's about jobs. He predicted that thousands of jobs would be created in every region of the country.
National and international experts featured
Other speakers and moderators included TRB Intercity Passenger Rail Committee Chair David Simpson; APTA CEO Michael Melaniphy; MTI Executive Director Rod Diridon, Sr.; California High-Speed Rail Authority Board Chair Dan Richard and its CEO Jeff Morales; Capitol Corridor JPA Managing Director David Kutrosky; UIC Director General Jean-Pierre Loubinoux; Midwest HSR Association Chair Rick Harnish; Brazilian Enterprise for Planning and Logistics Director Hélio Mauro França; Simon Fraser University's Urban Studies Program Director Anthony Perl; Spain's Fundación Caminos de Hierro Board Chair Eduardo Romo; University of Nevada Las Vegas Professor Dr. Harry Teng. 
Also, former Council of Minority Transportation Officials Chair Paul Toliver; Mineta National Transportation Security Center Director Brian Michael Jenkins; Texas Central Railway Company President Robert Eckels; MTI Education Director Peter Haas, PhD; AFL-CIO Transportation Trades Department President Ed Wytkind; Amtrak's Northeast Corridor Infrastructure and Investment Development VP Stephen Gardner; the Skancke Company's President and CEO Tom Skancke; Gilbert-Tweed Associates President Stephanie Pinson; Siemens High-Speed Rail Development Director Armin Kick; RATP America Senior Business Development Advisor Stan Feinsod; Amtrak NEC Infrastructure and Investment Development Vice-President Drew Galloway; Northern New England Passenger Rail Authority Executive Director Patricia Quinn; American Railcar Company President Jolene Molitoris; and Charles Quandel Associates President Charlie Quandel.
---
AREMA holds seminar on practical railway engineering
Hualiang "Harry" Teng, PhD, Associate Professor, Howard R. Hughes College of Engineering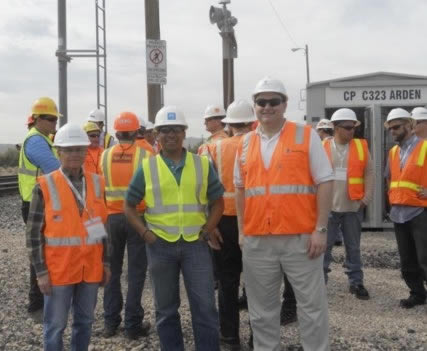 From left, Edward Neumann (professor at UNLV), Kondala Rao Mantri (UNLV alumnus), and John Green (UNLV alumnus, now with CH2M Hill) attended the AREMA conference.
UNLV NEWS – For the second year, UNLV was happy to host the American Railway Engineering and Maintenance-of-way Association (AREMA) on March 13-15 for its seminar, "Introduction to Practical Railway Engineering," in the Stan Fulton Building. In total, 29 students attended the seminar, which also attracted professionals from several states across the US.
Senior professionals who wanted to come back to the railway area also attended. For example, Edward Neumann, PhD, a senior professor in transportation engineering at UNLV, taught railway engineering many years ago at West Virginia University. He has an interest in railway- related projects and wanted to refresh his knowledge in railway engineering. 
Ms. Julie Longo, a technical writer in the College of Engineering, worked for New Jersey Transit some time ago. Although she has a busy schedule, Ms. Longo attended the first several sections of the seminar. She plans to attend the remaining sessions if the seminar returns to Las Vegas next year.
A letter from AREMA said, "The facilities at the Stan Fulton Building were the best we have ever had for the three-day railroading seminar."
---
Rod Diridon discusses high-speed rail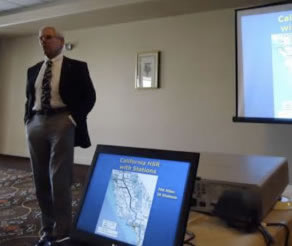 Rod Diridon discusses the status of high-speed rail in California and globally.
Rod Diridon, Executive Director of the Mineta National Transit Research Consortium and the Mineta Transportation Institute, delivered a distinguished seminar for UNLV on March 21. "High Speed Rail, Internationally and in California" attracted more than 40 attendees from private and public agencies and the university in Las Vegas. 
His opening remark about the transportation systems at the Las Vegas airport connected very well with the theme of economic development in Las Vegas. He said that he quickly found that there was a long line of taxis when he arrived at the airport. So he took a shuttle bus to the seminar location, which involved nearly a two-hour trip.  This is normally a 10-minute trip when there is no traffic.
---
Is biodiesel cleaner for buses than conventional diesel?
Ashok Kumar, PhD, Chair, Department of Civil Engineering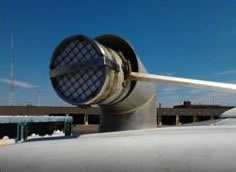 Filters on exhaust systems help researchers analyze emissions.
UNIVERSITY OF TOLEDO NEWS – Biodiesel is an alternative fuel with growing use in transportation. But is it cleaner than conventional diesel? Here at the University of Toledo (UT), we have been involved in research on biodiesel emissions for the last eight years. Currently, UT is working on a project called Combustion Chemistry of Biodiesel for the Use in Urban Transport Buses. 
Filters measure bus emissions
The research involves testing the buses that are used every day by the Toledo Area Regional Transit Authority (TARTA), with the help of Mr. Steve Atkinson, TARTA Director of Marketing. We chose the 700 and 800 bus series because our earlier work was done on the 300 and 500 series. The buses we chose are fairly new. Although the 700 series buses are older, their engines were remanufactured a few years ago. 
The 800 series are brand new, and a large catalytic converter was added to the bus to improve exhaust emission quality. We collected tailpipe particulate matter (PM) on filter papers and measured total particulate mass (TPM). Elemental analysis of PM collected on the filter papers was carried out by an accredited analytical laboratory.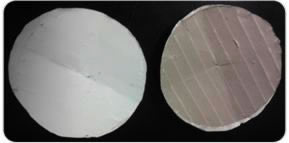 Emissions test filter papers before (left) and after (right) testing.
Biodiesel reduces PM emissions
The results showed that PM emissions significantly decreased when using biodiesel blend fuel, and newer transit buses have a positive impact on PM reduction. More than 12 elements were considered for analysis, and the results showed that calcium (Ca), ferrous (Fe), and sodium (Na) were found in the maximum concentration.
Research results are expected to contribute to a better understanding of biodiesel combustion chemistry and to a further reduction of biodiesel emissions. The field tests are taken along with lab tests and modeling studies.
Kumar and Kim direct the project
The project is being directed by Dr. Ashok Kumar, Department of Civil Engineering, and Dr. Dong-Shik Kim, Department of Chemical & Environmental Engineering. Mr. Hamid Omidvarborna and Mr. Sudheer Kumar Kuppil are participating in the project for their PhD and MS work, respectively.
Funding is through a research grant from the US Department of Transportation, Research and Innovative Technology Administration, administered by the Mineta National Transit Research Consortium (MNTRC)