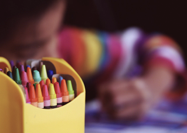 The Mineta Transportation Institute Elementary Poster Contest allows students, grades 1-6, to demonstrate their knowledge of the year's transportation theme through an artistic, visually compelling image.
That image should encourage, inspire, and/or convey a message to others about the theme.
---
2020 Theme:
 "I Stop, You Stop, We All Stop for Train Tracks"
---
Prizes and Awards!
Six winners will be selected: Three from grades 1-3 and three from grades 4-6. All winning posters will be displayed at the Mineta Transportation Institute Banquet at San José State University in June. All prizes must be claimed by end of the academic school year in which the entries were made. Field trip prizes include bus costs and entry fees.*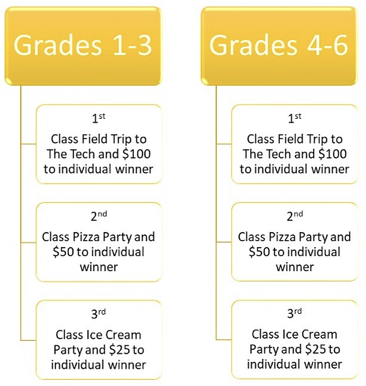 Ready to Participate? 
Participants must be students enrolled in any public Santa Clara County elementary school (grades 1-6). Three winning posters from each group will be selected by a panel of impartial judges. Posters can be submitted beginning August 31st, 2020. 
Group 1: Grades 1st - 3rd 
Posters must be a standard poster board size 22 x 28 inches (If acquiring these posters is a financial burden, please contact MTI's Irma Garcia for assistance)
Posters can be illustrated vertically or horizontally
Media: paint, crayon, felt pen, markers, cut paper, and other art supplies (no printed components may be used)
Only one entry per student
A photo of the completed posters should be submitted using the form at the bottom of this page. Please keep all original submissions until a winner is announced at which point MTI will collect the winning posters to display 
Winning posters will not be returned to the student
Group 2: Grades 4th - 6th 
Poster dimensions 18 x 24 inches (poster setting)
Posters can be illustrated vertically or horizontally
Digital poster contest- participants may use PowerPoint, Paint, Spark, or another poster-making application
Posters must be submitted in PDF format
Only one entry per student
Posters must be submitted using the entry form at the bottom of this page
Judging Criteria
Poster must adhere to the annual theme
Must show safe transit/ transportation practices
Creativity and originality
Catchiness of incorporating the theme as a motto, tag line, or hashtag
Visual appeal (i.e. layout, color selection, organization)
Spelling and message clarity
Quick tip: for digital entries, remeber to reduce the file size for easy upload
Important Dates
Poster submittal deadline December 1st 2020 11:59PM

January 4th, 2021 winners announced and prizes coordinated with winning class

April 30th, 2021 all field trips and class parties must be completed 
For questions or concerns regarding this contest, please contact Irma Garcia at 408-924-7566.
*Prizes are subject to change based on county and state ordinances and recommendations regarding COVID-19.