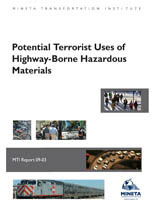 Abstract:
The Department of Homeland Security (DHS) has requested that the Mineta Transportation Institutes National Transportation Security Center of Excellence (MTI NTSCOE) provide any research it has or insights it can provide on the security risks created by the highway transportation of hazardous materials. This request was submitted to MTI/NSTC as a National Transportation Security Center of Excellence. In response, MTI/NTSC reviewed and revised research performed in 2007 and 2008 and assembled a small team of terrorism and emergency-response experts, led by Center Director Brian Michael Jenkins, to report on the risks of terrorists using highway shipments of flammable liquids (e.g., gasoline tankers) to cause casualties anywhere, and ways to reduce those risks. This report has been provided to DHS.
The teams first focus was on surface transportation targets, including highway infrastructure, and also public transportation stations. As a full understanding of these materials, and their use against various targets became revealed, the team shifted with urgency to the far more plentiful targets outside of surface transportation where people gather and can be killed or injured. However, the team is concerned to return to the top of the use of these materials against public transit stations and recommends it as a separate subject for urgent research.
Authors:
BRIAN MICHAEL JENKINS
Brian Michael Jenkins is the director of the National Transportation Security Center of Excellence (NTSCOE) and one of the worlds leading authorities on terrorism and sophisticated crime. He works with government agencies, international organizations, and multinational corporations as an analyst, investigator, and crisis-management consultant.
Commissioned in the infantry at the age of 19, Jenkins became a paratrooper and, ultimately, a captain in the Green Berets. He served three tours of duty in Vietnam.
Jenkins obtained his bachelor of arts degree in fine arts and his master of arts degree in history from the University of California, Los Angeles. He has also studied at the University of Guanajuato in Mexico and the University of San Carlos in Guatemala, where he was a Fulbright Fellow and the recipient of a second fellowship from the Organization of American States.
BRUCE ROBERT BUTTERWORTH
Bruce Butterworth has had a distinguished government career, working at congressional, senior policy, and operational levels.
With Brian Michael Jenkins he co-authored Selective Screening of Rail Passengers (MTI Report 06-07), published by the Mineta Transportation Institute in February 2007. He also co-authored a May 2007 study, Keeping Bombs Off Planes: Securing Air Cargo, Aviations Soft Underbelly with P.J. Crowley, senior fellow and director of Homeland Security at the Center for American Progress.
Butterworth was awarded a master of science degree from the London School of Economics in 1974 and a bachelor of arts degree from the University of the Pacific in 1972.
WILLIAM T. POE, CONTRIBUTING AUTHOR
William Poe is a retired commander with the Louisiana State Police Emergency Services Section. He is currently the president of Explosive Service International, Ltd, an Explosive Demolition Company. Poe has a bachelors degree in general studies from Louisiana State University.
DOUGLAS REEVES, CONTRIBUTING AUTHOR
An engineer by training, Douglas Reeves served for many years in DOTs Pipeline and Hazardous Materials Safety Administration (PHMSA) and its predecessor agency prior to retirement in 2007. He has a bachelors degree in electrical engineering from the University of Michigan and a masters degree in industrial engineering from Texas A&M University
KARL S. SHRUM, CONTRIBUTING AUTHOR
Karl Shrums 28-year career in the federal government spanned three agencies and key leadership positions in aviation and transportation security prior to his retirement in 2006.
JOSEPH EDWARD TRELLA, III, CONTRIBUTING AUTHOR
Joseph Trella has extensive experience in homeland security at the state level. He has a Bachelor of Business Administration degree in business economics from Loyola College in Maryland and a masters degree in international negotiations and conflict resolution from the University of Baltimore and School of Advanced International Studies.
Keywords:
Freight security
Hijacking
National security
Security
Security measures
Terrorism