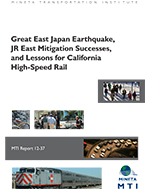 Abstract:
California and Japan both experience frequent seismic activity, which is often damaging to infrastructure. Seismologists have developed systems for detecting and analyzing earthquakes in real-time. JR East has developed systems to mitigate the damage to their facilities and personnel, including an early earthquake detection system, retrofitting of existing facilities for seismic safety, development of more seismically resistant designs for new facilities, and earthquake response training and exercises for staff members. These systems demonstrated their value in the Great East Japan Earthquake of 2011 and have been further developed based on that experience. Researchers in California are developing an earthquake early warning system for the state, and the private sector has seismic sensors in place. These technologies could contribute to the safety of the California High-Speed Rail Authority's developing system, which could emulate the best practices demonstrated in Japan in the construction of the Los Angeles-to-San Jose segment.
Authors:
FRANCES L. EDWARDS, M.U.P., PH.D., CEM
Frances L. Edwards is Deputy Director of the National Transportation Safety and Security Center at Mineta Transportation Institute, professor of political science, and director of the MPA program at San Jose State University. Her most recent book is Introduction to Transportation Security, with Dan Goodrich, and her most recent journal article is "Effective Disaster Response in Cross Border Events" in the Journal of Contingency and Crisis Management. She is co-author of two books on terrorism response in the NATO Science Series and co-author of ten monographs for MTI. Her research in climate change adaptation, cultural competency in disasters, emergency management, and homeland security has led to more than twenty chapters in professional books and more than thirty published articles. She has consulted with NATO, the European Union, and government agencies in Japan and Turkey. She is a Fellow of the Foundation for Defense of Democracies and a 2012 Salzburg Fellow. In 2013 she was named a University Scholar at San Jose State University. She has over 20 years' experience as a director of emergency services in California, including a term on the California Seismic Safety Commission. She is a Certified Emergency Manager and a Professional Continuity Practitioner.
DANIEL C. GOODRICH, M.P.A., PH.D., CEM, MEP
Daniel C. Goodrich is a Research Associate with Mineta Transportation Institute at San Jose State University and a lecturer in the MTI MSTM and MPA programs. He is co-author with Frances Edwards of the new Introduction to Transportation Security textbook, and the recent Exercise Handbook: What Transportation Security and Emergency Preparedness Leaders Need to Know to Improve Emergency Preparedness, as well as six other publications for MTI, a chapter in the ICMA Emergency Management Green Book, and four other chapters in professional books. He has presented papers at professional conferences sponsored by the City of Tokyo, NATO, the European Union, and the Second Conference on Global Security and Democracy, as well as at conferences sponsored by FEMA and the American Society for Public Administration. He has worked with the European Union's CAST project and the City of San Jose's CERT and MMRS organizations. He is a Fellow of the Foundation for Defense of Democracies, and a San Jose State University Scholar. He has over twenty years' experience in the fields of security and emergency management, including work with the US Marine Corps Security Forces, county public health emergency management, and Lockheed Martin Space Systems. He is a Certified Emergency Manager, a Professional Continuity Practitioner, and a Master Exercise Practitioner.
DR. RER. NAT. MARGARET HELLWEG
Margaret Hellweg has been the Operations Manager at the University of California Berkeley Seismological Laboratory (BSL) since 2005. She oversees activities that ensure that the BSL's geophysical stations are collecting high-quality data, that the BSL can report on earthquakes in Northern California, and that researchers have rapid and reliable access to the data collected. After Dr. Hellweg received a B.A. in Physics from U.C. San Diego in 1973, she moved to Germany, where she completed her Diploma from the Universität Göttingen (Masters), also in physics, with a thesis on light scattering from biological particles. She then moved into seismology and has worked in broadband seismology at the Bundesanstalt für Geowissenschaften und Rohstoffe, in strong-motion seismology at the United States Geological Survey in Menlo Park, and in volcano seismology for her doctoral theses at the Universität Stuttgart. Dr. Hellweg joined the BSL in 2001 doing postdoctoral work on regional moment tensors for nuclear monitoring.
JENNIFER STRAUSS, PH.D.
Jennifer Strauss is the External Relations Officer, Berkeley Seismological Laboratory, serving as the head of the Earthquake Research Affiliate Program, which fosters interaction between academic researchers and external partners interested in earthquake information services, including earthquake early warning (EEW) and novel technologies for geophysical research. Working with industry affiliates, legislators, and scientists on bringing an EEW system to the State of California, she also routinely interfaces with emergency managers to create action plans and strategies for hazard mitigation in the small lead time provided by earthquake warnings. She joined the lab in November 2012 after spending three years in the French Alps. She is a physicist by training, with a research history in powder diffraction, x-ray crystallography, computer modeling, and ice sheet dynamics and radar altimetry studies on the West Antarctic Ice Sheet. She was a co-chair of the inaugural Postdoctoral Society of Argonne National Laboratory. She received a B.S. degree in physics from the University of Texas at Austin in 2001 and a Ph.D. from Stony Brook University in May 2007.
MARTIN L. ESKIJIAN, P.E.P
Martin Eskijian has over 40 years' experience as an engineer specializing in structural dynamics, reservoir engineering, and structural engineering/code development for marine oil and LNG terminals. Following the earthquakes in Kobe (1995) and Izmit, Turkey (1999), the earthquakes and tsunamis in Sumatra (2004) and Chile (2010); and, most recently, the triple disaster in Japan (2011), he participated in coastal/port damage surveys, with an emphasis on the behavior of port and harbor structures and transportation infrastructure. He worked for the California State Lands Commission for 27 years and became the leader of a group focused on marine oil terminals. He is responsible for Chapter 31F of the California Building Code "Marine Oil Terminals," commonly known as "MOTEMS." Currently, he is an "on-call" senior engineer at Moffatt & Nichol in Long Beach, CA. His professional honors include the Professional Achievement Award for Professional Engineers in California (1998); the C. Martin Duke Award (2011) from ASCE/TCLEE for his lifetime work in earthquake engineering for lifelines, and membership in the Russian Academy of Natural Sciences (RANS) (2012). He is a registered civil engineer in California, a registered petroleum engineer in Texas, and a Diplomat of ASCE/COPRI. He earned a B.S. in Civil Engineering, an M.S. in Applied Mechanics, an Engineer Degree in Civil Engineering, and an M.S. in Petroleum Engineering from the University of Southern California. He has taught graduate classes on the subject of marine structures at the University of Southern California and the University of California San Diego.
OMAR JARADAT, PH.D.
Omar Jaradat, Ph.D., PE is a registered civil engineer in California and Washington, with more than 25 years' experience in engineering, specializing in earthquake engineering, soil-structure interaction and non-linear structural analysis. Dr. Jaradat earned a BSc in Civil Engineering and an MSc in Structural Engineering from the University of Jordan, and a PhD in Earthquake Engineering from Washington State University.  He is well versed in state-of-the-art analysis and design techniques, including linear and non-linear time-history analysis, spectral analysis and non-linear static pushover analysis, and has published and co-authored numerous papers in the field of in-elastic behavior of concrete columns, earthquake engineering and bridge, port, and harbor structures. Dr. Jaradat serves on several technical committees specializing in developing code standards for the analysis and design of earthquake resistant structures, including American Society of Civil Engineers (ASCE) and Coasts, Oceans, Ports, and Rivers Institute (COPRI). In addition, he has directed an experimental program at the University of California at San Diego to study seismic behavior of concrete decks supported by vertical piles systems.
Keywords:
Earthquake detection
Earthquake early warning
Seismic design