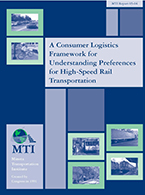 Abstract:
The prospect for high-speed rail (HSR) service for the San Francisco-Los Angeles corridor and beyond first arose eight years ago. The plan remains to connect California's major cities in the next 15 years at a total cost of $25 billion. 
The purpose of this study is to reach a fuller understanding of consumers' perceptions of such a service. Consumer logistics theory is used in the study as a framework to begin to provide this understanding of consumer perceptions and to inform future efforts to develop and market HSR service. 
This study uses the consumer logistics framework to help understand how various demographic groups, various groups defined by public transportation usage frequency, and various groups defined by HSR usage intention level perceive various logistical aspects of HSR service. The consumer logistics framework is also be used to develop a macro model that examines the relationship between performance of consumer logistics functions, perceptions of HSR travel value (consisting of travel efficiency and effectiveness), and HSR travel intention for intercity business commuters. The results show the manner and the extent to which the logistics of HSR are likely to lead to customer intentions to use it for inter-city transportation and how HSR service providers, by enhancing their consumer logistics capabilities, can encourage intended HSR usage between San Francisco and Los Angeles for business commuters.
Authors:
Kenneth C.Gehrt, Ph.D.
Kenneth C. Gehrt earned his B.B.A. and M.B.A. from the University of Wisconsin-Whitewater, and his doctorate in business administration from the University of Kentucky. He has been a professor of marketing management and marketing principles at San Jose State University since 2002, and had taught at the University of Arizona, the University of Maine and Northern Kentucky University and the University of Kentucky. Dr. Gehrt has contributed articles to the Journal of Direct Marketing, the Journal of Global Marketing, the American Review of Canadian Studies, Health Marketing Quarterly and the Journal of Health Care Marketing. He has been honored with awards from the Journal of Direct Marketing, Best Paper of the Year in 1992, and San José State University, Global Studies Institute International Studies Fellowship in 2003.
Mahesh Rajan, Ph.D.
Mahesh Rajan earned his M.A. in Management from the University of Madras (India), his MBA in Management and Marketing from Central Missouri State University, Warrensburg, and his Ph.D. in International Business/Business Policy & Strategy from the University of California at Irvine. Before settling at San José State University as a professor of marketing, Dr. Rajan has been a faculty member at the University of Michigan, at Australian Graduate School of Management, University of New South Wales in Sydney, and the School of Global Business and Economics, Nagoya University of Foreign Studies in Nagoya, Japan. Dr. Rajan, along with this publication's co-author Kenneth Gehrt, presented "Internet Shopping in Japan: Identification of Shopping Orientation Segments" at the 2004 Academy of Marketing Science Annual Conference at Vancouver, Canada in May 2004. He has written or contributed to articles published in the Asia Pacific Management Review, Australian Journal of Management, California Management Review, and the Journal of International Business Studies.
Keywords:
High-speed trains
Market assessment
Railroad commuter service
Transportation planning