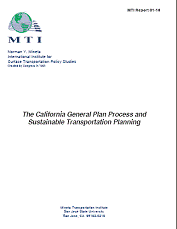 Abstract:
This study reviewed the current and potential utility of California's General Plan process as a tool for promoting more sustainable local transportation systems The study used multiple methods to investigate this issue, including:
An extensive literature review on California's General Plan process, the nature of sustainability and sustainable transportation, and criteria and evaluation methods for plans. Detailed analysis and scoring of policies from 26 exemplary General Plans against criteria designed to measure both transport sustainability and plan quality. In-depth case studies of the General Plan process in seven diverse California communities.
Key informant interviews.
The results of these several lines of analysis and inquiry were synthesized into a series of observations, conclusions and recommendations. Chief among these are the desirability of encouraging more frequent General Plan updates, the need for greater emphasis on implementation of plan policies, and the need for and utility of educational and outreach efforts aimed at enhancing the proliferation of General Plan policies that promote more sustainable transportation systems at the local level.
Authors:
Principal Investigator and author Dr. Richard W. Lee, AICP, is an Assistant Professor of City and Regional Planning at California Polytechnic University at San Luis Obispo (Cal Poly). He holds a BA in History from Carleton College, a MS in Transportation Engineering from the University of California at Berkeley, and a Master of City Planning as well as a Ph.D. in City and Regional Planning, both of which were earned at UC Berkeley. He is a member of the American Institute of Certified Planners, American Planning Association, and the Chartered Institute of Transport. He formerly served on the editorial board for the Berkeley Planning Journal. Dr. Lee has also acted asa Senior Lecturer and Manager for the Graduate Diploma in Transport Planning Program, School of Resource and Environmental Planning, Massey University, New Zealand.
Keywords:
Land use planning
Planning methods
Public administration
Public policy Sustainable development