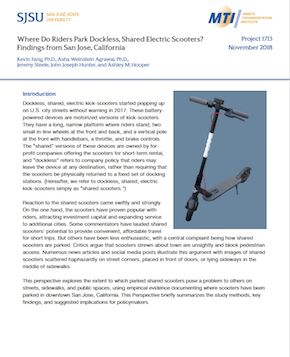 Abstract:
Dockless, shared, electric kick-scooters started popping up on U.S. city streets without warning in 2017. Reaction to the shared scooters came swiftly and strongly. On the one hand, the scooters have proven popular with riders, attracting investment capital and expanding service to additional cities. But others have been less enthusiastic, with a central complaint being how shared scooters are parked. 
This perspective explores the extent to which parked shared scooters pose a problem to others on streets, sidewalks, and public spaces, using empirical evidence documenting where scooters have been parked in downtown San Jose, California.
Authors:
Kevin Fang is an Assistant Professor at Sonoma State University, Asha Weinstein Agrawal is a Professor at San José State University, Ashley Hooper is a doctoral candidate at the University of California, Irvine, Jeremy Steele is a student at McGill University, and John Joseph Hunter is an MTI research assistant.