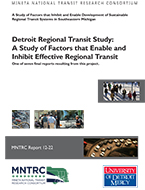 Abstract:
An interdisciplinary team of six faculty members and six students at the University of Detroit Mercy (UDM) conducted a comprehensive study of the factors enabling or inhibiting development of effective regional transit. Focusing on Metro Detroit and four peer regions—Atlanta, Cleveland, Denver, and St. Louis—investigators examined six key variables in transit success: 1) leadership and politics, 2) governance and law, 3) finance, 4) transit-oriented development (TOD), 5) equity and access, and 6) media and public opinion. These elements were studied in the context of Detroit transit history with respect to lessons learned, recent developments in Metro Detroit, and comparisons and recommendations.
The  team employed a nontraditional research methodology driven not by numbers but by the narrative of firsthand experience. They conducted in-depth interviews with more than 60 leaders in transit advocacy, development, and operation from five regions across the country, seeking the type of insight acquired almost exclusively through personal experience.
The interviewees included:
Current or previous CEOs of four regional transit authorities (RTAs) and more than 25 key staff members of RTAs
Six RTA board members, including three board presidents
Five MPO leaders of transit development in their regions
A wide variety of stakeholders/advocates, including leading figures in business, education, labor, campaign consulting, and media
Government leaders, including legislators, mayors and mayors' offices
The team then undertook the task of curating, organizing and assembling this accumulation of wisdom into cogent analyses that form the foundation of this report. This document provides and overview and summaries of key findings in all six areas of focus. Six separate reports explore each area in greater depth.
Authors:
LEO HANIFIN, ME, DE
Dr. Leo Hanifin is a Professor of Mechanical Engineering and a leader of research in transit and innovation at the University of Detroit Mercy (UDM) where he previously served as Dean of the UDM College of Engineering and Science. He also served as the Director of the Michigan Ohio (MIOH) University Transportation Center, a coalition of five universities supported by the U.S. and Michigan Departments of Transportation. In one MIOH project, he led UDM faculty members from engineering and architecture who partnered with Deloitte to develop the preliminary plan for the Woodward Transit Catalyst System (now M-1 Rail). He is a member of the M-1 Rail Board of Directors and the Citizens' Advisory Committee of the Detroit Regional Transit Authority. He is currently the leader of a team of over 30 faculty members and students engaged in transit research, teaching and K-12 outreach at UDM, as part of the Mineta National Transit Research Consortium.
SCOTT ANDERSON, MACS
Scott Anderson taught mathematics and computer science for many years at the University of Detroit Mercy. He has a master's degree in Computer Science from the University of Detroit and a bachelor's degree in Computer Science from the State University of New York (Albany). Scott was a member of the team that developed the initial concept of the "Woodward Transit Catalyst Project", now M-1 Rail, and assisted with the visioning of bus rapid transit in metro Detroit that formed part of the basis for the 2012 RTA legislation. His interest in logistics generally, and transit in particular, goes back many years, and he is co-author of the paper Walking and Transit with Dr. Hoback. He consulted to private industry for many years, specializing in freight logistics systems.
CLAUDIA BERNASCONI, M.ARCH
Claudia Bernasconi is a registered architect in the European Union and an Assistant Professor of Architecture at University of Detroit Mercy. Her research focuses on preferences, attitudes and behaviors of riders and non-riders toward transportation systems. She has worked on several transit-related funded projects. Recent studies focused on public opinion regarding transit, public perception of transportation corridors and pedestrian transportation, on walkability, and on design and perception of automated transportation systems. Methods employed in her work combine approaches from the fields of environmental psychology and aesthetics, survey techniques, and urban landscape evaluation techniques. Her work has been published in journals, including Journal of Management and Sustainability, the Landscape and Urban Planning Journal, and conference proceedings of the Environmental Design Research Association, the Council of Educators in Landscape Architecture, and Automated People Mover conference.
UTPAL DUTTA, PH.D., PE
Dr. Utpal Dutta is a professor of Civil, Architectural & Environmental Engineering at the University of Detroit Mercy, Detroit, Michigan. Dr. Dutta has been involved in transit-related research for more than 20 years. Dr. Dutta is a member of Transportation Research Board, Institute of Transportation Engineers and others.
ALAN HOBACK, SC.D., PE
Dr. Alan S. Hoback is chair of Civil, Architectural & Environmental Engineering at the University of Detroit Mercy. Dr. Hoback has a diverse set of research interests related to transportation. His transit research has ties to the areas of psychology, energy use, planning and cost, economic impact, community development, social justice, geographic information systems, and health and safety. Dr. Hoback's research has applied these ideas to the areas of light rail transit, commuter rail and buses. Dr. Hoback was a co-investigator on the Woodward Transit Catalyst Plan Project. Dr. Hoback teaches the senior capstone course in Civil Engineering that frequently has themes of transportation and planning.
LLOYD SEMPLE, J.D.
Lloyd Semple is a professor at the University of Detroit Mercy School of Law. Before joining the School of Law in 2004, he practiced corporate and business law with Dykema Gossett, a 400-lawyer, Detroit-based national law firm. While at Dykema, he served as its Chairman and CEO (from 1995 to 2002), and was a member of boards of directors of several business entities and charitable organizations. One of those organizations was Metropolitan Affairs Coalition, an affiliate of SEMCOG, which among other things produced an in-depth study of the feasibility of bus rapid transit in Southeast Michigan. Professor Semple served as Dean of the School of Law from 2009 to 2013.
Keywords:
Regional transit
Metro Detroit
Controlling factors
Leadership and politics
Media and public opinion