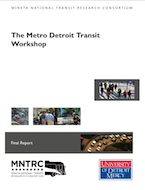 Abstract:
What communities do with their transportation systems has a huge impact on their economic and social destiny. That statement summed up what transit experts in Detroit saw as an urgent need to develop and build a regional transit system with voter support to fund it. 
After many years of effort, Metro Detroit is now in a position to rebuild the transit system that was dismantled nearly 50 years ago. Like in other metropolitan regions, the automobile dominated transportation planning. However, the recently appointed Regional Transit Authority had a mandate to develop a regional master plan for enhanced transit, to improve coordination among local bus providers so they could serve riders, and to place an initiative or referendum on the ballot asking voters to fund
it.
The goal of the Metro Detroit Transit Workshop, held May 17-18, 2013, at the University of Detroit Mercy, was to bring local people together with transit professionals and advocates. Those experts came from St. Louis, Atlanta, Los Angeles, San Francisco, Benzie County, and Grand Rapids, and from national organizations. They discussed the latest trends in transit planning, funding and advocacy, how these regions built their transit systems, and how they succeeded or failed at the ballot box.
The workshop taught many lessons that should help Detroit transit advocates create and develop successful plans to bring reliable service back to the city. These are lessons that other municipalities could apply.
This report includes a great deal of knowledge and information about transit planning and campaigns, from millage renewals to sales taxes for light rail, shared by experienced veterans who have succeeded in moving their regions forward. Topics include Transit in Metro Detroit – Myths and Taboos; The Seven Lessons of Transit Success; The Practical Side of Campaigns; Advocacy – The Nuts and Bolts of Campaigns; Messaging for Transit Referenda; and more. Also included is a list of contacts.