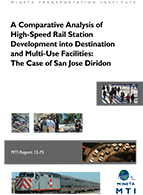 Abstract:
As a burgeoning literature on high-speed rail development indicates, good station-area planning is a very important prerequisite for the eventual successful operation of a high-speed rail station; it can also trigger opportunities for economic development in the station area and the station-city. At the same time, "on the ground" experiences from international examples of high-speed rail stations can provide valuable lessons for the California high-speed rail system in general, and the San Jose Diridon station in particular. This study identifies and draws lessons from European HSR stations that share similarities across several criteria with the San Jose area context. From an initial consideration of twenty European HSR stations, the researchers chose five stations for in depth case studies: Euralille and Lyon Part Dieu in France, Rotterdam Centraal and Utrecht Centraal in the Netherlands, and Torino Porta Susa in Italy. Additionally, the study drew information from relevant local actors and stakeholders to better tailor recommendations to the particular California context.Through the undertaking of different research tasks–literature review, case studies of European railway stations, survey of existing station plans and other planning documents for the Diridon station, station area analysis, and interviews with station area planners and designers–the study compiles timely recommendations for the successful planning of the Diridon station and other stations along the California high-speed rail corridor.
Authors:
ANASTASIA LOUKAITOU-SIDERIS, PH.D.
Anastasia Loukaitou-Sideris is a professor of urban planning and associate dean of the UCLA Luskin School of Public Affairs. She holds degrees in architecture and urban planning. Her research focuses on the public environment of the city, its physical representation, aesthetics, social meaning, and impact on the urban resident. It includes documentation and analysis of the social and physical changes that have occurred in the public realm; cultural determinants of design and planning and their implications for public policy; quality-of-life issues for inner city residents; and transit security, urban design, land use, and transportation issues. She has served as a consultant to the Transportation Research Board, Federal Transit Administration, Southern California Association of Governments, South Bay Cities Council of Government, Los Angeles Neighborhood Initiative, Project for Public Spaces, Greek Government, Portuguese Foundation for Science and Technology, and many municipal governments on issues of urban design, land use, and transportation. Her projects have been supported by the U.S. and California Departments of Transportation, Federal Transit Administration, Mellon Foundation, Haynes Foundation, Gilbert Foundation, Archstone Foundation, Sound Body Sound Mind Foundation, and the Mineta Transportation Institute. Her books include Urban Design Downtown: Poetics and Politics of Form (UC Press: 1998); Jobs and Economic Development in Minority Communities (Temple University Press: 2006); Sidewalks: Conflict and Negotiation over Public Space (MIT Press: 2009; Companion to Urban Design (Routledge: 2011); and The Informal American City: Beyond Taco Trucks and Day Labor (MIT Press: 2014).
DEIKE PETERS, PH.D.
Deike Peters is an assistant professor of environmental planning and practice at Soka University of America. Prior to her appointment at Soka, she was German Research Foundation Research Fellow and Adjunct Professor at USC's Sol Price School of Public Policy. She holds Master Degrees in urban planning and international affairs from Columbia University and a Ph.D. in urban planning and policy development from Rutgers University. Her experience combines 20 years of sustainable transportation policy advocacy and consulting for major international institutions (World Bank, UN Habitat, UNEP) with a 15-year transatlantic career in academia. Prior to relocating to Los Angeles, she was director of the Urban Megaprojects Unit (2008-2011), DFG Post-Doctoral Research Fellow (2005-2008) and lecturer/researcher in city and regional planning (2000-2005) at the Technical University Berlin. From 1996 to 2000, she was director of Environmental Programs at ITDP, an international environmental advocacy organization headquartered in New York City. Her publications most relevant to this research project include articles on rail station redevelopment and transport infrastructure investment in Built Environment, TRR: Journal of the Transportation Research Board, European Journal of Transport and Infrastructure Research, and European Planning Studies.
Members of the research team:
PAIGE COLTON
Paige Colton is a graduate student in the Masters of Urban and Regional Planning program at UCLA. She holds a BA in Environmental Studies and International Relations from Tufts University and previously conducted environmental policy research with the U.S. DOT. Her research interests include public space and street design, active transportation, and park and open space planning.
ERIC EIDLIN
Eric Eidlin is a transportation planner and sustainability Lead with the Federal Transit Administration. He is also an Urban and Regional Policy Fellow of the German Marshall Fund of the United States and has served as Technical Advisor on Station Development for the California High-Speed Rail Authority. Eric holds a master's degree in urban design from the University of Toronto and a master's degree in city planning from the University of California, Los Angeles. He also studied urban sociology at the Humboldt University in Berlin, Germany, as a Fulbright Scholar. Eric is an expert on multimodal transportation planning, high-speed rail, transit-oriented development, and urban design.
Keywords:
High-speed rail
Intermodal connectivity
Operational connectivity
Rail stations
Spatial connectivity