Wednesday, August 22, 2018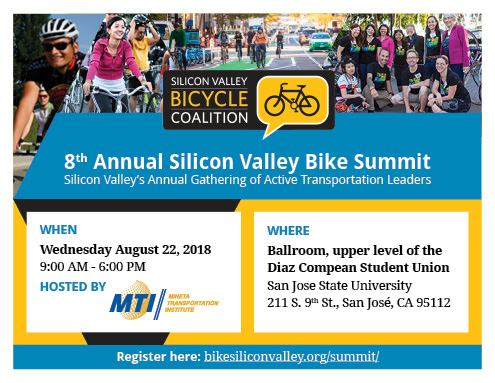 Join us at the 8th Annual Silicon Valley Bike Summit, our area's largest gathering of active transportation leaders and organizers from government, law enforcement, non-profit, and the public.
The Bike Summit will discuss topics including: grassroots advocacy, engineering and planning, housing and transportation, bike share, Safe Routes to School and more! Keynote speaker, sessions and schedule will be finalized by mid-June.
Register here: Silicon Valley Bike Summit Registration
We will accepting nominations in the month of May for awards for the following categories. Voting on the finalists will be open in June. See previous Award winners here.
• Person of the Year – city, county, or other agency staff or volunteer whose efforts go above and beyond to ensure safe and comfortable bicycling
• Project of the Year – bike lane (buffered, green, or protected), bike bridge, bike boulevard, bike box, bike parking, etc.
• Program of the Year – education and encouragement programs or bike plans that shift the needle to get more people on bikes.
$35 admission includes a light breakfast and lunch, plus post event social hour. Scholarships are available for those to whom the cost of admission is prohibitive; please contact emma@bikesiliconvalley.org to apply.
Take an active mode – walk, bike, bus, take transit or carpool — to the Bike Summit and be entered into a biannual drawing for prizes, thanks to the San Mateo County Spare the Air Resource Team!
Become a Sponsor
If your company would like to be a part of this community event and receive some great exposure to Silicon Valley professionals, take a look at our Sponsorship and Benefits page.
Hosted by: