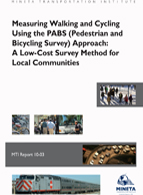 Abstract:
To tackle the problems of greenhouse gas emissions, traffic congestion, resident quality of life, and public health concerns, communities are using initiatives to spur more walking and cycling. As local governments face hard choices about which programs to fund, decision makers, planners, and residents seek to understand if proposed policies to increase bicycling and walking—modes referred to as "active travel"— actually work. However, most communities have unreliable means to know how many active travel trips occur in their jurisdictions, let alone how the numbers may change over time. This project developed a low-budget survey method and related sampling strategy for communities to easily, affordably, and reliably document the amount of local walking and cycling happening among their residents. The Pedestrian and Bicycling Survey (PABS) approach allows communities to answer such questions as:
How much walking and cycling is occurring in my community?
What is the purpose of walking and cycling trips?
Who is completing the bulk of the walking and cycling trips?
How often are people walking and cycling?
One of the most important contributions of this research project is that the Pedestrian and Bicycling Survey (PABS) instrument has been tested for reliability across administrations (test-retest reliability). The PABS tool achieved adequate to excellent reliability for most questions, creating a useful instrument and a baseline for future comparison with other instruments.
Authors:
ANN FORSYTH, Ph.D.
Ann Forsyth is professor of City and Regional Planning at Cornell University. Trained in planning and architecture, she is an expert in physical planning and urban design. Her particular expertise is in sustainable and healthy city design focusing on challenging issues: suburban design and planned communities, walkability, affordable housing, social diversity, and green space. She has also developed new tools for doing this work, including measuring design features of urban environments, assessing plan impacts, and helping the public participate in urban design and planning.
KEVIN KRIZEK, Ph.D.
Kevin J. Krizek is associate professor of Planning, Design, and Civil Engineering at the University of Colorado. He serves as director of the Ph.D. Program in Design and Planning and heads the Active Communities/Transportation (ACT) Research Group. His research focuses on travel behavior (specializing in cycling), neighborhood accessibility, health and planning, and sustainable development. Krizek is a founding editor of the Journal of Transport and Land Use, serves as chair of the Transportation Research Board Committee on Telecommunications and Travel, and is on the editorial board of the Journal of the American Planning Association. For more information, see www.kevinjkrizek.org.
ASHA WEINSTEIN AGRAWAL, Ph.D.
Asha Weinstein Agrawal is associate professor in the Department of Urban and Regional Planning at San José State University, and also director of the MTI National Transportation Finance Center. Her research interests in transportation policy and planning include pedestrian planning, urban street design, and transportation finance. She also works in the area of planning and transportation history. She has a BA from Harvard University, an MURP from the London School of Economics and Political Science, and a Ph.D. from the University of California at Berkeley. For a complete listing of her publications, see http://www.sjsu.edu/faculty/ weinstein.agrawal/.
Keywords:
Pedestrian
Bicycling
Survey
Sampling