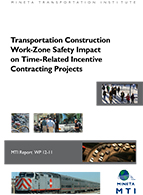 Abstract:
Work-zone safety on highway projects continues to be a national concern, and project safety performance is one of the indicators of project success. Many contractors and State Transportation Agencies believe that expedited construction time under incentive contracting contributes to reducing the safety risk of road users traveling through work zones. However, the truth of this belief has never been measured or supported by any statistical evidence. Therefore, this research investigates the statistical relationship between time-related incentive road construction projects and frequency of vehicle crashes in California to understand the impact of time-related incentive provisions on project safety performance. The research team collected incentive and non-incentive project data from the California Department of Transportation. Additionally, vehicle crash data was collected from the California Statewide Integrated Traffic Records System. Using Geographic Information System (GIS) software, the locations of construction projects and crashes at the project locations were then pinpointed on GIS centerline layers. The research team performed statistical analyses to test the relationship between the frequency and characteristics of crashes at incentive project sites and ones at non-incentive project sites before, during, and after construction. Finally, the analysis results for both time-related incentive projects and non-incentive projects were summarized to provide project planners and managers with a better understanding of the impact of time-related incentive contracting on project safety performance.
Authors:
JAE-HO PYEON, PH.D.
Jae-Ho Pyeon, Ph.D. is an Associate Professor in the Department of Civil and Environmental Engineering at San José State University (SJSU). Dr. Pyeon received both his master's and doctor's degrees in Civil and Coastal Engineering from the University of Florida. Currently, Dr. Pyeon is a University Representative of the Transportation Research Board and a member of the Construction Research Council, Construction Institute, and American Society of Civil Engineers. Dr. Pyeon conducts research in the area of transportation construction engineering and management, and teaches undergraduate and graduate courses in construction project management, construction information technology, construction scheduling and estimating, and heavy transportation construction equipment.
Dr. Pyeon has published over 30 peer-reviewed journal articles, conference papers, and technical reports since joining SJSU. His research interests include seeking efficient ways to improve the highway construction planning and process, assessing uncertainty in construction, and developing decision support systems to assist project planners and managers. Specific research areas are transportation construction project delivery systems, work zone road user cost, transportation management plans, project risk management, and innovative contracting methods.
Dr. Pyeon has successfully performed several federal- and/or state-funded transportation construction research projects. He also serves as an external reviewer of FHWA's Work Zone Road User Cost research project and as an active reviewer of several major journals in the area of construction engineering and management.
DO KIM, PH.D.
Do Kim, Ph.D. is an associate professor and the graduate coordinator in the Department of Urban and Regional Planning at California State Polytechnic University, Pomona (Cal Poly Pomona). Dr. Kim received his master's degree in Urban and Regional Planning from the University of Wisconsin, Madison and his Ph.D. degree in the same principle from the University of Florida. Dr. Kim has built a strong history of research in the areas of transportation planning, land use planning, and the application of Geographic Information Systems (GIS) to urban planning. In particular, his research interests are active transportation, sustainable transportation, and social justice in the fields of transportation.
Keywords:
Incentive/Disincentive (I/D)
Time-related contracting
Work-zone safety
GIS
Safety performance