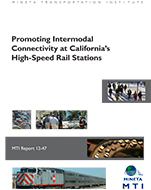 Abstract:
High-speed rail (HSR) has emerged as one of the most revolutionary and transformative transportation technologies, having a profound impact on urban-regional accessibility and inter-city travel across Europe, Japan, and more recently China and other Asian countries. One of HSR's biggest advantages over air travel is that it offers passengers a one-seat ride into the center of major cities, eliminating time-consuming airport transfers and wait times, and providing ample opportunities for intermodal transfers at these locales. Thus, HSR passengers are typically able to arrive at stations that are only a short walk away from central business districts and major tourist attractions, without experiencing any of the stress that car drivers often experience in negotiating such highly congested environments. Such an approach requires a high level of coordination and planning of the infrastructural and spatial aspects of the HSR service, and a high degree of intermodal connectivity. But what key elements can help the US high-speed rail system blend successfully with other existing rail and transit services? That question is critically important now that high-speed rail is under construction in California. The study seeks to understand the requirements for high levels of connectivity and spatial and operational integration of HSR stations and offer recommendations for seamless, and convenient integrated service in California intercity rail/HSR stations. The study draws data from a review of the literature on the connectivity, intermodality, and spatial and operational integration of transit systems; a survey of 26 high-speed rail experts from six different European countries; and an in-depth look of the German and Spanish HSR systems and some of their stations, which are deemed as exemplary models of station connectivity. The study offers recommendations on how to enhance both the spatial and the operational connectivity of high-speed rail systems giving emphasis on four spatial zones: the station, the station neighborhood, the municipality at large, and the region.
Authors:
ANASTASIA LOUKAITOU-SIDERIS, PH.D.
Anastasia Loukaitou-Sideris is a professor of urban planning and associate dean of the UCLA Luskin School of Public Affairs. She holds degrees in architecture and urban planning. Her research focuses on the public environment of the city, its physical representation, aesthetics, social meaning, and impact on the urban resident. It includes documentation and analysis of the social and physical changes that have occurred in the public realm; cultural determinants of design and planning and their implications for public policy; quality-of-life issues for inner city residents; and transit security, urban design, land use, and transportation issues. She has served as a consultant to the Transportation Research Board, Federal Transit Administration, Southern California Association of Governments, South Bay Cities Council of Government, Los Angeles Neighborhood Initiative, Project for Public Spaces, Greek Government, Portuguese Foundation for Science and Technology, and many municipal governments on issues of urban design, land use, and transportation. Her projects have been supported by the U.S. and California Departments of Transportation, Federal Transit Administration, Mellon Foundation, Haynes Foundation, Gilbert Foundation, Archstone Foundation, Sound Body Sound Mind Foundation, and the Mineta Transportation Institute. Her books include Urban Design Downtown: Poetics and Politics of Form (UC Press: 1998); Jobs and Economic Development in Minority Communities (Temple University Press: 2006); Sidewalks: Conflict and Negotiation over Public Space (MIT Press: 2009; Companion to Urban Design (Routledge: 2011); and The Informal American City: Beyond Taco Trucks and Day Labor (MIT Press: 2014).
DEIKE PETERS, PH.D.
Deike Peters is an assistant professor of environmental planning and practice at Soka University of America. Prior to her appointment at Soka, she was German Research Foundation Research Fellow and Adjunct Professor at USC's Sol Price School of Public Policy. She holds Master Degrees in urban planning and international affairs from Columbia University and a Ph.D. in urban planning & policy development from Rutgers University. Her experience combines 20 years of sustainable transportation policy advocacy and consulting for major international institutions (World Bank, UN Habitat, UNEP) with a 15- year transatlantic career in academia. Prior to relocating to Los Angeles, she was director of the Urban Megaprojects Unit (2008-2011), DFG Post-Doctoral Research Fellow (2005- 2008) and lecturer/researcher in city and regional planning (2000-2005) at the Technical University Berlin. From 1996 to 2000, she was director of Environmental Programs at ITDP, an international environmental advocacy organization headquartered in New York City. Her publications most relevant to this research project include articles on rail station redevelopment and transport infrastructure investment in Built Environment, TRR: Journal of the Transportation Research Board, European Journal of Transport and Infrastructure Research, and European Planning Studies.
WENBIN WEI, PH.D.
Wenbin Wei is a professor and director of aviation in the Department of Aviation and Technology in the College of Engineering at San Jose State University. He is also an affiliated professor in the department of Industrial and System Engineering and the director of the Human Automation Integration Lab (HAIL) at San Jose State University. He has a Ph.D. from University of California Berkeley in transportation engineering and management. Before joining the faculty at San Jose State University, Dr. Wei was a research analyst in the department of Operation Research and Decision Support at American Airlines. Dr. Wei's research interests include: transportation planning, urban transportation, public transportation, air traffic control and management, airline operations and management, airport planning and management, and logistics and supply chain management. Dr. Wei's research projects have been funded by FAA, NASA, California Department of Transportation, and others.
Keywords:
High-speed rail
Blended systems
Intermodal connectivity