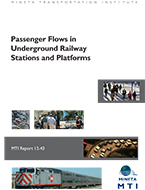 Abstract:
Urban rail systems are designed to carry large volumes of people into and out of major activity centers. As a result, the stations at these major activity centers are often crowded with boarding and alighting passengers, resulting in passenger inconvenience, delays, and at times danger. This study examines the planning and analysis of station passenger queuing and flows to offer rail transit station designers and transit system operators guidance on how to best accommodate and manage their rail passengers. The objectives of the study are to: 1) Understand the particular infrastructural, operational, behavioral, and spatial factors that affect and may constrain passenger queuing and flows in different types of rail transit stations; 2) Identify, compare, and evaluate practices for efficient, expedient, and safe passenger flows in different types of station environments and during typical (rush hour) and atypical (evacuations, station maintenance/ refurbishment) situations; and 3) Compile short-, medium-, and long-term recommendations for optimizing passenger flows in different station environments.
Authors:
ANASTASIA LOUKAITOU-SIDERIS, PH.D.
Anastasia Loukaitou-Sideris is a Professor of Urban Planning and Associate Dean of the UCLA Luskin School of Public Affairs. She holds degrees in architecture and urban planning. Her research focuses on the public environment of the city, its physical representation, aesthetics, social meaning and impact on the urban resident, and includes documentation and analysis of the social and physical changes that have occurred in the public realm; cultural determinants of design and planning and their implications for public policy; quality-of-life issues for inner city residents; and transit security, urban design, land use, and transportation issues. She has served as a consultant to the Transportation Research Board, Federal Transit Administration, Southern California Association of Governments, South Bay Cities Council of Government, Los Angeles Neighborhood Initiative, Project for Public Spaces, Greek Government, Portuguese Foundation for Science and Technology, and many municipal governments on issues of urban design, land use and transportation. Her projects have been supported by the US and California Departments of Transportation, Federal Transit Administration, Mellon Foundation, Haynes Foundation, Gilbert Foundation, Archstone Foundation, Sound Body Sound Mind Foundation, and the Mineta Transportation Institute. Her books include Urban Design Downtown: Poetics and Politics of Form (UC Press: 1998); Jobs and Economic Development in Minority Communities (Temple University Press: 2006); Sidewalks: Conflict and Negotiation over Public Space (MIT Press: 2009); Companion to Urban Design (Routledge: 2011); and The Informal American City: Beyond Taco Trucks and Day Labor (MIT Press: 2014).
BRIAN D. TAYLOR, PH.D.
Brian D. Taylor, FAICP is Professor of Urban Planning, Director of the Institute of Transportation Studies, and Director of the Lewis Center for Regional Policy Studies at the UCLA Luskin School of Public Affairs. His research is examines travel behavior, transportation finance, public transit planning, planning history, and the politics of planning. His research on public transit has focused on cost-effective ways to increase transit use and how travelers perceive the burdens of waiting and transferring; his research on transit cost-allocation modelling received the Pyke Johnson Award from the Transportation Research Board (of the National Academies). He is Chair of a Transportation Research Board Special Report committee examining the public policy implications of new shared mobility systems in general and transportation network companies in particular. Professor Taylor holds a BA in Geography from UCLA, an MS in Civil and Environmental Engineering, and an MCP in City and Regional Planning from UC Berkeley, and a PhD in Urban Planning from UCLA. Prior to joining the UCLA faculty in 1994, he was on the planning faculty at the University of North Carolina at Chapel Hill, and before that he was a planner with Metropolitan Transportation Commission in the San Francisco Bay Area.
CAROLE TURLEY VOULGARIS
Carole Turley Voulgaris is a third-year doctoral student in Urban Planning at the UCLA Luskin School of Public Affairs. She holds bachelor's and master's degrees in Civil and Environmental Engineering from Brigham Young University and an MBA from the University of Notre Dame. She has four years of professional experience in transportation planning and engineering, including one year at a public transit agency and three years with a private transportation consulting firm.
Keywords:
Passengers
Pedestrian flow
Subway stations