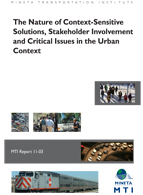 Abstract:
Over the last several decades many transportation and planning agencies have experienced conflicting demands emerging from the need to develop projects in an expeditious manner while at the same time involving stakeholders in the decision-making process, which sometimes is perceived as slowing project delivery and/or increasing costs. Given this tension between apparently conflicting demands, it is important to understand how the stakeholder involvement is being carried out and what best practices may be recommended. This study examines the issue in the context of a relatively new policy framework – Context Sensitive Solutions (CSS) – which supports the early integration of stakeholders into the planning process.
The report pays particular attention to stakeholders' involvement in projects within urban centers, where there is likely to be more complexity, both in terms of the number of stakeholders and end users affected. CSS is a relatively new process and not consistently interpreted or applied across states and/or agencies. The literature suggests that an underlying assumption when applying CSS principles to community involvement processes is that stakeholders are empowered through clear policies and procedures directed towards their participation. In our research, we found that the extent to which public agencies apply the CSS framework and involve and respond to stakeholders depends on each agency's interest to engage the public in the deliberation process to find the best-fit project for a community.
It is likely that the increased integration of stakeholders into the planning and project development process will not become a state of practice until the benefits flowing from community involvement are clearly understood by the agency staff. The CSS literature describes many benefits associated with comprehensive stakeholder engagement, including gaining constituents' buy-in and support for project financing. A movement toward standardizing CSS policies and directives across the country will facilitate a public discussion about the benefits of engaging communities into the project design phase and away from solely expert-based designs. In addition, there are a number of stakeholder involvement practices that, if adopted, could expedite the integration of communities' views and values in the decision-making process, while at the same time minimizing the chances of protracted consultation processes, time delays and additional costs.
Authors:
MARTA PANERO, PH.D.
Marta Panero, Ph.D., is a research scientist and deputy director at the Rudin Center for Transportation Policy & Management at the Robert F. Wagner Graduate School of Public Service at New York University. She is also a research associate at the Mineta Transportation Institute, San Jose, CA. Her research interests include stakeholder consultation processes, mitigation of environmental impacts of transportation systems, greening the supply chain, and assessment of megaprojects, among others. Prior to joining NYU, Dr. Panero directed a New York Academy of Sciences' project that involved multidisciplinary research guided by a consortium of stakeholders from approximately 75 regional and national institutions and organizations. She received her Ph.D. in economics from the New School for Social Research with a concentration in sustainable economic development and environmental economics. She graduated summa cum laude from Fordham University, with a B.A. in social studies.
JAN BOTHA, PH.D.
Jan Botha, Ph.D., is a professor at the Department of Civil and Environmental Engineering at San Jose State University. Dr. Botha has nine years' experience in transportation engineering practice and has been a faculty member at the University of Alaska, Fairbanks, and at SJSU for a total of 24 years Dr. Botha received a Ph.D. and M.S. in transportation engineering from University of California Berkeley, and a B.Sc. and B.Sc. (Hons.) in civil engineering from the University of Pretoria, South Africa.
Keywords:
Communities
Public relations
Redevelopment
Regional transportation
Road construction
Urban highways
Urban planning
Urban transit