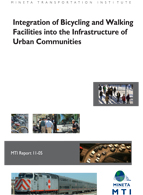 Abstract:
Several manuals, handbooks and web resources exist to provide varied guidance on planning for and designing bicycle and pedestrian facilities, yet there are no specific indications about which of the varied treatments in these guides work well for users. This project highlights best practices and identifies program characteristics associated with high levels of non-motorized travel, with an emphasis on bicyclists and pedestrians. It highlights practices in the California communities of Davis, Palo Alto and San Luis Obispo. The case studies are used to illustrate how urban communities have integrated non-motorized transportation modes into the physical infrastructure and worked to educate community residents and employees. The most salient themes that emerged from this study are linked to the following user preference: (a) distance to desired land uses and activities; (b) route directness; (c) route connectivity; (d) the separation of motorized and non-motorized transportation modes; (e) safety; (f) convenience; and (g) education and outreach. The aforementioned themes are integrated into key guiding principles that correspond to the trip-making cycle, from the decision to engage in an activity through the choice of route to arrival at the destination.
Authors:
CORNELIUS NUWORSOO PH.D., AICP
Cornelius Nuworsoo is Associate Professor of Transportation Planning at California Polytechnic State University, San Luis Obispo. His research covers multi-modal planning to integrate non-motorized and automobile modes with public transit and intercity bus and rail. Prior to Cal Poly, Dr. Nuworsoo was a researcher with the University of California Transportation Center at U.C. Berkeley after earning a Ph.D. in Transportation Engineering from U.C. Berkeley in 2004. He has two decades of professional experience in the areas of transportation planning and traffic engineering.
ERIN COOPER
Erin Cooper is a Transportation Analyst with EMBARQ of the World Resources Institute's Center for Sustainable Transport in Washington D.C. where she is engaged in transportation planning for sustainable mobility in many different countries. Prior to joining EMBARQ Ms. Cooper was a graduate student researcher and teaching assistant at the California Polytechnic State University, San Luis Obispo. She earned the joint degree, Master of City and Regional Planning and Master of Science in Civil Engineering with a Transportation Planning specialization in 2010.
KATHERINE CUSHING, PH.D.
Katherine Kao Cushing is an associate professor of Environmental Studies at San Jose State University. Her research focuses on environmental attitudes and behaviors and residential street livability. Prior to joining the faculty at San Jose State, Dr. Cushing served as the associate director for the Program on Urban Studies at Stanford and was a Senior Research Associate at the Institute for Studies in Development, Environment, and Security in Oakland.
EUGENE JUD
Eugene Jud is a lecturer in public transportation, sustainable mobility and transportation management. He has 50 years of experience in transportation, city planning and sustainability in Europe and USA. He is a licensed civil engineer in all European Countries (FEANI # 114892), a Life Fellow of the Institute of Transportation Engineers ITE, and a member of the American Planning Association and Swiss professional organizations.
Keywords:
Bicycling
Bicycle route
Infrastructure
Route choice
Walking