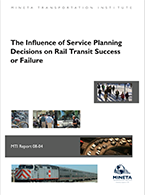 Abstract:
Some United States metropolitan areas with rail transit systems enjoy ridership and productivity success while others do not. This study examines the experiences of 11 U.S. metropolitan areas with between one million and five million persons to better understand why some areas are successful and others are not. A particular focus is the role of service planning decisions in facilitating transit success. We find that successful transit systems are those that: 1) articulate a clear, multidestination vision for regional transit; 2) rely on rail transit as the system´s backbone; 3) recognize the importance of the non-CBD travel market; 4) encourage the use of transfers to reach a wider array of destinations; 5) recognize that rail transit alone is not enough to guarantee success; and 6) recognize the importance of serving regional destinations.
Authors:
JEFFREY R. BROWN, PH.D., PRINCIPAL INVESTIGATOR
Jeffrey R. Brown is Assistant Professor and Master´s Program Director in the Department of Urban and Regional Planning at Florida State University. He holds a Ph.D. in Urban Planning from the University of California at Los Angeles. Dr. Brown´s research explores the role of public transit in decentralized environments, the influence of finance and professionalization on the evolution of transportation planning and development of the American freeway, and topics in transportation finance and state and national transportation policy. He has published articles on these topics in Urban Studies, Transportation, Transportation Research Record, Journal of Planning Education and Research, Journal of Planning History, and Journal of Public Transportation.
GREGORY L. THOMPSON, PH.D., CO-PRINCIPAL INVESTIGATOR
 
Professor Thompson joined the Department of Urban and Regional Planning at Florida State University in 1988, after completing a post-doctoral fellowship at the Hagley Museum and Library, doing historical research about the Pennsylvania Railroad. He has held professional positions as a transportation planner at both the metropolitan and state levels, in both this country and abroad. He has published in both the professional and academic literature on transportation topics. His book, The Passenger Train in the Motor Age: California 1910–1941, was published in late 1993 by the Ohio State University Press. His major research interest is studying the role of public transportation in auto-dominated societies, both historically and in the present day.
Keywords:
Dual mode transportation systems
Transportation operations
Urban transportation