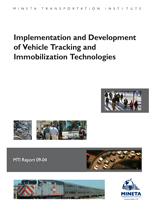 Abstract:
Since the mid-1980s, limited use has been made of vehicle tracking using satellite communications to mitigate the security and safety risks created by the highway transportation of certain types of hazardous materials. However, vehicle-tracking technology applied to safety and security is increasingly being researched and piloted, and it has been the subject of several government reports and legislative mandates.
At the same time, the motor carrier industry has been investing in and implementing vehicle tracking, for a number of reasons, particularly the increase in efficiency achieved through better management of both personnel (drivers) and assets (trucks or, as they are known, tractors; cargo loads; and trailers).
While vehicle tracking and immobilization technologies can play a significant role in preventing truck-borne hazardous materials from being used as weapons against key targets, they are not a & "silver bullet." However, the experience of DTTS and the FMCSA and TSA pilot projects indicates that when these technologies are combined with other security measures, and when the information they provide is used in conjunction with information supplied outside of the tracking system, they can provide defensive value to any effort to protect assets from attacks using hazmat as a weapon.
This report is a sister publication to MTI Report 09-03, Potential Terrorist Uses of Highway-Borne Hazardous Materials. That publication was created in response to the Department of Homeland Security´s request that the Mineta Transportation Institute´s National Transportation Security Center of Excellence provide research and insights regarding the security risks created by the highway transportation of hazardous materials.
Authors:
BRIAN MICHAEL JENKINS
Brian Michael Jenkins is the director of the National Transportation Security Center of Excellence (NTSCOE) and one of the worlds leading authorities on terrorism and sophisticated crime. He works with government agencies, international organizations, and multinational corporations as an analyst, investigator, and crisis-management consultant.
Commissioned in the infantry at the age of 19, Jenkins became a paratrooper and, ultimately, a captain in the Green Berets. He served three tours of duty in Vietnam.
Jenkins obtained his bachelor of arts degree in fine arts and his master of arts degree in history from the University of California, Los Angeles. He has also studied at the University of Guanajuato in Mexico and the University of San Carlos in Guatemala, where he was a Fulbright Fellow and the recipient of a second fellowship from the Organization of American States.
BRUCE ROBERT BUTTERWORTH
Bruce Butterworth has had a distinguished government career, working at congressional, senior policy, and operational levels.
With Brian Michael Jenkins he co-authored Selective Screening of Rail Passengers (MTI Report 06-07), published by the Mineta Transportation Institute in February 2007. He also co-authored a May 2007 study, Keeping Bombs Off Planes: Securing Air Cargo, Aviations Soft Underbelly with P.J. Crowley, senior fellow and director of Homeland Security at the Center for American Progress.
Butterworth was awarded a master of science degree from the London School of Economics in 1974 and a bachelor of arts degree from the University of the Pacific in 1972.
FRANCES L. EDWARDS, M.U.P., PH.D., CEM
Frances L. Edwards is the director of the Master of Public Administration program and professor of Political Science at San Jose State University (SJSU). She is also a Research Associate at MTI, and teaches emergency management in the Master of Transportation Management program.
Previously, she was director of the Office of Emergency Services in San Jose, California for 14 years, including one year as acting assistant chief of the San Jose Fire Department. She was director of San Jose´s Metropolitan Medical Task Force (MMTF), a CBRNE terrorism response unit, and head of the four–county "San Jose Urban Area Security Initiative."
Dr. Edwards has a Ph.D. in public administration, a Master of Urban Planning, MA in Political Science (International Relations) and a Certificate in Hazardous Materials Management.
Research Publication & Brief:
Keywords:
Freight security
Hijacking
National security
Security
Security measures
Terrorism