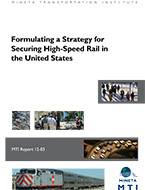 Abstract:
This report presents an analysis of information relating to attacks, attempted attacks, and plots against high-speed rail (HSR) systems. It draws upon empirical data from MTI's Database of Terrorist and Serious Criminal Attacks Against Public Surface Transportation and from reviews of selected HSR systems, including onsite observations. The report also examines the history of safety accidents and other HSR incidents that resulted in fatalities, injuries, or extensive asset damage to examine the inherent vulnerabilities (and strengths) of HSR systems and how these might affect the consequences of terrorist attacks. The study is divided into three parts: (1) an examination of security principles and measures; (2) an empirical examination of 33 attacks against HSR targets and a comparison of attacks against HSR targets with those against non-HSR targets; and (3) an examination of 73 safety incidents on 12 HRS systems. The purpose of this study is to develop an overall strategy for HSR security and to identify measures that could be applied to HSR systems currently under development in the United States. It is hoped that the report will provide useful guidance to both governmental authorities and transportation operators of current and future HSR systems.
Authors:
BRIAN MICHAEL JENKINS
Brian Michael Jenkins is the director of the Mineta Transportation Institute's National Transportation Center and since 1997 has directed the Institute's continuing research on protecting surface transportation against terrorism and other serious forms of crime.
He received a Bachelor of Arts degree in fine arts and a Masters degree in history, both from UCLA. He also studied at the University of Guanajuato, Mexico, and in the Department of Humanities at the University of San Carlos, Guatemala, where he was a Fulbright Fellow and received a second fellowship from the Organization of American States.
Commissioned in the infantry at the age of 19, Mr. Jenkins became a paratrooper and ultimately a captain in the Green Berets. He is a decorated combat veteran, having served in the Seventh Special Forces Group in the Dominican Republic during the American intervention and later as a member of the Fifth Special Forces Group in Vietnam (1966–1967). He returned to Vietnam on a special assignment in 1968 to serve as a member of the Long Range Planning Task Group; he remained with the Group until the end of 1969, receiving the Department of the Army's highest award for his service. Mr. Jenkins returned to Vietnam on an additional special assignment in 1971.
In 1983, Mr. Jenkins served as an advisor to the Long Commission, convened to examine the circumstances and response to the bombing of the U.S. Marine Barracks in Lebanon. In 1984, he assisted the Inman Panel in examining the security of American diplomatic facilities abroad. In 1985–1986, he served as a member of the Committee of the Embassy of the Future, which established new guidelines for the construction of U.S. diplomatic posts. In 1989, Mr. Jenkins served as an advisor to the national commission established to review terrorist threats following the bombing of Pan Am 103. In 1993, he served as a member of the team contracted by the Port Authority of New York & New Jersey to review threats and develop new security measures for the World Trade Center following the bombing in February of that year.
In 1996, President Clinton appointed Mr. Jenkins to the White House Commission on Aviation Safety and Security. From 1999 to 2000, he served as an advisor to the National Commission on Terrorism, and since 2000, he has been a member of the U.S. Comptroller General's Advisory Board.
Mr. Jenkins serves as a Senior Advisor to the President of the RAND Corporation. He is a Special Advisor to the International Chamber of Commerce (ICC) and a member of the advisory board of the ICC's investigative arm, the Commercial Crime Services. Over the years, he has served as a consultant to or carried out assignments for a number of government agencies, including the Department of Homeland Security (DHS). As part of its international project to create a global strategy to combat terrorism, the Club of Madrid in 2004 appointed Mr. Jenkins to lead an international working group on the role of intelligence.
Mr. Jenkins is the author of numerous published research reports, books, and articles on terrorism and security. His latest book is When Armies Divide.
CHRISTOPHER KOZUB
Christopher Kozub has assisted the Mineta Transportation Institute on various research projects since 2010. From 2000 to 2010, Mr. Kozub was an associate director of the Edward J. Bloustein School of Planning and Public Policy at Rutgers University, working with the National Transit Institute (NTI), the Voorhees Transportation Center, and the Center for Transportation Safety, Security, and Risk. At Rutgers, he was the principal investigator on several surface-transportation research, training, and outreach projects funded by the U.S. Department of Transportation (DOT) and the Department of Homeland Security (DHS). These projects investigated system safety, emergency management, system security, and terrorism awareness and response.
Mr. Kozub's background includes more than 30 years in emergency services, transportation safety and security, and training. For more than 15 years, he has worked with federal agencies, surface-transportation trade associations, and labor organizations to develop and implement safety and security training programs for frontline employees, supervisors, and emergency responders in transportation incident information and data analysis and to broaden their ability to develop training and educational programs and materials, including courses, seminars, workshops, case studies, and exercise scenarios. He has also testified before Congress on public transit operational and infrastructure security.
Prior to joining Rutgers, he was director of training for the Operation Respond Institute (ORI), where he worked with Amtrak to develop and deliver security, safety, and tactical emergency-response training to more than 16,000 responders in connection with the Acela high-speed rail service.
Mr. Kozub has held senior management positions at emergency-services training centers, working with the Association of American Railroads to provide specialized hazardous-materials training. He worked with the Port Authority of New York & New Jersey to develop and deliver fire, rescue, and hazardous-materials training for their police and emergency services departments, as well as a specialized Weapons of Mass Destruction program following the 1995 Tokyo subway attacks.
BRUCE ROBERT BUTTERWORTH
Bruce Butterworth has had a distinguished government career, working at congressional, senior policy, and operational levels. Between 1975 and 1980, as a professional staff member for the House Government Operations Committee, he ran investigations and hearings on many transportation-safety issues, particularly in aviation. He spent 11 years in the Department of Transportation, eight of them in the Office of the Secretary. He managed negotiations on air and maritime services in the General Agreement on Tariffs and Trade (GATT) (now the World Trade Organization [WTO ]), chaired U.S. delegations to United Nations committees, dealt with transport and aviation issues related to border inspections, and was part of the response to the bombing of Pan Am 103.
Mr. Butterworth held two executive posts in aviation security and in both worked closely with Congress as the informal but primary liaison. He was Director of Policy and Planning (1991–1995), establishing strategic, long-term, and contingency plans and federal rules. As Director of Operations (1995–2000), he was responsible for federal air marshals, hijacking response, and 900 field agents; he worked to improve security and the performance of security measures at U.S. airports and by U.S. airlines worldwide. He ran the FAA's aviation command center, successfully managing the resolution of hijackings and security emergencies. He launched a successful program of dangerous-goods regulation and cargo security after the 1995 ValuJet crash, oversaw the conversion of the air-marshal program to a full-time program with high standards, was a key player in the response to the ValuJet and TWA 800 accidents, and was a frequent media spokesperson. He worked closely with Congress, the National Security Council staff, the intelligence community, law enforcement agencies, and authorities of other nations.
From 2000 to 2003, he was an associate director at the U.S. Holocaust Memorial Museum, responsible for security and building operations. He designed and implemented a "best practice" procedure to deal with mail that could contain anthrax, and he developed and conducted new, comprehensive emergency planning procedures and exercises. Between January 2003 and September 2007, he was one of two deputy directors in a 1,300-person engineering directorate at NASA's Goddard Space Flight Center, managing workforce planning, budgeting, and human-capital management for complex robotics space missions, substantially reducing overhead and improving workplace safety there. He also worked with the Department of Homeland Security (DHS) on information sharing.
Mr. Butterworth is a research associate at the Mineta Transportation Institute. In this capacity, he has co-authored several reports with Brian Michael Jenkins, including one for the State of California on security risks created by highway-borne hazardous materials. In February 2009, he published with Mr. Jenkins an opinion piece on information sharing, and on March 23, 2010, he published an article in the Washington Post on intelligence and aviation security.
In 2011, his leading role in creating MTI's unique database of attacks on public surface transportation and in creating and delivering nearly all the briefings to the Transportation Safety Administration's (TSA's) front-line bomb-appraisal officers was recognized in a DHS High Impact award.
Mr. Butterworth received a Master of Science degree from the London School of Economics in 1974 and a Bachelor of Arts degree from the University of the Pacific in 1972 (magna cum laude). He was a California State Scholar and a Rotary Foundation Fellow. He has received numerous special achievement and performance awards.
RENEE HAIDER
Renee Haider is a research associate at the Mineta Transportation Institute. She has more than twenty years of experience conducting research on safety and security in the surface-transportation sector and applying the research results to practice. She has served as a project manager or key team member on an array of research and training projects for the Department of Homeland Security (DHS), the Federal Transit Administration (FTA), the Federal Motor Carrier Safety Administration (FMCSA), the Federal Highway Administration (FHWA), the Transit Cooperative Research Program (TCRP), and the National Cooperative Highway Research Program (NCHRP). Ms. Haider has also worked with several University Transportation Centers (UTCs) and has consulted with public transportation organizations across the United States and Canada. Prior to joining MTI, she served as an associate director of the National Transit Institute (NTI) at Rutgers University. Ms. Haider holds a Masters Degree in political science from Rutgers University.
JEAN-FRANCOIS CLAIR
Jean-Francois Clair is a former Inspector General of Police. He served 35 years in France's Security Service, the Directorate of Territorial Security (Direction de la Surveillance du Territoire) (DST), the country's internal intelligence system with responsibilities similar to those of the FBI in the United States and MI-5 in the United Kingdom. From 1983 to 1997, he was the head of DST's Anti-Terrorist Branch. In 1998, he was promoted to deputy director of DST, a position he held until his retirement in 2007.
Dr. Clair received a PhD in Public Law from the University of Paris in 1969 and graduated from the Institute for Higher Studies for National Defense (Institut des haute études de défense nationale) (IHEDN) in 1993.
Dr. Clair currently teaches in the Graduate School of International Affairs at the institute d'Etudes Politiques de Paris (Sciences-Po) and at the Institute for International and Strategic Research (IRIS). He is a frequent lecturer at the George Marshall Center in Garmisch, Germany, and he has participated in international symposia on terrorism and security issues (Singapore, 2007 and 2008; Berlin, 2008; and Oslo, 2009). He is also in charge of research for the French Administration.
Keywords:
High-speed rail
Attacks
Bombings
Accidents
Security