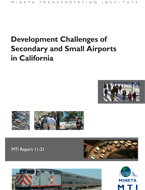 Abstract:
This study investigates the development of secondary and smaller airports in California. Low-Cost Carrier (LCC) business is growing at these airports because they offer reduced operating costs, and they have adequate capacity to help LCCs avoid battling with incumbent airlines at the large hubs for limited resources, such as gates.
However, increased LCC aircraft operations at the secondary airports have led to significant noise impacts on the surrounding communities and this has been a challenge for the secondary airport operators. They have imposed operational curfews to limit the noise impacts, but this approach constrains the resident airlines that want to increase their traffic. As a result, some LCCs have begun to initiate flights out of the large hubs.
Statistics from this study show that the LCCs have replaced the legacy airlines as the dominant air provider in the state. With their growing dominance, the LCCs will become more attractive to the large hub airports, and the secondary airports will face increased competition in retaining them. To retain those LCCs, the secondary airports must better understand how LCCs make investment decisions related to airport development. At the same time, they must better educate the LCCs about their airport needs.
Authors:
SENANU ASHIABOR, PH.D.
Senanu Ashiabor is a senior engineering associate at Kittelson and Associates (formerly Dowling Associates) in Oakland, California. Over the past ten years, he has been involved in several transportation planning and modeling research projects. Dr. Ashiabor is an active member of the Transportation Research Board (TRB) and was on the ACRP panel developing the Guidebook for Conducting Airport User Surveys. He has authored/ coauthored six peer-reviewed publications and presented his work at several technical conferences. Prior to joining Kittelson and Associates, he was a researcher at the Virginia Tech Air Transportation Systems Laboratory.
WENBIN WEI, PH.D.
Wenbin Wei is a professor in the Department of Aviation and Technology at San José State University, College of Engineering. He received his Ph.D. in transportation engineering from University of California Berkeley, with minors in industrial engineering and economics. He worked with the California Partners for Advanced Transit and Highway (PATH), Berkeley, from 2000-2001, and then joined American Airlines in Fort Worth, Texas, as a research analyst. He moved back to the San Francisco Bay Area when he joined San José State University in August 2003. He teaches various aviation and operations research classes, mentors students, and conducts research for leading institutions, including the National Aeronautics and Space Administration (NASA).
Research Publication:
Research Brief:
Keywords:
Airports
Airlines
Secondary airports
Low-cost carriers
Very light jets