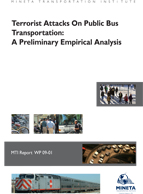 Abstract:
This report provides data on terrorist attacks against public bus transportation targets and serious crimes committed against such targets throughout the world. The data are drawn from the MTI database of attacks on public surface transportation, which is expanded and updated as information becomes available. This analysis is based on the database as of December 17, 2009. Data include the frequency and lethality with which buses, bus stations, and bus stops are attacked; the relationship between fatalities and attacks against bus targets and the relationship between injuries and attacks against those targets; how often, relative to other surface transportation targets, buses are attacked, first with all weapons and then with only explosive and incendiary devices; the relative lethality of attacks; and the distribution of attacks. It then presents some preliminary observations drawn from those data that can help stakeholders governments, transit managers, and employees to focus on the ways the most frequent and/or most lethal attacks are carried out as they consider measures to prevent or mitigate attacks that may be considered likely to happen in the United States.
Authors:
BRIAN MICHAEL JENKINS
Brian Michael Jenkins is the director of the National Transportation Security Center of Excellence (NTSCOE) and one of the worlds leading authorities on terrorism and sophisticated crime. He works with government agencies, international organizations, and multinational corporations as an analyst, investigator, and crisis-management consultant.
Commissioned in the infantry at the age of 19, Jenkins became a paratrooper and, ultimately, a captain in the Green Berets. He served three tours of duty in Vietnam.
Jenkins obtained his bachelor of arts degree in fine arts and his master of arts degree in history from the University of California, Los Angeles. He has also studied at the University of Guanajuato in Mexico and the University of San Carlos in Guatemala, where he was a Fulbright Fellow and the recipient of a second fellowship from the Organization of American States.
BRUCE ROBERT BUTTERWORTH
Bruce Butterworth has had a distinguished government career, working at congressional, senior policy, and operational levels.
With Brian Michael Jenkins he co-authored Selective Screening of Rail Passengers (MTI Report 06-07), published by the Mineta Transportation Institute in February 2007. He also co-authored a May 2007 study, Keeping Bombs Off Planes: Securing Air Cargo, Aviations Soft Underbelly with P.J. Crowley, senior fellow and director of Homeland Security at the Center for American Progress.
Butterworth was awarded a master of science degree from the London School of Economics in 1974 and a bachelor of arts degree from the University of the Pacific in 1972.
KARL S. SHRUM
Karl Shrums 28-year career in the federal government spanned three agencies and key leadership positions in aviation and transportation security prior to his retirement in 2006.
Keywords:
Terrorist attacks
Public bus transportation
Targets
Lethality
Distribution