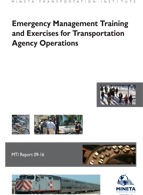 Abstract:
Training and exercises are an important part of emergency management. Plans are developed based on threat assessment, but they are not useful unless staff members are trained on how to use the plan, and then practice that training. Exercises are also essential for ensuring that the plan is effective, and outcomes from exercises are used to improve the plan. Exercises have been an important part of gauging the preparedness of response organizations since Civil Defense days when full-scale exercises often included the community. Today there are various types of exercises that can be used to evaluate the preparedness of public agencies and communities: seminars, drills, tabletop exercises, functional exercises, facilitated exercises and full-scale exercises.
Police and fire agencies have long used drills and full-scale exercises to evaluate the ability of staff to use equipment, protocols and plans. Transit and transportation agencies have seldom been included in these plans, and have little guidance for their participation in the exercises.
A research plan was designed to determine whether urban transit systems are holding exercises, and whether they have the training and guidance documents that they need to be successful. The main research question was whether there was a need for a practical handbook to guide the development of transit system exercises.
Authors:
Frances L. Edwards, M.U.P., Ph.D., CEM
Frances L. Edwards is the Director of the Master of Public Administration program and Professor of Political Science at San Jose State University (SJSU). She is also a Research Associate at MTI, and teaches emergency management in the Master of Transportation Management program.
Previously, she was Director of the Office of Emergency Services in San Jose, California for 14 years, including one year as acting assistant chief, San Jose Fire Department. She was Director of San Jose´s Metropolitan Medical Task Force (MMTF), a CBRNE terrorism response unit, and head of the four–county "San Jose Urban Area Security Initiative".
Dr. Edwards has a Ph.D. in public administration, a Master of Urban Planning, MA in Political Science (International Relations) and a Certificate in Hazardous Materials Management.
Daniel C. Goodrich, M.P.A., CEM
Daniel C. Goodrich is an emergency preparedness coordinator for Lockheed Martin Space Systems Company. He is an instructor and Research Associate at MTI, where he also teaches Security for Transportation Managers. He has been an active member of the San Jose Metropolitan Medical Task Force, a CBRNE response unit, since 1999, where he has served as exercise director for eight facilitated exercises, a model of ex–ercise that he developed.
Mr. Goodrich serves as a consultant to the California Department of Transportation (Caltrans), and has provided training services for NASA/Ames Research Center staff in emergency management. He has a Master of Public Administration degree from SJSU, and is a Certified Emergency Manager.
Keywords:
Disasters and emergency operations
Disaster preparedness
Emergency training
Hazards and emergency operations