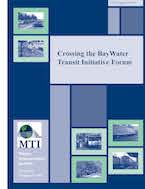 Abstract:
Traffic congestion is always a hot topic. One solution being explored in the Bay Area is expanded ferry service. The Bay Area Council recently completed a study of the Bay Area Water Transit Initiative. In July,
1999, the California Commonwealth Club and the Mineta Transportation Institute teamed up to bring together the public and a panel of experts. This publication is a transcript of that forum, "Crossing the Bay: Water
Transit Initiative Forum."
Panelists included:
Randy Shandobil, KTVU Political Reporter— Moderator

Bonnie Cox, Co-Executive Director, Commonwealth Club— East Bay

Mayor Shirley Dean, Berkeley, CA

Rod Diridon, Executive Director, Mineta Transportation Institute

Dr. Gloria Duffy, Chief Executive Officer, Commonwealth Club of California

Dennis Fay, Executive Director, Alameda County Congestion Management Agency

Russell Long, Executive Director, Bluewater Network

Mayor Gus Morrison, Fremont, CA

Sean Randolph, President, Bay Area Economic Forum
Publications: