In this research, we will explore the regulatory environment around "Personal Transportation Devices" (PTDs), documenting the current state of affairs, and recommending safe, practical regulations. PTDs encompass a wide range of small devices that provide low- speed, flexible mobility for individual travelers. PTDs can be motorized or non-motorized, new technology or old. The study will address these questions:
What regulations are there on PTDs, if any, that either directly regulate or otherwise limit PTD use?

How can regulations be designed to maximize the value of PTDs for travel while protecting public safety?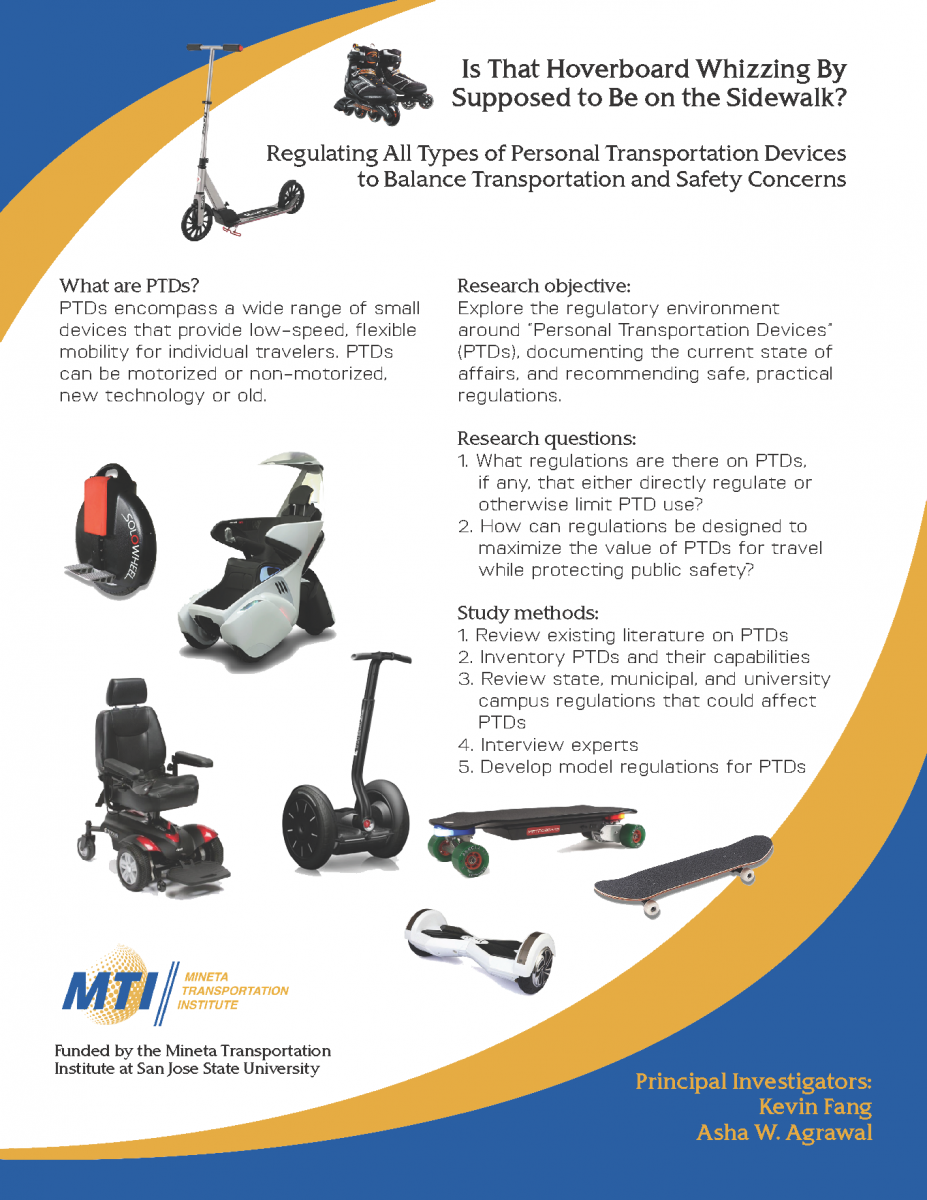 To answer these questions, we will complete five analytic tasks. First, we will review relevant literature on PTDs and the management of facilities where PTD users may ride. Second, we will develop an inventory of PTDs and their relevant characteristics (e.g., maximum speed and breaking ability). Third, we will compile and analyze regulations covering PTDs from all 50 states, a sample of 100 municipalities, and 20 college campuses. Fourth, we will interview 30 relevant experts who represent a range of stakeholders, from state legislative staff who write regulations to transportation planners to city attorneys to law enforcement officers. Finally, using the information gathered in all previous steps, we will craft a set of model regulations for PTDs.
States, municipalities, and owners of large private properties such as universities and shopping malls face an unprecedented need for guidance on how to regulate PTDs. In recent years, there has been an explosion in the number, types, and use of PTDs. A prime illustration of this trend appears in the SF SOMA neighborhood, where streams of morning commuters disembark from Caltrain, pull out a whole Noah's Ark of PTDs, and roll off the last mile to their (mostly tech) offices.
The presence of PTDs raises thorny regulatory and facilities management questions. Given speeds between walking and bicycling, many PTD users are attracted to pedestrian paths (e.g. sidewalks), bicycle facilities, and pedestrian/bicyclist mixed-use paths. This mixing of modes raises safety and operational concerns, as noted in a Federal Highway Administration report (2004). However, the legal right of PTD users is these places is often ambiguous. PTDs are clearly not cars or bicycles, but does that make them "pedestrians" in the eyes of the law? Sometimes this seems to be the case. As Sami (2017) notes, "not all pedestrians walk." In California, for example, the definition of "pedestrians" includes skateboarders, in-line skaters, and scooter riders (Fang, 2013). However, even if some laws do treat PTD users as pedestrians, is that ideal from the perspectives of either community safety or efficient PTD travel?
Government agencies who want to improve their PTD regulations have little help. A preliminary review of regulations on PTDs shows that there is little consistency among jurisdictions, as well as much ambiguity about which regulations do and don't apply to specific types of PTDs. A handful of existing studies explore regulations on PTDs, but these usually look at only a single type of device and/or do not offer in-depth data and analysis to justify the recommendations (Levallee, 2004; Fang 2013; Cullen, 2016; Litman and Blair, 2017). This study will fill the research gap, providing a detailed review of existing regulations and a set of sample regulations developed with input from the wide range of stakeholders invested in the issues. These model regulations will provide jurisdictions with material they can use to develop effective regulations that balance safety and access. Also, the study results may also foster more consistency in regulations across jurisdictions. 
University:
Mineta Consortium for Transportation Mobility
San José State University
Principal Investigator:
Kevin Fang, Ph.D. & Asha W. Agrawal, Ph.D.
Funding Source(s) and Amounts Provided (by each agency or organization):
U.S. Department of Transportation, Office of the Assistant Secretary for Research and Technology – $63,313.25 
Agency ID or Contract Number:
Dates:
October 2017

to

February 2019